I did it you guys! After a bit of scheming, one poorly sketched rough draft (you've seen my crap-tastic drawing skills first hand), and tons of inspiration from my fellow SB mama, I made our first wheelchair Halloween costume.
Because the show is Simeon's absolute favorite, we decided to go with a "Mr. Rogers Neighborhood" theme. Let me tell you: this kid digs Fred Rogers. He requests an episode each night after dinner and regularly begs us to serenade him with tunes from the show– and I don't just mean the theme song. Nope. I mean like, random numbers from specific episodes that Greg and I desperately try to memorize and muddle through. I know all the words to this little ditty, for instance. And when I sing it, Simeon mimics each and every hand motion that Mr. Rogers does in the original. Obsessed.
(Stop watching at the 2 minute mark, by the way. The video just repeats itself in creepy silence after that point but it's the only clear version I could find and I didn't want you to miss out on hearing this little ditty.)

I have to say that building this sucker was time consuming but I think that's mostly because it was my first attempt. I'm not always crafty but, when the spirit moves me, I really enjoy it and the spirit was certainly moving this month. There's something therapeutic about cutting and gluing and painting and shaping bits and pieces into a really nifty little masterpiece. Honestly, the boy is so young that Halloween means basically nothing to him (and seeing a bunch of kids in masks had him shouting "NO NO NO NO" whenever a Batman or Spiderman or Minion approached to check out his ride) so this might have been more for me than for him but he got pretty excited at the unveiling. Seeing him sign "wheelchair! wheelchair!" and asking to be put inside made me feel like a rockstar.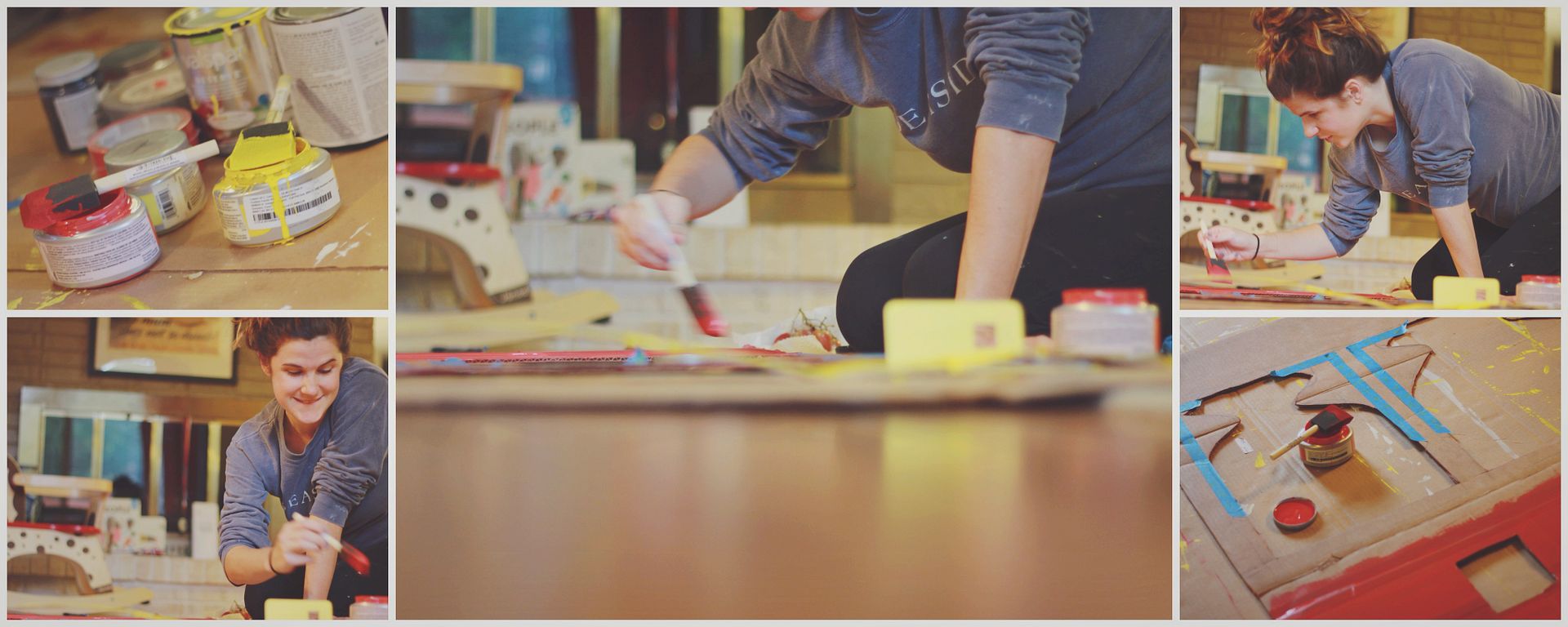 Tricks of the trade:
One ginormous cardboard box. It was one from our move last year and I think it was for hanging clothes. It was BIG. I can't give details on how I got it to fit on the chair. I really had to play with it and ended up using the wheelchair's push bar to anchor the thing and keep it from flopping around. See what works. Measure a bit. You can do it.
Spray paint. Red for the inside, top, and front of the trolley.
Paint samples (Red, Yellow, & Black). I wanted to paint the exterior by hand to get it right. I knew I wouldn't need much paint so I just bought three samples from Lowes. I got red to match the spray paint, black for the stripe along the base, and yellow for the trolley seats and sign.
Six thin wooden dowels (about 2 feet long each). I used these to stabilize the sides of the trolley. You can see them glued vertically on the inside. They kept the sides from bowing out (due to the weight of the roof and trolley sign).
Glue gun. You MUST have a glue gun for this project. I borrowed one from a friend. Don't try to piece it together with duct tape– it just won't work. And I know it won't work because I maybe tried it and the entire project fell apart 24 hours later. Hot glue to the rescue!
A grandpa who is really good at lettering. See how great the letters look on top? My dad copied the lettering on the orginal trolley because he's an over-achiever. I knew he would be, that's why I gave him the job. High-five, Dad! (The lettering on the front and back of the trolley were all me– that's why it looks like a sleepy 2nd grader did it.).
A caving headlamp for the trolley's headlight. Yes– that is a functional headlight you see there. Super handy when navigating the spooky Halloween darkness.
There you have it. We came, we saw, we tricked, we treated, we ate candy, and we smell-my-feeted. Lots of folks thought Simeon was supposed to be Daniel Tiger but we knew the truth. This kid is on Team Fred– no doubt about it.
Happy Halloween!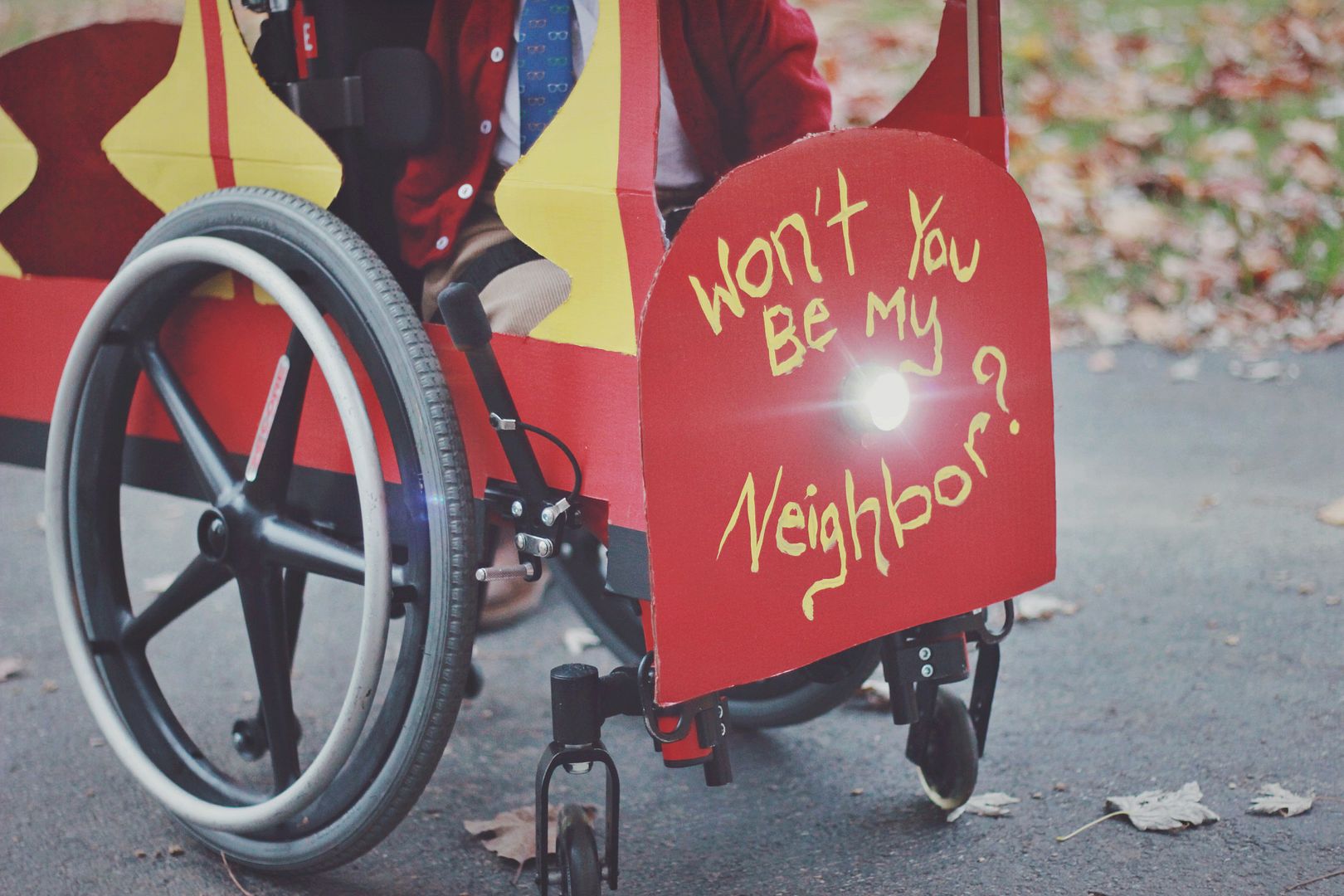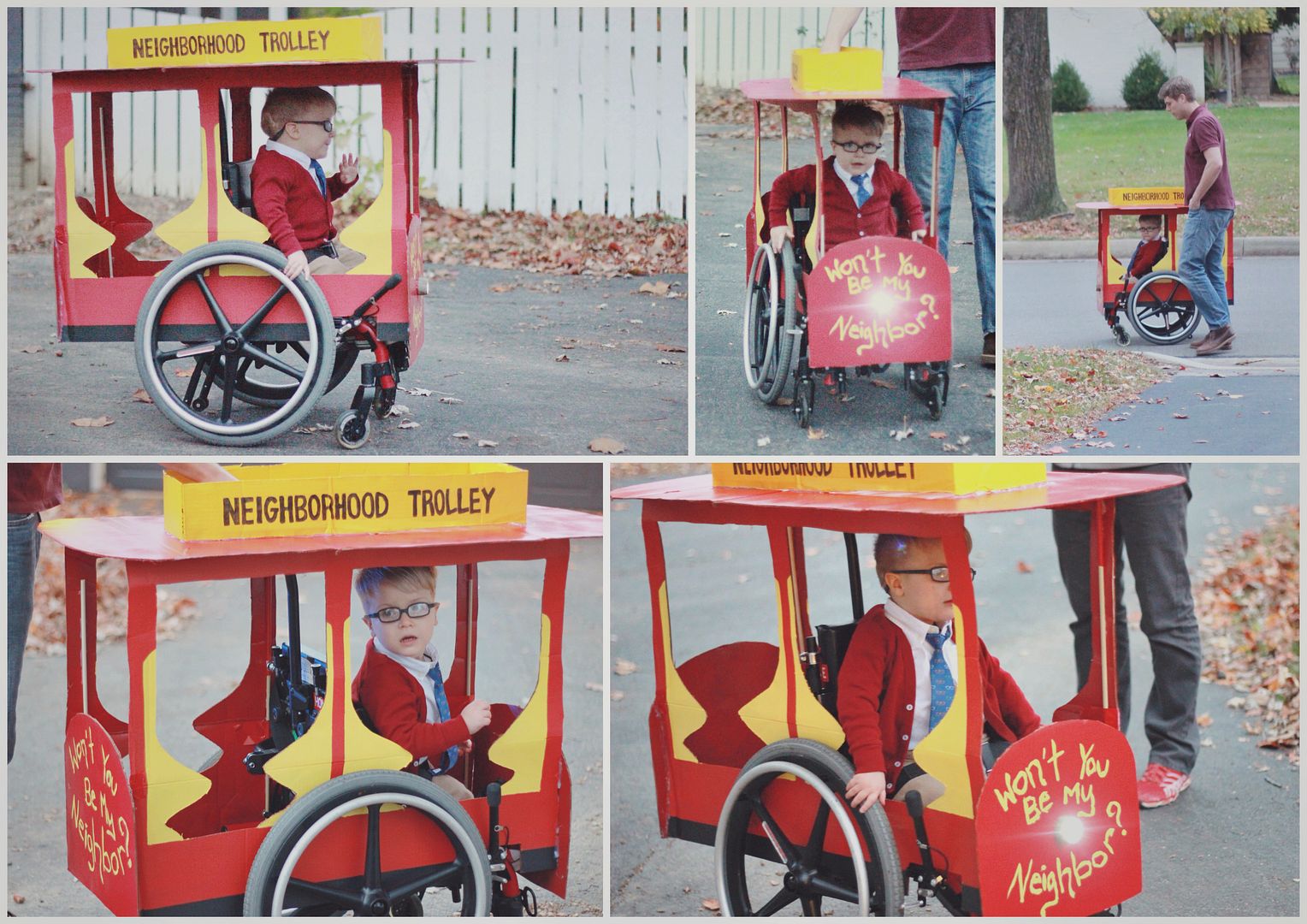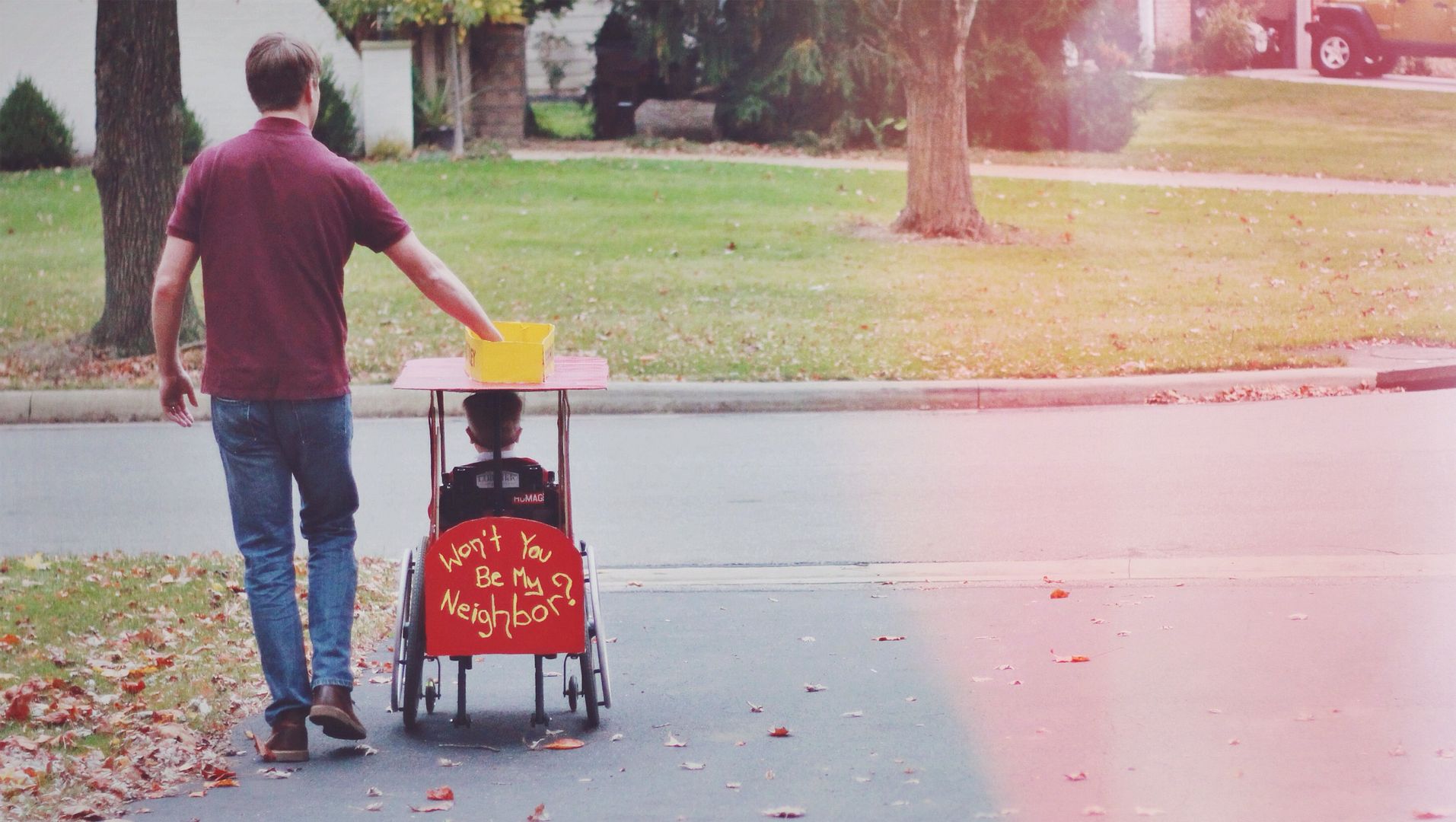 Any brilliant ideas for next year's costume? What was your munchkin this year?