Before I tell you about our week of appointments, let me just say that of all the observations and tests Simeon endured this week, there is one that he passed with flying colors: The CA or Cuteness Assessment. The Physician of Adorable Medicine spent some time with the peanut pictured below and, after fifteen minutes of rigorous testing, placed him in the 99th percentile for cuteness. Way to go Simeon! We knew you could do it!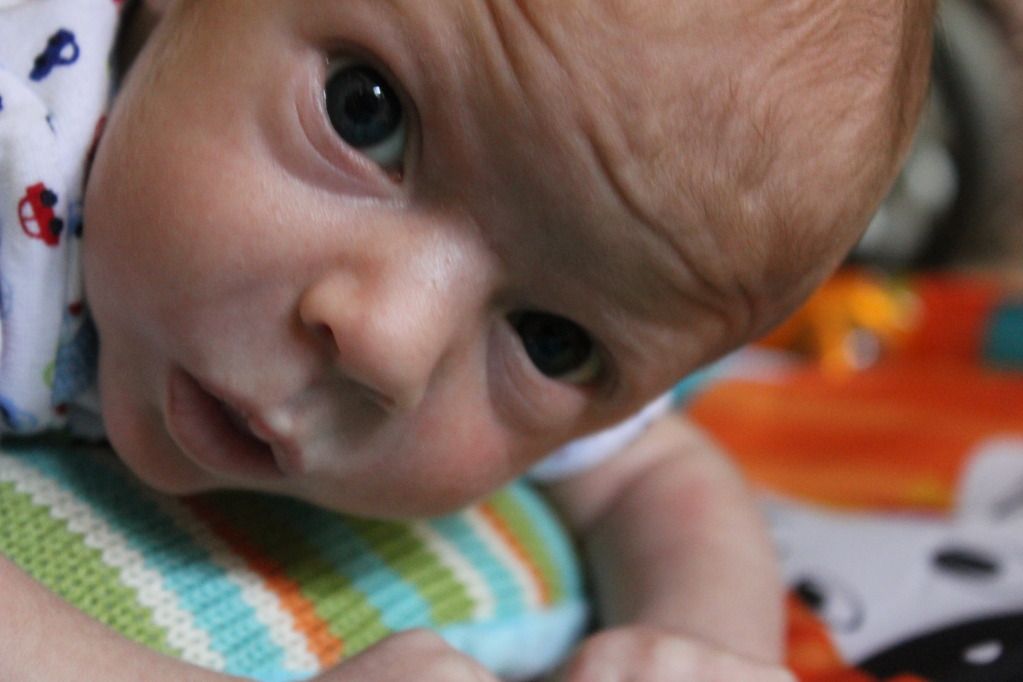 Our week began when I called the the spina bifida clinic in a panic over Simeon's back wound. I just didn't like the look of it. The thing has freaked me out from the start but it seemed ickier than usual so I decided to swallow my I-know-what-I'm-doing pride, and call. I described what I was seeing, emailed a photo to the clinic (thank you iPhone!), and quickly received a call saying they would bump my appointment up a few days. And so began our medical marathon!
I've decided that taking a newborn to daily doctor appointments would be a great way to torture convicted criminals. The hungry crying baby, the frazzled mom with really bad hair (see previous posts), the overflowing diaper bag… BLURG! Here's how our adventures unfolded: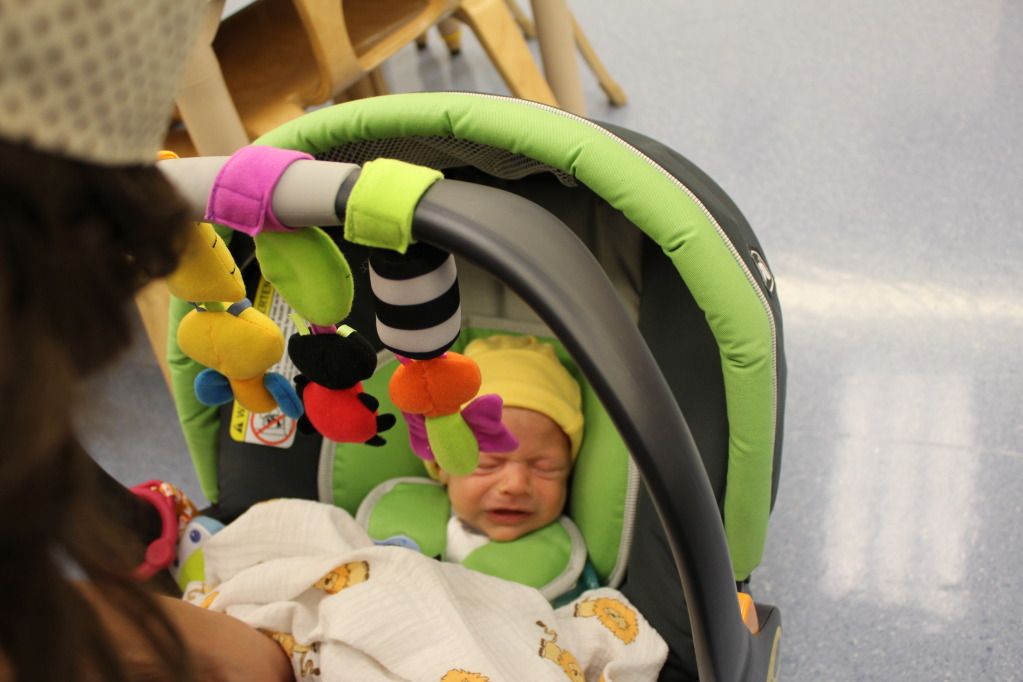 Get me out of this appointment! I demand to be taken home this instant!
Tuesday: We began at the pediatrician's office. All of our appointments with the pediatrician have commenced before 9am. Simeon thinks this is for the birds. It requires me to submit him to all his least favorite things: Waking up early from a nap, stripping off all his clothes, changing his diaper, not feeding him because we're late. Usually, this is done while he screams at me. Usually, this elevates my level of anxiety to such a high degree that he can probably smell my fear. Usually, this makes him so nervous that he amps up his fuss which, (guess what?) makes me more anxious– vicious cycle.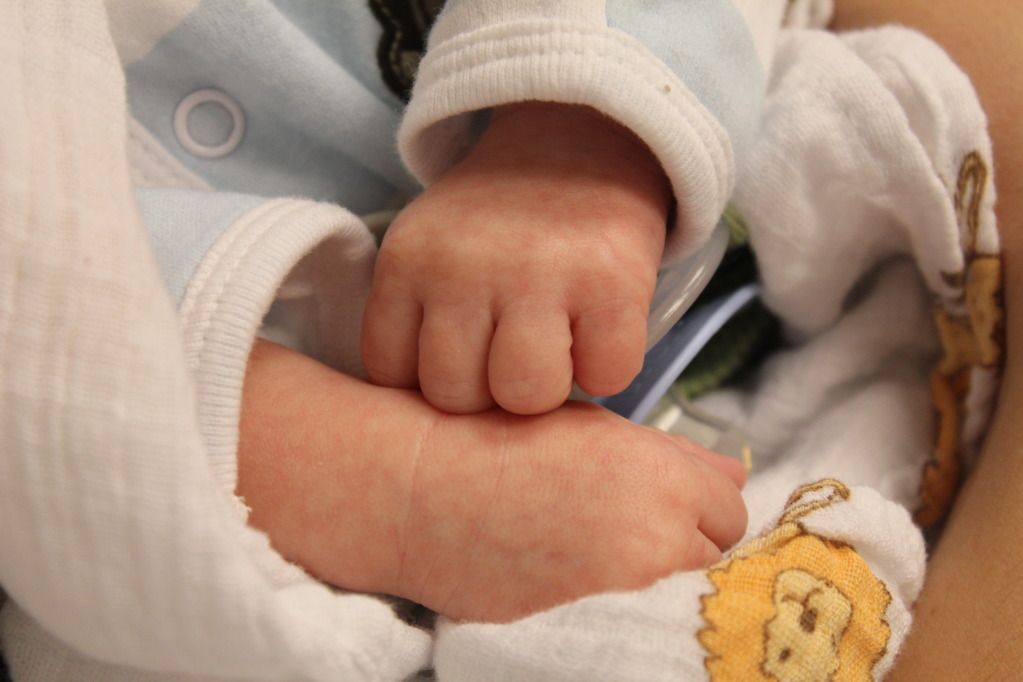 Good news from the visit is that she noticed one of his leg's has some life in it! Greg and I saw this a few days prior but it was fun to have someone else see it too. Simeon can move his right leg. He can draw it up from the hip, move his foot up at the ankle, and curl his toes downward. Good work, Mister! Our doc did say that Simeon seems a bit more grouchy than a lot of babies she sees. She wonder's if he's uncomfortable as he heals. I hate to think I have a fussy baby on my hands. I tried to explain to Simeon that yelling and crying is no way to make new friends, but he wasn't having any of it.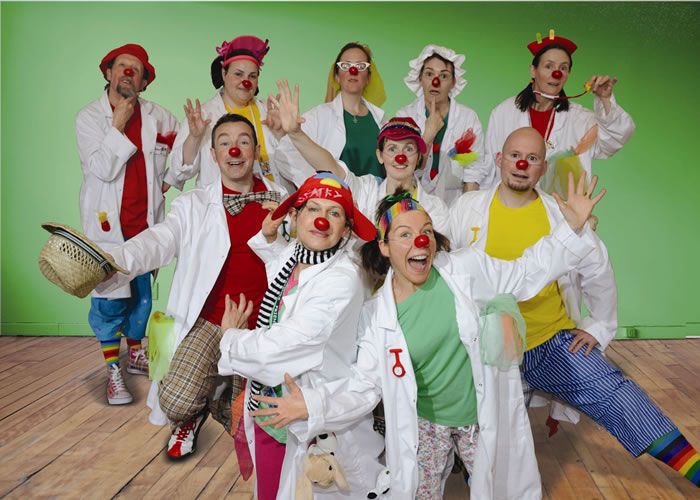 From her office we went straight to Children's Hospital to see Plastic Surgery about the wound. I think that when your child has an interesting case– spina bifida maybe, or just a really tough back closure– you get a lot of extra folks coming to check things out. I say this because when the door to the exam room opened, a stream of about 6 people poured into the room. It was like someone had opened the door to a clown car, except these clowns were very well educated and dressed in starchy white lab coats– also they weren't terribly good at telling jokes.
The plastic surgeon yanked the gauze off the wound that I had been so delicately caring for and declared, "This actually looks pretty good!" I asked him if he was sure. I told him that, to me, it looked horrifying. But everyone in the room seemed pleased with the healing process. They did change the way I do the dressings (Greg asked if they changed it from Thousand Island to Ranch— haha! Get it?). Basically, we need to slowly debride the area. This means I help the wound along by making sure healthy new tissue can grow. WARNING: Do NOT Google this for more info because it is diiiisgusting! (Some of you are Googling it anyway, aren't you? Weirdos…)
Here's all our diapering/wound/cathing supplies. Sheesh!
I know that I'm kind of downplaying this whole day. The truth is, I was incredibly anxious about Simeon's back and it was with extreme relief that I learned everything looked alright. Caring for the wound is tough and it always makes me cry– I feel like I have this beautiful healthy baby until I flip him over and see his scary looking back. It made me afraid to burp him or even just hold him too much. I didn't want to make things worse. Hearing that everything was progressing well made my day.
Wednesday: This was an easy appointment day! The in-home nurse came to our house to check on Simeon. I'll have to write more about this another time. We had some funny interactions. All you need to know for now is that Simeon checked out okay and we will no longer need visits from in-home care. I'm pretty sure they visit all the NICU babies and I get the sneaky suspicion that their real purpose is to make sure your baby isn't living in a creep-tastic situation. Why did I think this?– Every time I expressed a concern about Simeon's back, she would would gesture around the room and say, "You don't smoke… you have a nice place for him here." Huh? What the heck does that have to do with anything?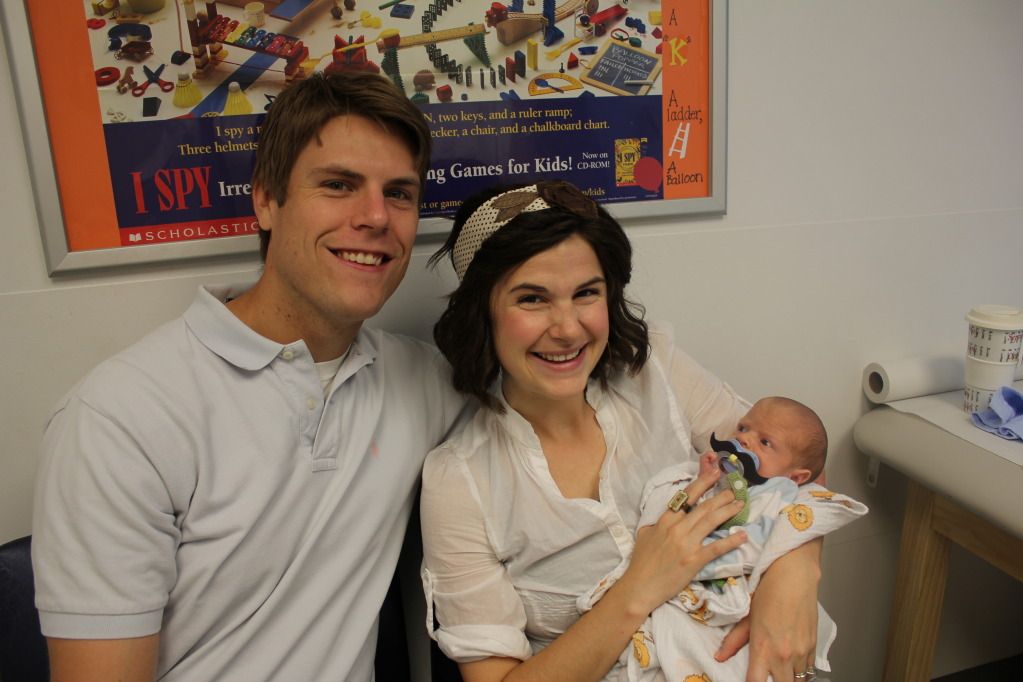 The only pacifier we had was this dashing mustache one. Quite a conversation piece!
Friday: Ladies and Gentlemen! I give you the mother of all doctor appointments! The one, the only, 4 1/2 hour Spina Bifida Clinic!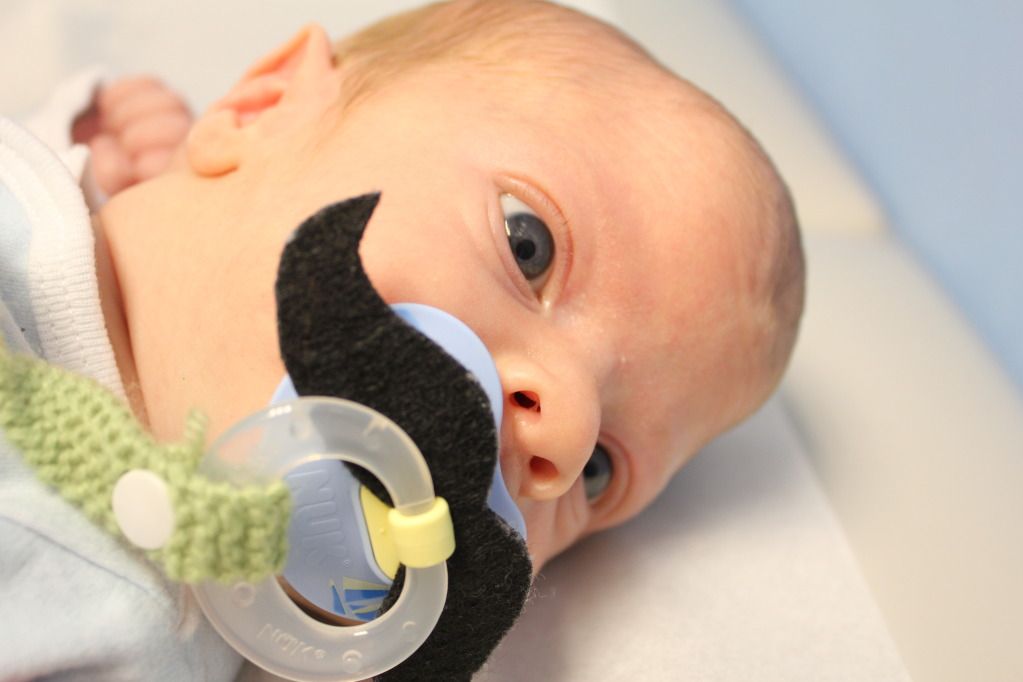 Simeon hoped this disguise would fool the doctors…
That's right folks, this appointment lasted four and a half hours. Sheesh! This is actually a genius plan. With SB, there is quite a variety of specialists that a child should see. Instead of going to a string of separate appointments, they place you in a room and all the necessary doctors come to you. It takes awhile, but it's much better than driving back and fourth to see each individual doc.
There are two other teachers in my school district who have children with SB and both were there on Friday. It was nice to see some familiar faces. Even though we were only in the waiting room together for a few minutes, it made me feel much calmer and more normal to be there with friends. One of their kiddos was lots of fun for Greg and I to get to know during my pregnancy. She brought Simeon a Winnie the Pooh balloon, which made for a great "Welcome!" to his first clinic. (Hey Grace, if your mom reads this to you, Simeon loved his balloon! Thank you!)
We made faces to pass the time…
During clinic we saw:
Neurosurgery NP
Nurse Coordinator for the Clinic
Physical Therapy
Occupational Therapy
Orthopedics
Urology
Physical Medicine
Simeon got a head ultrasound and we saw images of his ventricles pre and post shunt. The size difference is pretty dramatic and we were pleased to see that the little device is doing it's job. We also learned that we no longer need to catheterize Simeon. He is filling up so many wet diapers on his own that helping him along isn't necessary anymore. This will likely change as he grows, and we will probably need to cath in the future, but for now– Hip Hip, Hurray!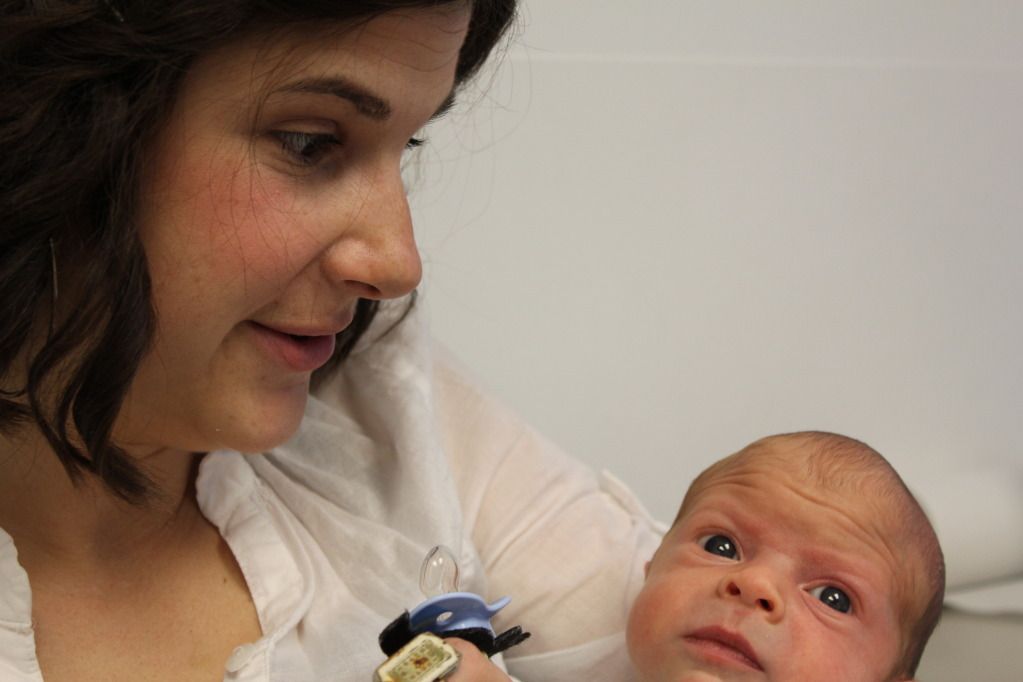 Pacifier courtesy of Aunt Camille!
The day was mainly about meeting the team we will be working with as Simeon grows. We did get some helpful exercises to do with his right leg. While this leg has movement, it is not typical movement– not all of the muscles are working equally. For instance, the muscles on the top of his foot are active, while the muscles on the bottom are not. This can make the leg or foot become stiff so we'll be doing some stretching with the area at home to keep things loose. Simeon also has a tendency to lay with his head to left. Most babies with shunts do this (who wants to lay on a big plastic bulge, anyway?!) but it can cause stiffening of the neck muscles so we'll have Simeon spend some time with his head in the opposite direction each day. He thinks this is lame.
I hope you enjoyed this ridiculously long post. If you've read this far, I'm sure you noticed that I've added lots of pictures to make it less painful. You're welcome and goodbye.
Is that Greg and Simeon or is it the Mario Brothers?