It turns out that working full time and being Simeon's mother is far more time consuming than I originally bargained for. Because of this, the blog has been quiet for the past two weeks but never fear! I've been scheming and photographing and videotaping and coming up with all kinds of updates to lay on you so… get ready, y'all.

In recent news, we celebrated Simeon's baptism. It was such a special day for our family as we welcomed Simeon into the church and celebrated the beginning of his journey with Christ. At first, I was a little disappointed that Sim's medical state forced us to alter the typical method of Orthodox baptism. Looking back though, I feel thankful to have been able to participate in the service in a way that most mothers do not.
The Orthodox Church practices infant baptism and full immersion. That's right– we dunk our babies. Now don't you fret. Babies will hold their breath if they are underwater. Add that to the fact that the priest has them in and out before you can say "Lord have mercy" and you have one very safe (if angry) baby.
Naturally, with Simeon's trach, things had to be altered a bit. Simeon cannot go underwater and because I was more than a bit anxious about the idea of him hovering over a tub of the stuff, we decided to step outside tradition and do things our own way.
What I mean is that while babies are traditionally baptised by the priest's hands only, our priest suggested that we dip Simeon into the tub together. He would hold Simeon's waist and I would have him under the arms for extra support. And so, on the morning of his baptism, it was my hands that held Simeon above the font. It was my hands that aided his descent into the waters. And it was my hands that helped bring him out again.
As I've said before, I focus so much on Simeon's body that I worry I will neglect the care of his soul. His baptism gave me a chance to care for his soul in a tangible way and I'm so thankful that Simeon experienced his ascent into new life with me by his side.
And, anyone who was there that day will tell you that Sim smiled through the entire service.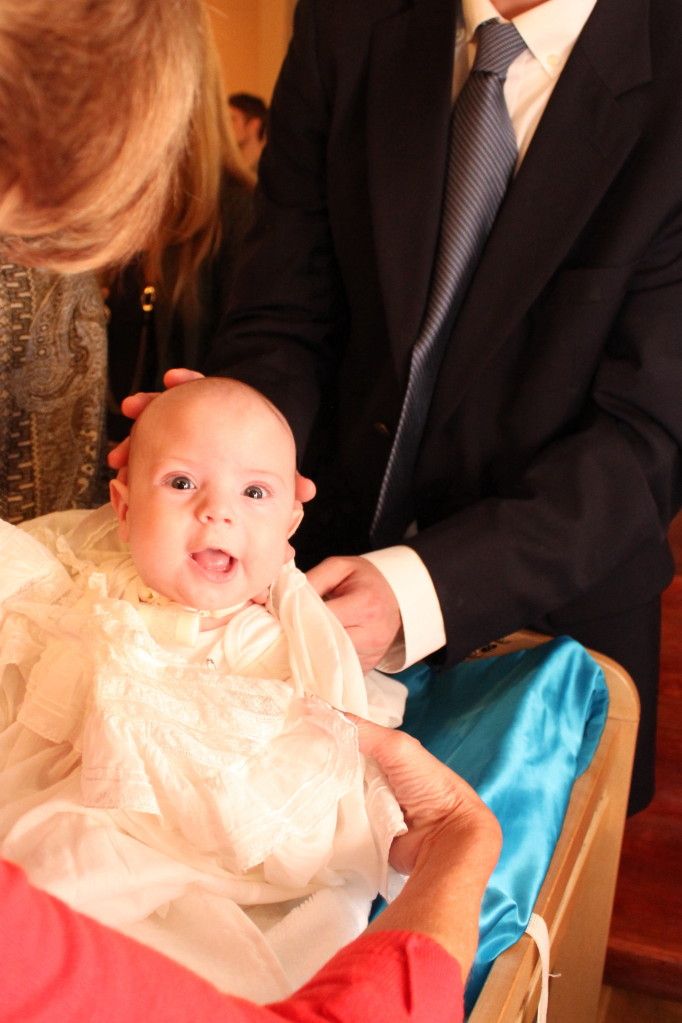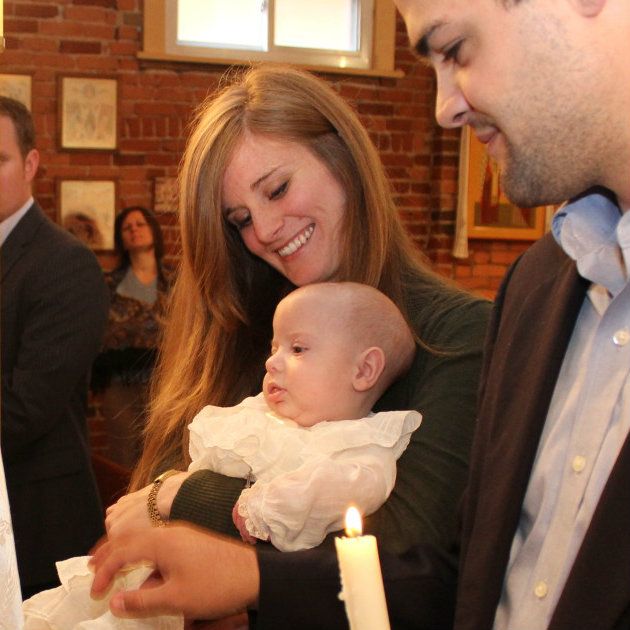 Simeon with his Godparents, Uncle Joel and Aunt Sarah
"
We were therefore buried with him through baptism into death in order that, just as Christ was raised from the dead through the glory of the Father, we too may live a new life."
-Romans 6:4
"Come Thou Fount of Every Blessing" sung by Sufjan Stevens
What would the day have been without a few funnies? Here are some of my favorite pics from the day…
Faith counseling from Cousin Charlie:
Thoughts from Uncle Ben: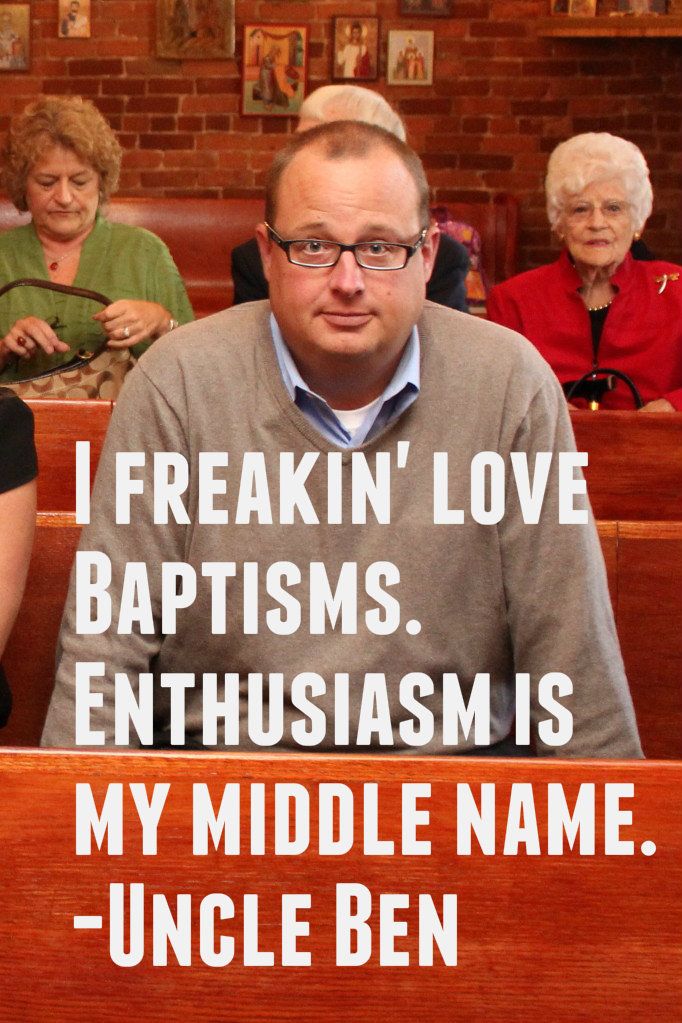 Simeon calls upon the Lord:
And possibly my favorite picture, because aren't photos of baby boys in
frilly dresses better in black and white?
See you next time, folks!