Greg defines Mary-Evelyn-style humor as "playfully confusing"– just weird enough to make everyone slightly uncomfortable but without being at anyone's expense.
Which is pretty spot on and helps explain why I LOVE hidden camera shows (bring back Candid Camera!) and why I've decided to start publicly referring to Simeon as my "womb fruit."  I'm getting tickled just thinking about it.
(PS, I really thought I had hit the jack pot with "womb fruit" but it turns out there's an online store called Wombfruit Wraps, which is a pretty icky name for a baby sling company if you ask me.  "Uterus Produce Wraps" would have been much more refined.)
So, since I'm sure you'll be on my side, let's talk about the little womb fruit's recent traitorous behavior.
Throughout my pregnancy I was told all about how "boys are best."  I bought into stories about the "mama's boy" I was carrying– how he would love me the most.  How only mommy would do, blah blah blah.  Let me just say…
LIES.
Seems these storytellers hadn't met Mr. Daddy "Fun-Times" Smith
Simeon likes me well enough if I'm his only option but when Greg is present I'm chopped liver– and not the fancy kind that my grandma eats but like, really gnarly chopped liver from a can (if it comes in cans, and I'm not sure it does).  Not only am I second choice but being held by Mommy when Daddy is in the room prompts an all out tantrum.  Our mother/son photos look like those pictures of kids being forced to meet Santa– complete horror.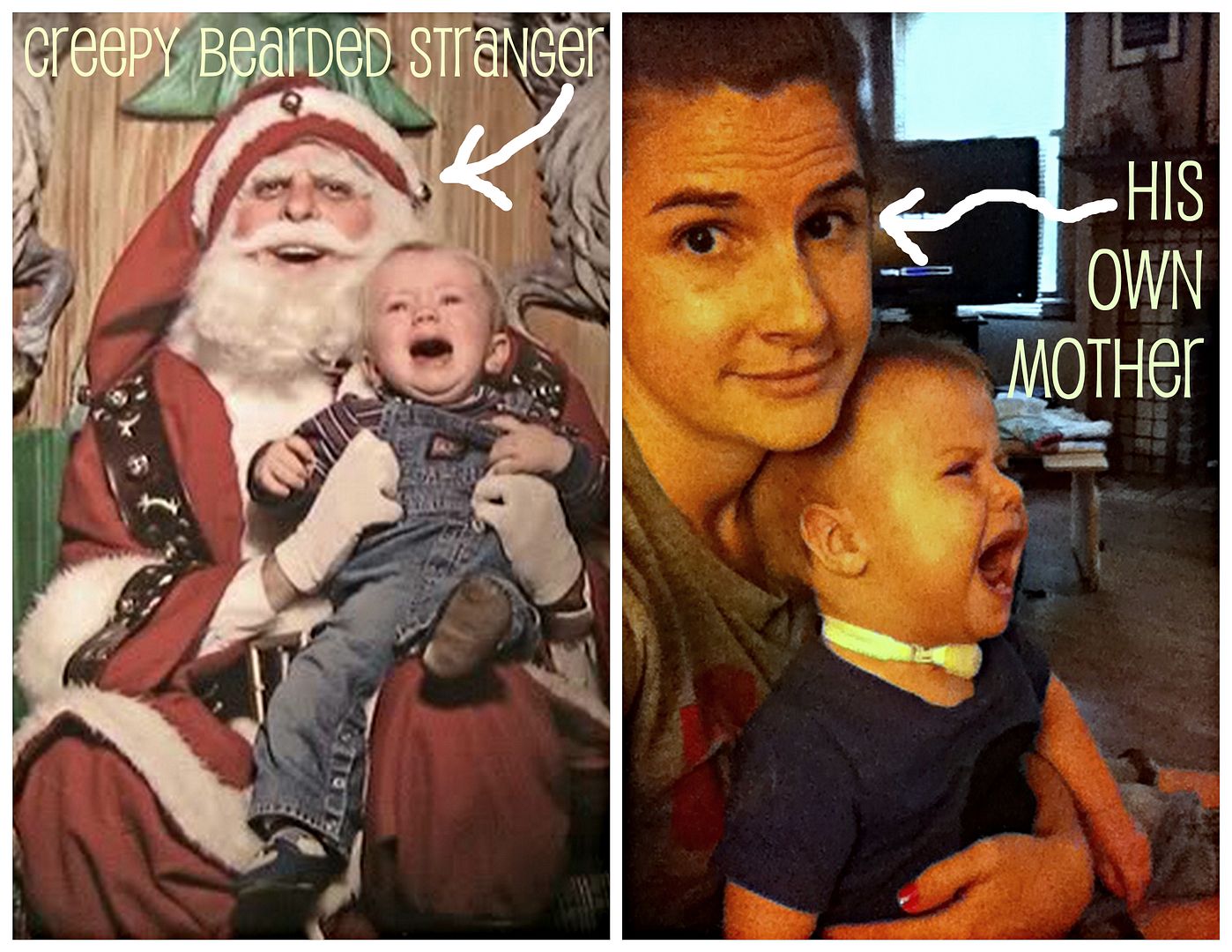 I know he'll come around. After all,  I was his favorite a few weeks ago.  For now, I'll just enjoy watching my womb fruit slowly suck away Greg's energy and zest for "free time."  *Disney villain laugh*
Dear Simeon,
You only like Daddy because he doesn't change any of the diapers (the Internet may as well know the truth).  Don't come crying to me when you're knee deep in a squishy pee-soaked nightmare.  Guess you'll think twice next time about who's really got your baby back (ribs).
Sincerely,
Your Mother