Simeon is nine months old and he can:
Eat chunkier foods without making wretched gag faces (like cottage cheese and cooked apple pieces!)
Sit (with his hands supporting) for short periods of time
Wear his passy-muir valve all day except during naps
Play peek-a-boo
Feed himself a cookie
Spin himself perpendicularly during tummy time to get toys
Almost roll from his back to his belly (we're still perfecting this one! Soo close!)
Progress!
During our recent visit to ENT, they gave us a cap for the trach. Basically, this is just another step on the long road to getting the trach removed (aka: decannulation). While the passy-muir valve allows Sim to breath in through the trach and out through his nose and mouth, the cap simply blocks the trach altogether, forcing Simeon to breath in and out through his nose and mouth.
Fabulous News:
The doctor gave us a cap to try at home!
He also stated that Sim will "not need this trach for life." He then said, "We just have to figure out what steps are needed to get him to succeed without it."
A scope of Simeon's airway showed that his vocal chords are working normally and all the structures look good.
Not-so-Fabulous News
The doctor wants us to wait a week or two before using the cap (but I want to use it now, gosh darn it!)
The heavy Darth-Vadery breathing noise Sim makes when wearing the valve is apparently not as normal as I had assumed. It likely means his airway is still smaller than it ought to be. The type of narrow airway Simeon has is called subglottic stenosis and was one of his (many) issues back in June/July.
This means Sim may need surgery to expand the airway so that he can safely breath without the trach.
He will have a sedated bronchial scope to check the narrowness of his airway (probably this summer).
The doctor would like him to be weaned off of his oxygen prior to removing the trach– something I do not see happening anytime soon.
My excitement over getting the cap has become all mixed up with my disappointment over the possible need for airway surgery. Like a big fruit smoothie with some anchovies thrown in, the appointment just left me feeling… weird and a little disappointed. But it helps me to remember that our ENT is wonderful and also kind of a cool dude. I trust him to know when the time is right to get this thing out. Don't stop believing… 2013.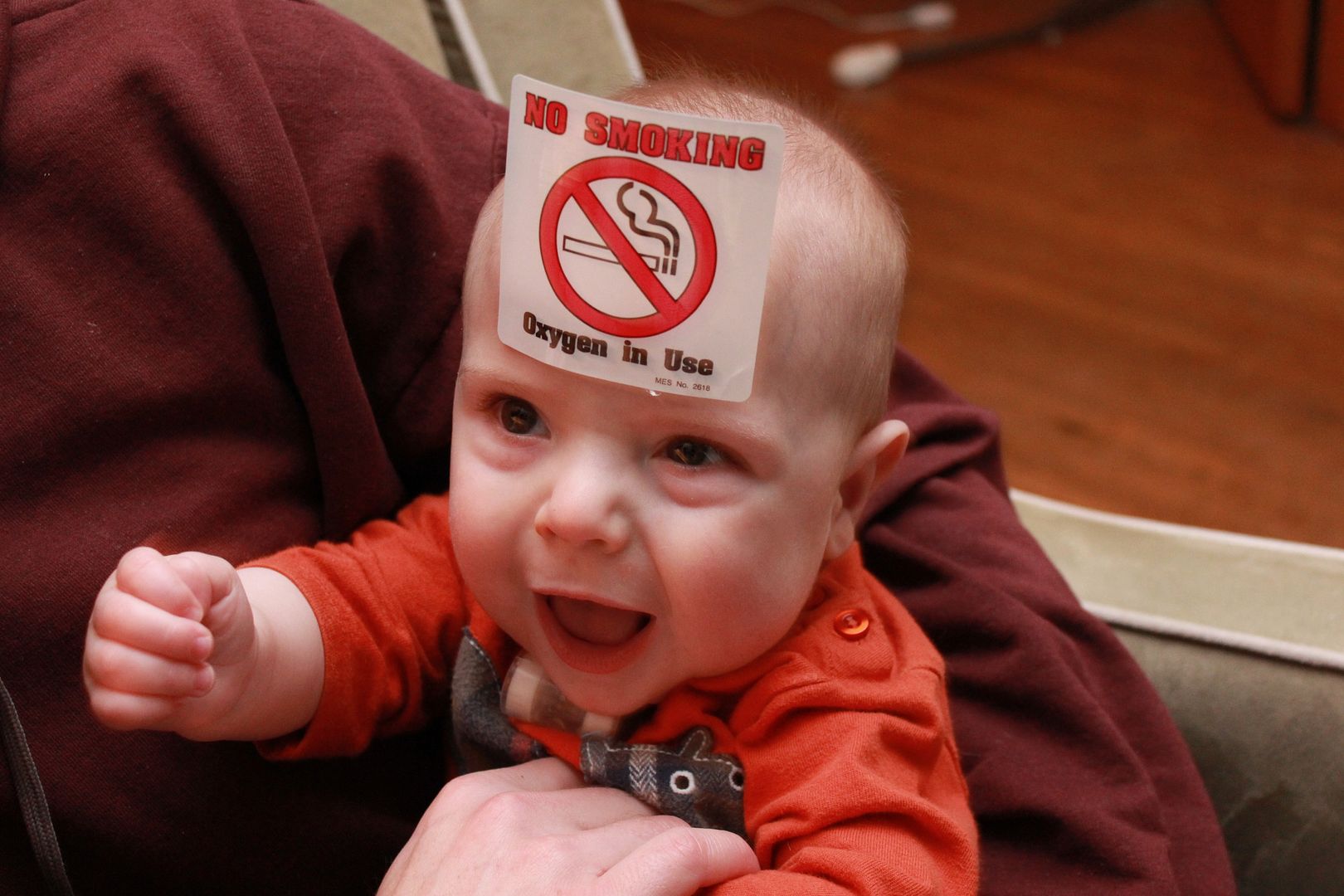 But enough about trachs! Check out what this big, noisy, cutie-pie was up to last month
Simeon at Eight Months…