There are so many things I didn't realize about life with a trach. The more I learn, the more I realize how I've taken my nose and mouth for granted all these years. Nose and mouth, you have my apologies. I would kiss you both if I could, but trying would make me look absurd.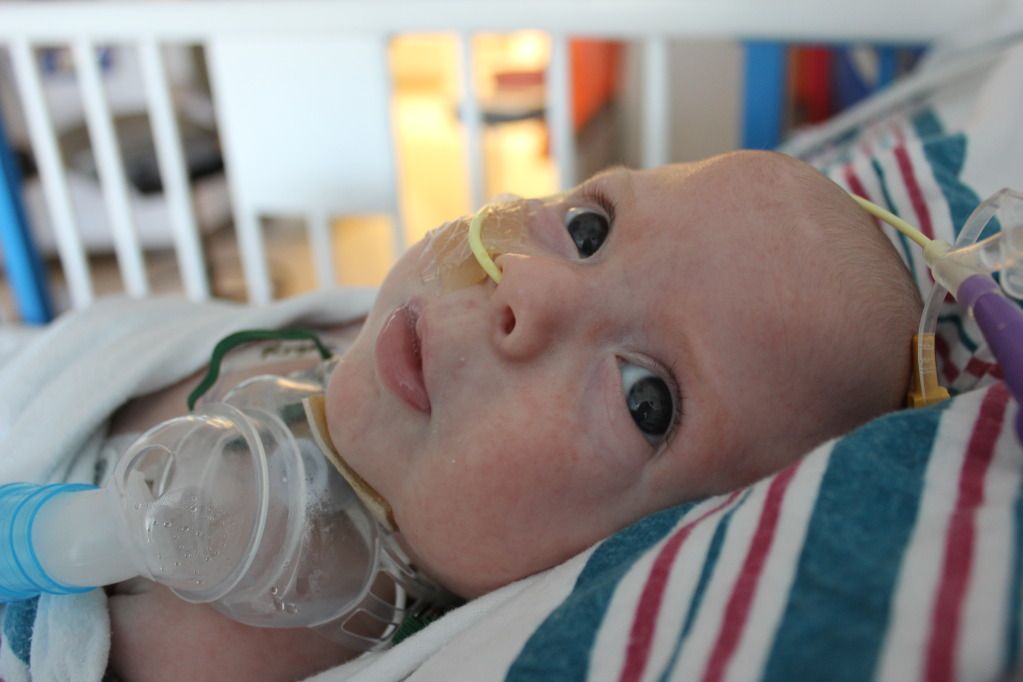 Did you know that when you have a trach…
You can't really smell anything. Did I just blow your mind? Really though, think about it. To smell something you breath in through your nose… woah.
You can't really taste much either. Eating with a trach must be a bit like having a cold all the time.
You still yawn by opening your mouth wide, but all the air is going in through the trach. Opening your mouth is just habit… totally unnecessary. Weird.
When you breath through the trach, you need a way to humidify the air because you don't have the moisture in your nose and mouth to do it for you. To do this, Simeon will sometimes wear a cool mist collar.
The trach needs to be suctioned regularly since you can't really cough up and swallow all the mucous in your airway. Suctioning seems gross, I know, but is it any grosser than coughing up and swallowing your own secretions all day? Humans are icky.
You can't make any sound because the trach is below the vocal cords so air does not pass through them. They make a valve called a passy-muir that allows you to move air above the trach, but you have to learn to tolerate it so it's a bit early to try one out with Simeon.
I moved the mist collar so that you can really see his trach.
That last one isn't funny at all. Actually, it's one of the few things I've cried about since getting the trach– no more baby noises. I knew this was part of the whole trach-deal so I took a few videos of Simeon gurgling around before his procedure. The thing is, I should have taken a video of him crying. Does that sound cruel? It's just that I didn't realize how much I would miss the sound of his little baby cry. There was always something cute about the way he cried– discontented huffs would ramp up into an angry waa! before he would dial it up to eleven (seen Spinal Tap, anyone?), only to cool off with repeated sad (but darling) whimpers. Now, when Simeon gets upset he does all the crying expressions but he is silent. Oddly enough, instead of making me feel as if Simeon has gone mute, it makes me feel as if I have gone deaf. He has the same feelings, the same anger, the same discomfort, but I can't hear any of it. It's terrible.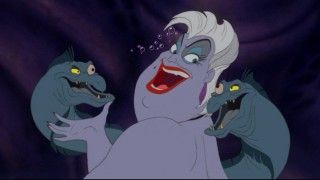 "Don't underestimate the importance of body language… HA!"
As much as I love our ENT doc, I can't help picturing him in the operating room dressed as Ursula the Sea Witch. My poor little Ariel went into his cave and came out silent– and he didn't even get the fun brush with royalty part on the other side! I imagine our doc rubbing his hands together maniacally. "What I want from you is… your voice" he says, black tentacles twitching with anticipation. "Now, sing for me…" Flounder and Sebastian shake their heads in despair as Simeon opens up and lets out his best rendition of Elmo's song. I wonder if our doctor has Simeon's voice trapped inside a seashell somewhere. Maybe an ENT office raid is in order…
Jokes aside, this hasn't been an easy adjustment but I do have a quite a few things to be thankful for.


List of things that are so spectacular only throwback 90s slang can adequately describe them:
1) My friends are super-crazy-out-of-this-world-get-out-of-town-kowabunga amazing. I had three lovely and sassy friends volunteer to come with me to my trach training class so that we would have a few folks in town who could care for Simeon if Greg and I need a night out. Umm… that's awesome.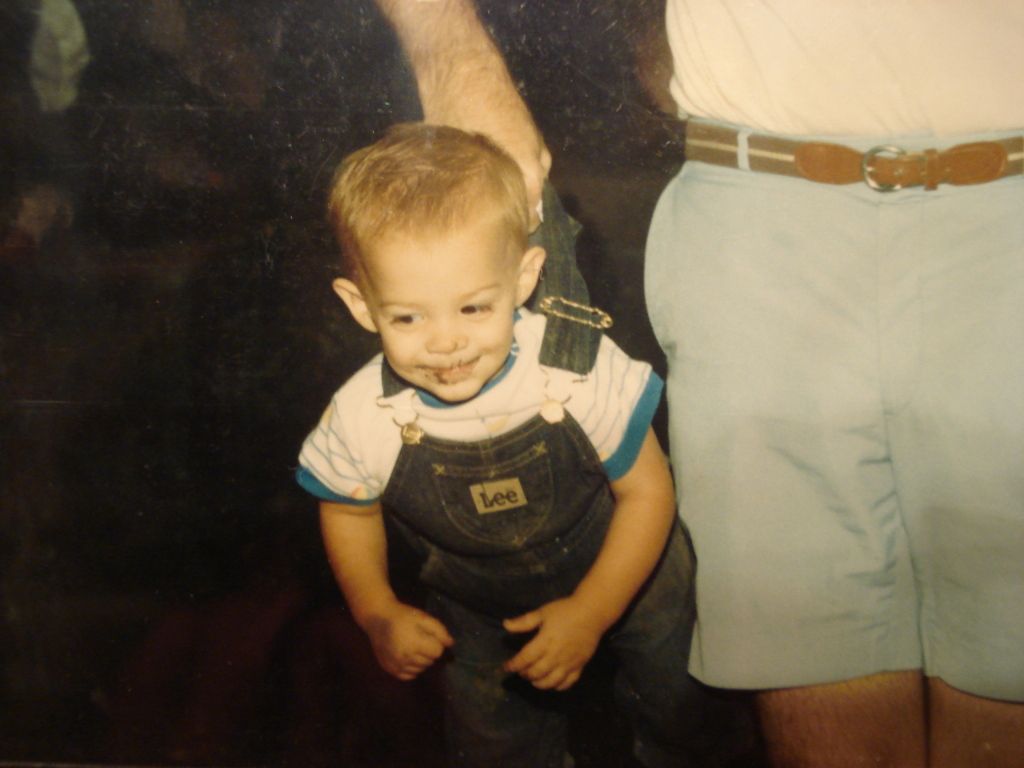 My brother Joel as a dirty little dude.
2) My brother came to visit and he is the bomb. If you haven't met him then you have my sincere pity because he is a talented, smart, pee-your-pants funny guy. Joel is someone I can really be totally honest with about this whole experience– even if it means I have to say a few curse words and cry a little.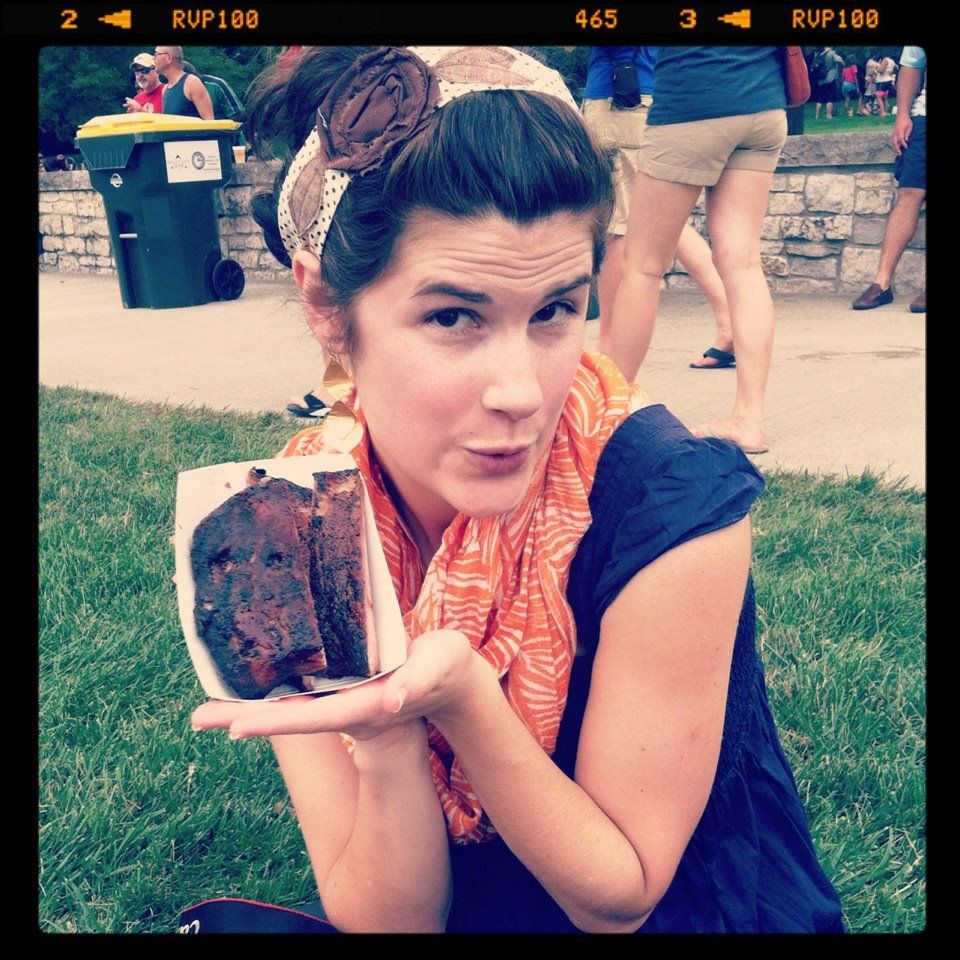 While the cat's sedated, the mice will eat ribs.
3) Because Simeon has been sedated during his recovery, there isn't much we can do for him so Greg and I have taken some time for ourselves. I've been napping like it's my job, and we also attended the Columbus Jazz and Ribfest. It was off the hook, yo!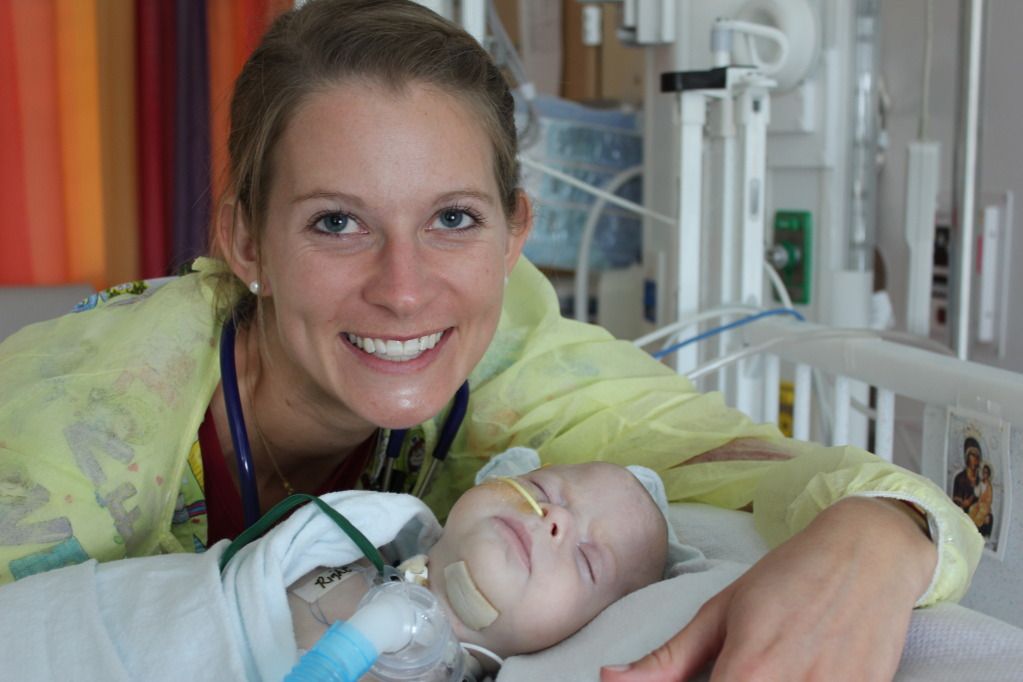 Thank you for taking care of me, Nurse Erin!
4) Our nurses in the PICU are all that and a bag of chips. That's right, I've made my peace with the PICU and even made some friends. I can't say enough how much I appreciate the nurses here. They have been attentive and kind to our boy and for that I'm so thankful. As if that isn't great enough, our nurses from other floors stop in to visit from time to time and see how the little guy is doing. How nice is that? Thank you to Erin, Lisa, Katie, Morgan, Jeff, Heather, Allison, Alithia, Marla, Lis, Cheryl, Melissa, Sheila, Jamie, and all the other folks who have looked after us. You guys are super fly.
So there you have it. For now, we are working on recovering and trying to stay healthy. It isn't as easy as you might think. Sometimes I think that Simeon likes the hospital so much, he's trying to make it impossible for us to leave. I'll depart with these two examples: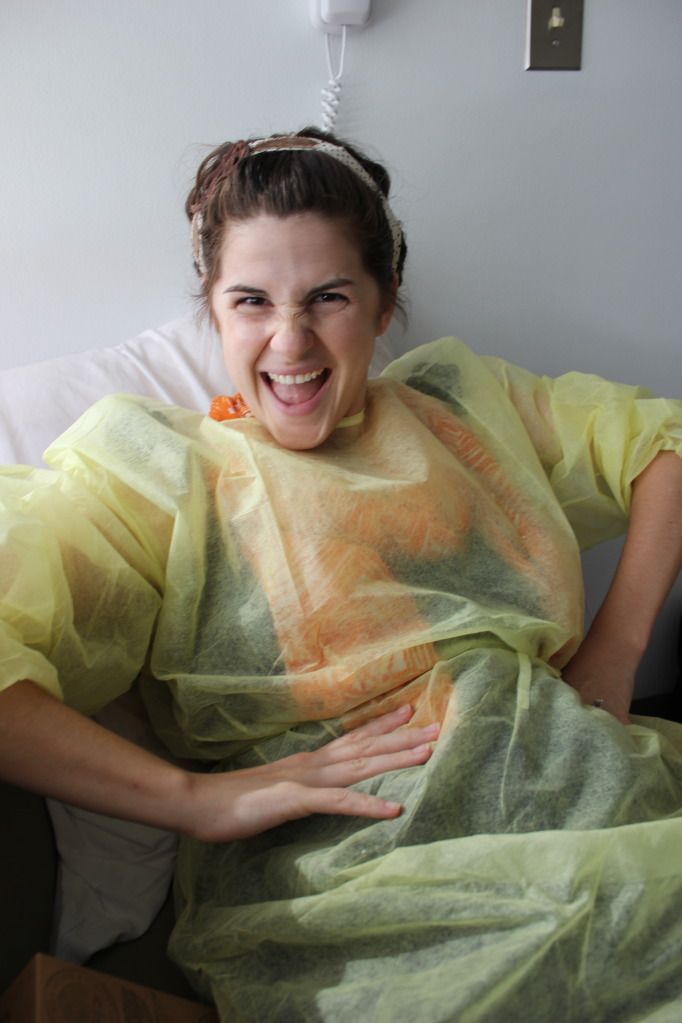 Sassy hospital gown alert!
This morning we found out that Simeon has a UTI. We are hoping that this won't keep us in the hospital longer than expected and that it can be cleared with antibiotics alone. UTIs can be pretty scary with kids who have SB and this may mean that we need to start cathing again.
And (drum roll please…) Simeon now has a hernia. Say what? No foolin', dear reader. The guy decided to spring a hernia that will need to be repaired surgically before we can go home.
See what I mean?
Dear Simeon,
If you love the hospital so much why don't you marry it?
Sincerely,
Your Mother
And now for Ribfest photos…