While cruising through Facebook this week, I stumbled upon an article titled 15 Superpowers Special Needs Moms Have. I've seen memes and status updates all about my superhero standing but this article—written by a blogger I read often— got me exited to learn more about my powers, so I started reading. Among the strengths listed were patience, flexibility, extreme energy, and the uncanny ability to soothe my rowdy child.
"YES!!" I practically shrieked with delight, fist-pumping the air and snapping at Simeon to cool it on the whining or—so help me—I would use my newfound superpowers for
evil
.
"I KNEW IT!! I am a
special needs
mom and I have things none of the other moms have!"
Honestly, I've always known I was better than everybody, but it felt so good to see it in print. Boy, did it ever.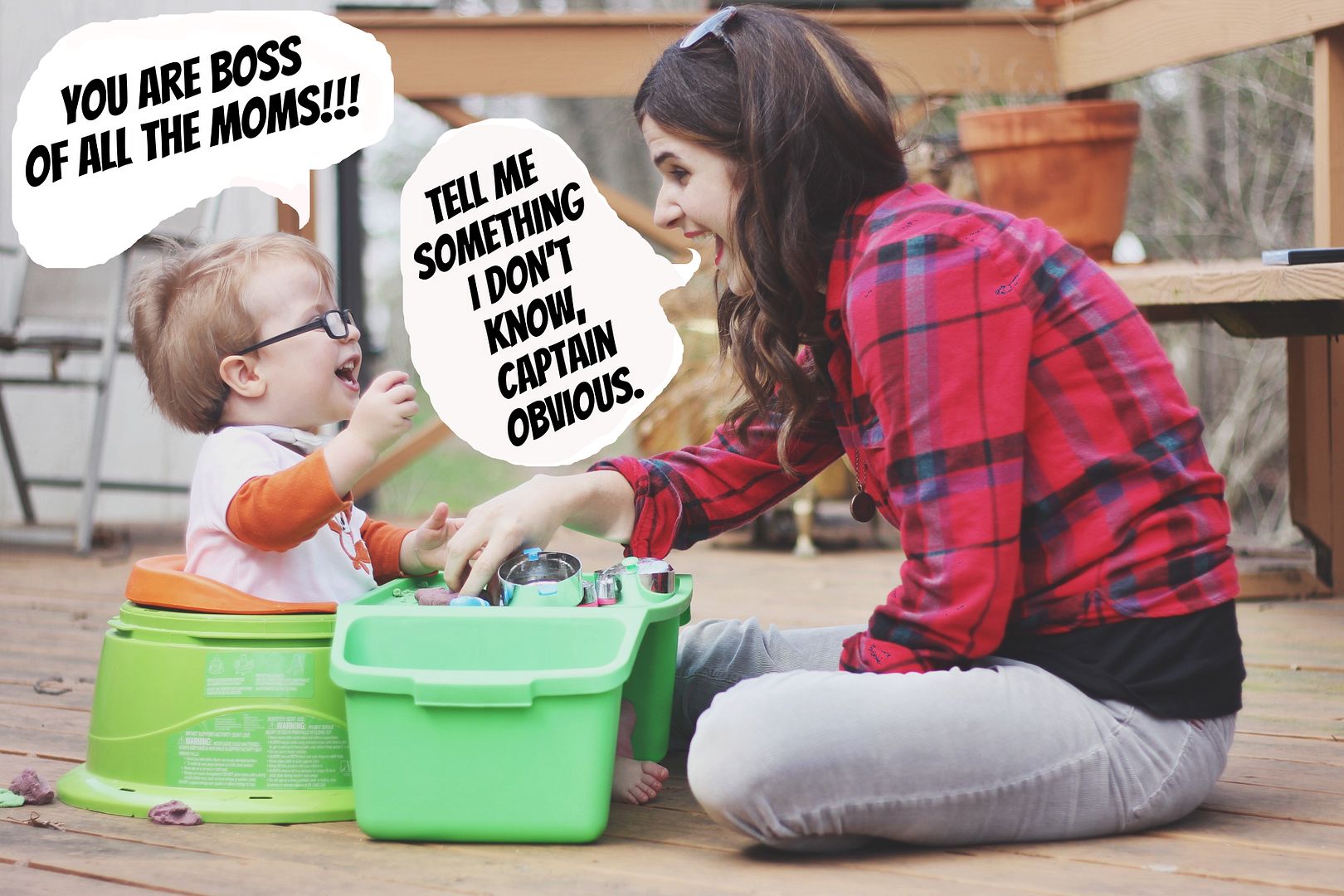 Because God knows that parents of typical children have it easy, am I right ladies? They're reclined on their couches, sipping champagne out of crystal flutes, and sucking down baskets of bon bons, all while their compliant little broods pace the floor reciting Emily Post like scripture verse. They never have to exercise patience. Or flexibility. Or soothe their child when…
Hold on a second. Don't all moms do this stuff? And, more importantly, don't all moms not do this stuff sometimes?
Are special needs moms really that special? 
I received a message from a blog reader a few months ago. She was kind and thoughtful and wanted to let me know that reading our story inspired her to be a more patient and less materialistic mother.
Man oh man, was that awkward. Should I tell her the truth? That my husband is the patient one and that I am the yeller in our house? Should I tell her that I recently lost it with Simeon during a late night fuss-fest and I actually growled into the air like a caged beast and slammed the door on my way out of his room? Or that I sometimes (just maybe) use a word that starts with "f" and rhymes with "luck" when we're running late? And, Lord have mercy, materialistic? Heck yes I am. Should I hope my reader never sees THIS post or THIS one?
Or should I just say it loud and clear: Enough is enough. We have got to stop the supermom nonsense. We have got to stop saying that special needs moms care more, love more, feel more than other mothers. It simply isn't true.
Special needs moms? They're just like you.
We are you, in fact—or who you would be "if." If your child was faced with a tough situation. If you received scary news. If you feared your child wouldn't be accepted.
Wait—these things happen to you, too? My point exactly.
For a long time, families like ours have fought for acceptance, not just for our kids but for us mothers, too. Yet somewhere along the line "we are equal" became "we are better." We toil more, we mother more, we are superhuman. It's a myth—and it sends a dangerous message. Dangerous because it tells the world that only a special kind of person can raise a son or daughter who is different. Dangerous because it increases our loneliness when we remove ourselves from the world of everyday motherhood—a world we still live in, even if it sometimes seems far away.
We are just regular people raising the children we love. The flaws we had before we were parents are still the flaws we have today. Our special needs children have not perfected us by their very presence.If we truly wish to join in—at playgroups, MOPs meetings, PTA gatherings, and every other mom group—if we want to be
understood
on a deep and honest level, then we as special needs moms would do well to acknowledge the universal nature of mothering.
We have to look at our mom friends, the ones with the "typical" children, and stop telling them there is a divide between us. That they need to learn how to "get" us. That we are different.
The truth is that all mothers are allowed to be tired. All mothers are allowed to be frustrated. We are all just trying.
Sure, us special needs moms might grieve more. Oftentimes we are stretched thinner. Yes, we carry a unique pain that others do not. But do we love more? Do we have greater perseverance, patience, or fortitude? Not hardly. Certainly not everyday.
I'm not my son's special needs mom. I'm just his plain old ordinary/flawed mom.
I'm hanging up my cape, y'all. It doesn't suit me one bit.