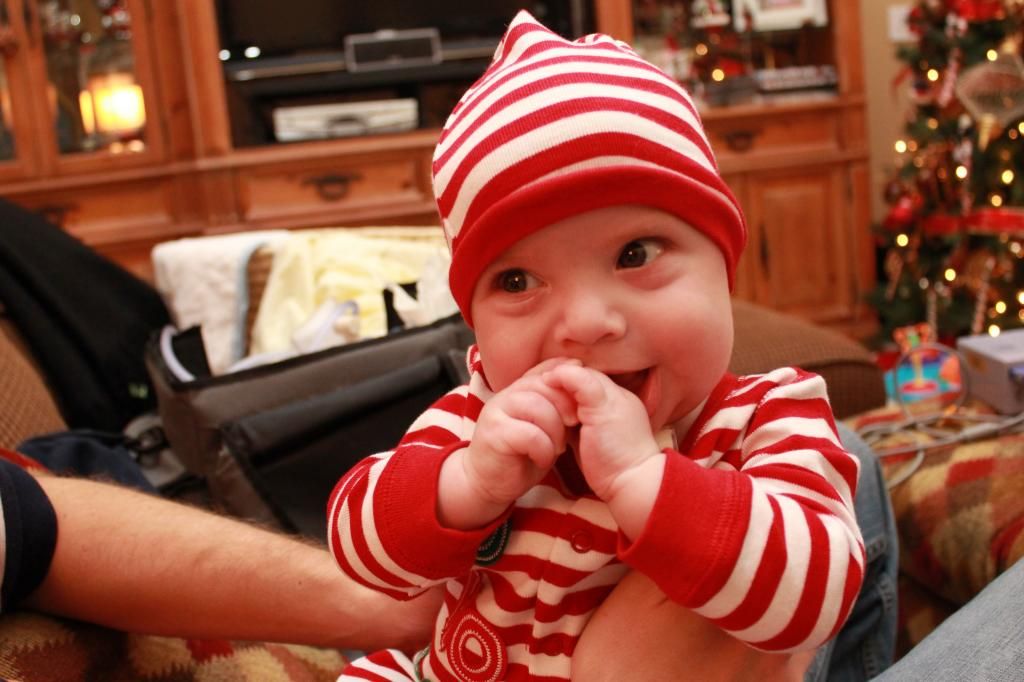 I've been a mom for 6 months. I have no idea what I'm doing. Do you think people can tell?

Allowed Sim to sleep in clothes that I knew were pee soaked because I didn't want to risk waking him up by changing his pants.
Let him go unwashed for a whopping 10 days.
Watched him stick his finger up another child's nose and then put his fingers into his own mouth. I could have stopped it, but who has the time?
And since I'm in a fessing up mood, how about I come clean about something else?
Not to go all boo-hoo and Sad Sally on you, but while I may joke about our disasters it seems the recent events have brought out a certain little monster in me (and not of the cute variety)– anxiety. I've dealt with him before but this year, when all my plan A's have become plan B's and C's and D's, life feels very fragile and guess who's come slinking back in?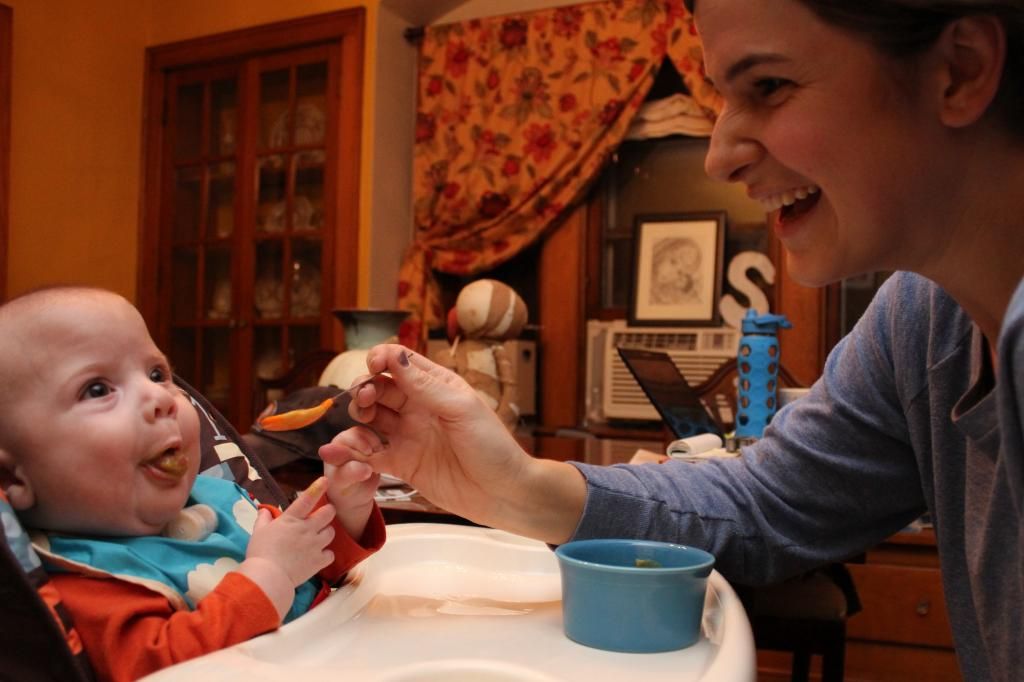 Let me distract you from my stress with this cutie pie!
The silly thing is that my panic comes right as Simeon is doing wonderfully and our day-to-day life settles into a normal pattern. After three weeks of upheaval, we are back in our fire-free home and my broken foot is just about healed. Still, I am anxious. I'm grinding my teeth, biting my nails, and trying to ignore the now regular late-afternoon upset-stomach. And I wonder, how many mothers out there feel this way? Can there be post traumatic stress for a mommyhood like mine? Running on adrenaline isn't easy and unless you have nerves of steel or an over abundance of serotonin, I think living our recent history would leave anyone with some level of emotional weirdness. So while I see myself as self-reliant it may be time for this mommy to get a bit of heart help.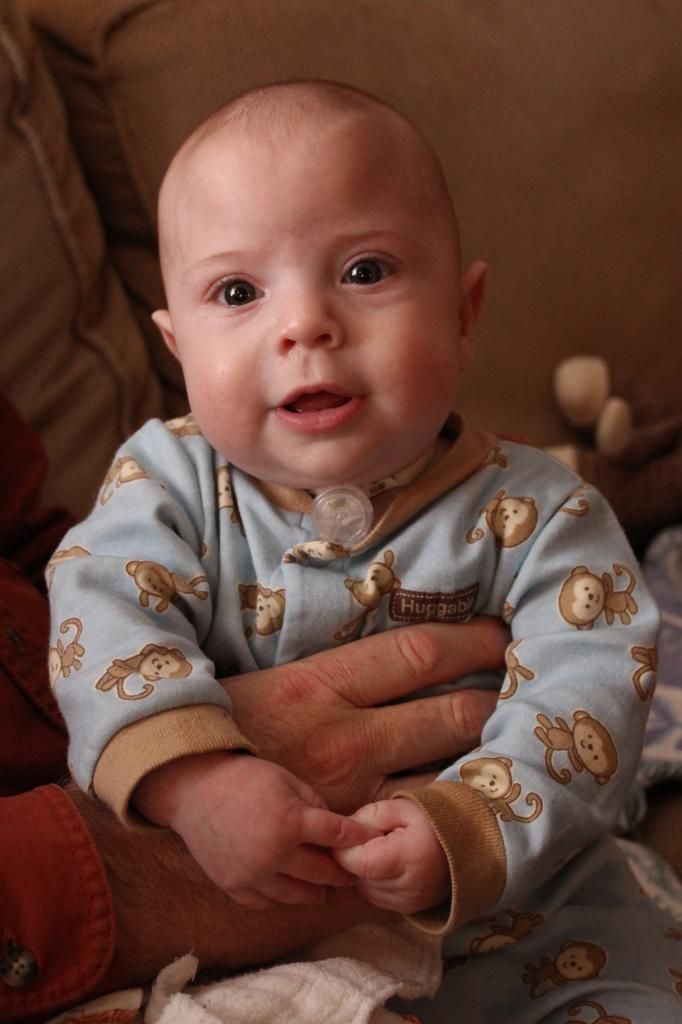 And since you're absolutely dying to know, here are my get-your-act-together ideas:
Talk to someone. And by this I mean a professional– not my husband or my glass of wine.
Consider a medication to get me over the hump– although I would rather avoid this since I'll probably forget to take whatever it is anyway.
Start exercising again.
Give myself some kind of once a week break to take a deep breath by myself (fat chance on that one, but a girl can dream).
I share this because I have to
believe
it isn't just me. So, if you're reading this and feel the same, congratulations–you're not crazy– (or
are
you?
*maniacal foreign

–

sounding bad-guy laugh*
).
But enough about me. Let's get to the good stuff! Simeon provided me with the following list for your reading pleasure:
Simeon at 6 months
by Simeon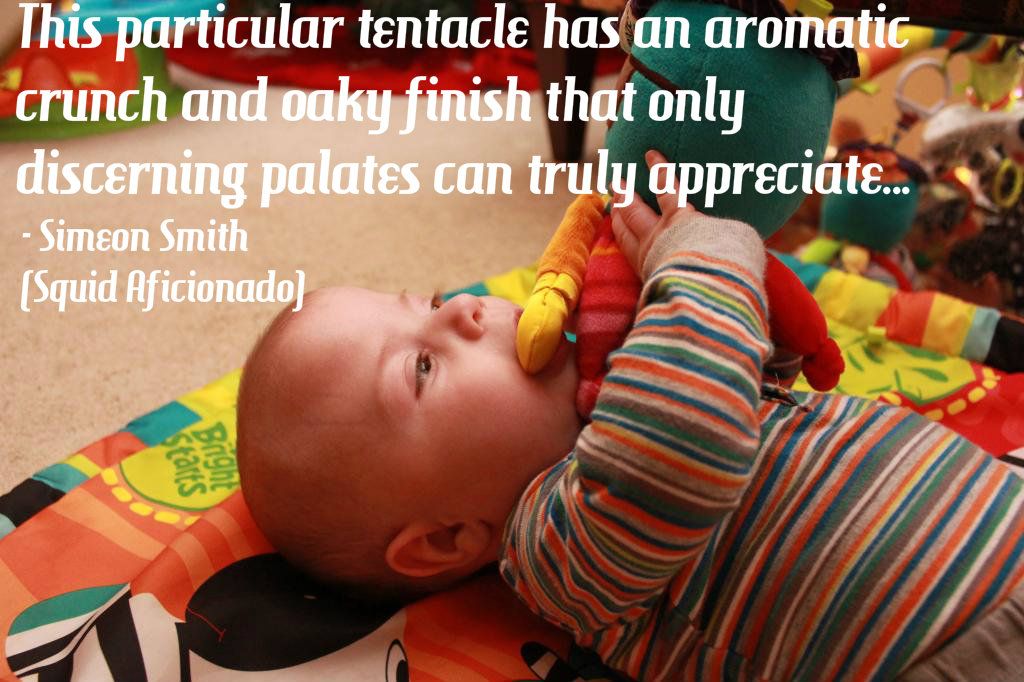 Best Friend:
Captain Calamari– particularly his yellow hook tentacle which has a tantalizing crinkle sound that drives me bananas. Bring on the tartar sauce.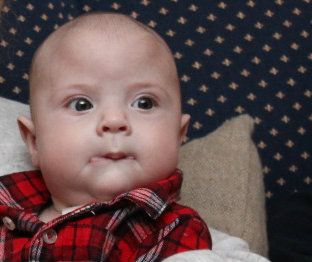 Hobbies:
Many of you know me for my expressive features but what you fail to realize is that I will one day become the greatest mime the world has ever known! To prepare, I've perfected some new faces such as the
I-forgot-my-dentures
mouth pucker and the
blowing-impressively-long-chains-of-spit-bubbles
lip pout
.
Biggest Fear: The mighty roaring sound the shower curtain makes when it's being pulled back before bath time. Like the shrieking of a thousand she-devils, it turns my blood cold. Egads!
Hopes for the Future: That William and Kate will produce a pretty girl baby with an affinity for American boy babies.
Recent Developments: Despite living with two big people who set fire to small people's possessions, I have managed to roll over from belly to back, grow a tooth, and learn to eat solid food. It's clear that, in this house, only one person is making real progress. I don't want to brag, but that person's name just might start with "S" and end with "imeon."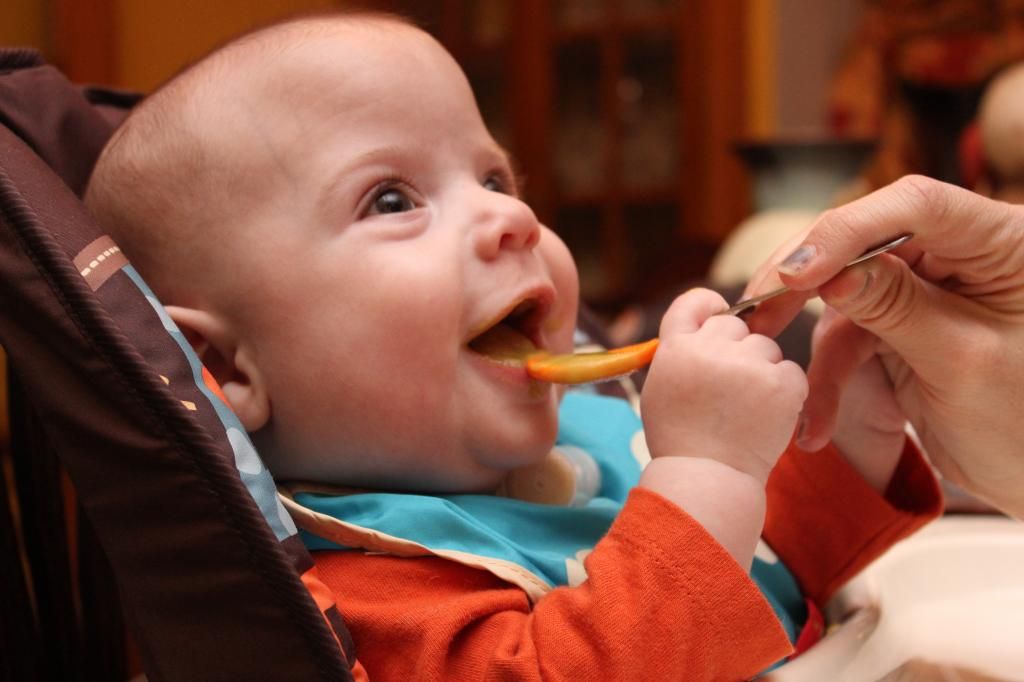 I'll leave you with this video of my recent accomplishments. Duchess of Cambridge, if you're reading this, consider the following my audition for royal son-in-law. :
Song is "Short People" by Randy Newman