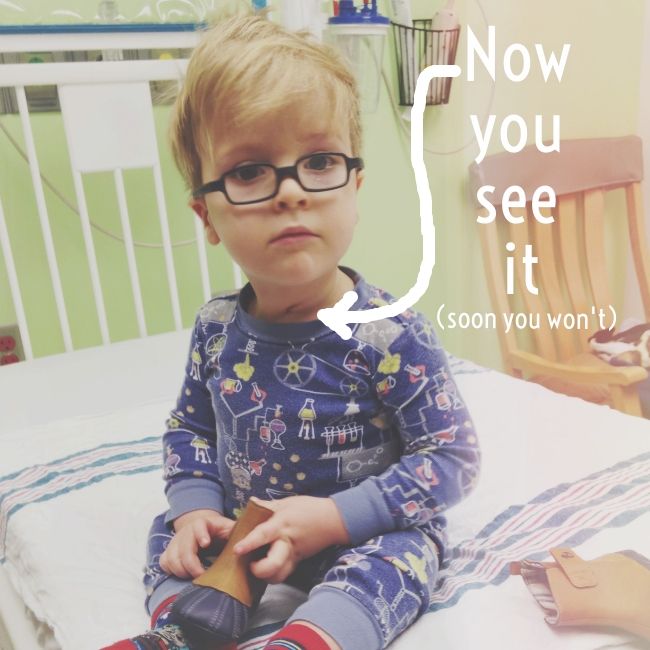 My kid has had an open hole in his neck for 6 months. You heard that right, folks– a straight up hole (or "stoma," if you're fancy) leading directly to his lungs. When Simeon was decannulated back in June (read his decannulation story and watch the video HERE) we were told that the trach stoma would most likely close on its own but, after 6 months, it just wasn't making any progress. The stoma was fully healed but not fully closed.
Kind of like this gal's ear lobes. Are they healed? Yes. Are they closed? Nope. Are they making her mother sad and uncomfortable? You betcha.
At the base of his neck, Sim's had what looked like an extra belly button and inside that belly button was a tiny pinhole leading to his airway. You've probably noticed it in pictures and, while it wasn't gory or horrific (belly buttons are kind of cute, after all), it definitely made life a little bit complicated.
Why life is complicated when you have a hole in your neck…
Swimming could kill you. Just like when Simeon had the trach, water is the enemy. Even after his decannulation this summer, getting neck-deep in the pool (kiddie or otherwise) would have caused serious problems. Not that we avoided the pool or the beach, but we had to be VERY vigilant when we were near water and (since toddlers don't know how to be vigilant) I spent most of our water time in a state of anxiety. #stillworthit
Bath time could kill you. Same issue as above. Like all toddlers, Simeon is a splashing machine in the tub. This caused at least one massive coughing fit during each scrub-a-dub-dub. Drops of water would slip into that little hole and Simeon's lungs would freak out.
When you have a cold, the stoma does whatever your nose is doing. This isn't complicated, actually– but it is hecka gross. #snot
You have to keep it clean. And keeping any part of a toddler clean, is complicated.
After discussing the options with our doc, we decided that having the stoma surgically closed was a good idea at this point. So, on Friday morning, Simeon had (what we hope will be) his last trach-related procedure.
Like all surgeries, there were possible complications and because those complications can be severe (read about them here if you are curious and you like big words) we spent one night being monitored in the PICU and a second night on the floor, just for good measure. Simeon did great and we came home on Sunday– just in time to sing fa-la-la-la-la, wrap all the presents, watch some major holiday television, and prepare to celebrate the nativity.
Thank you to everyone for your prayers and support this past weekend. Sleeping at the hospital when you're worried about your kid and you're 8 months pregnant, isn't for the faint of heart. Knowing that our little family was in your thoughts really meant a lot.
Alright– enough about surgery updates and neck holes.
Onward! Christmas is coming…