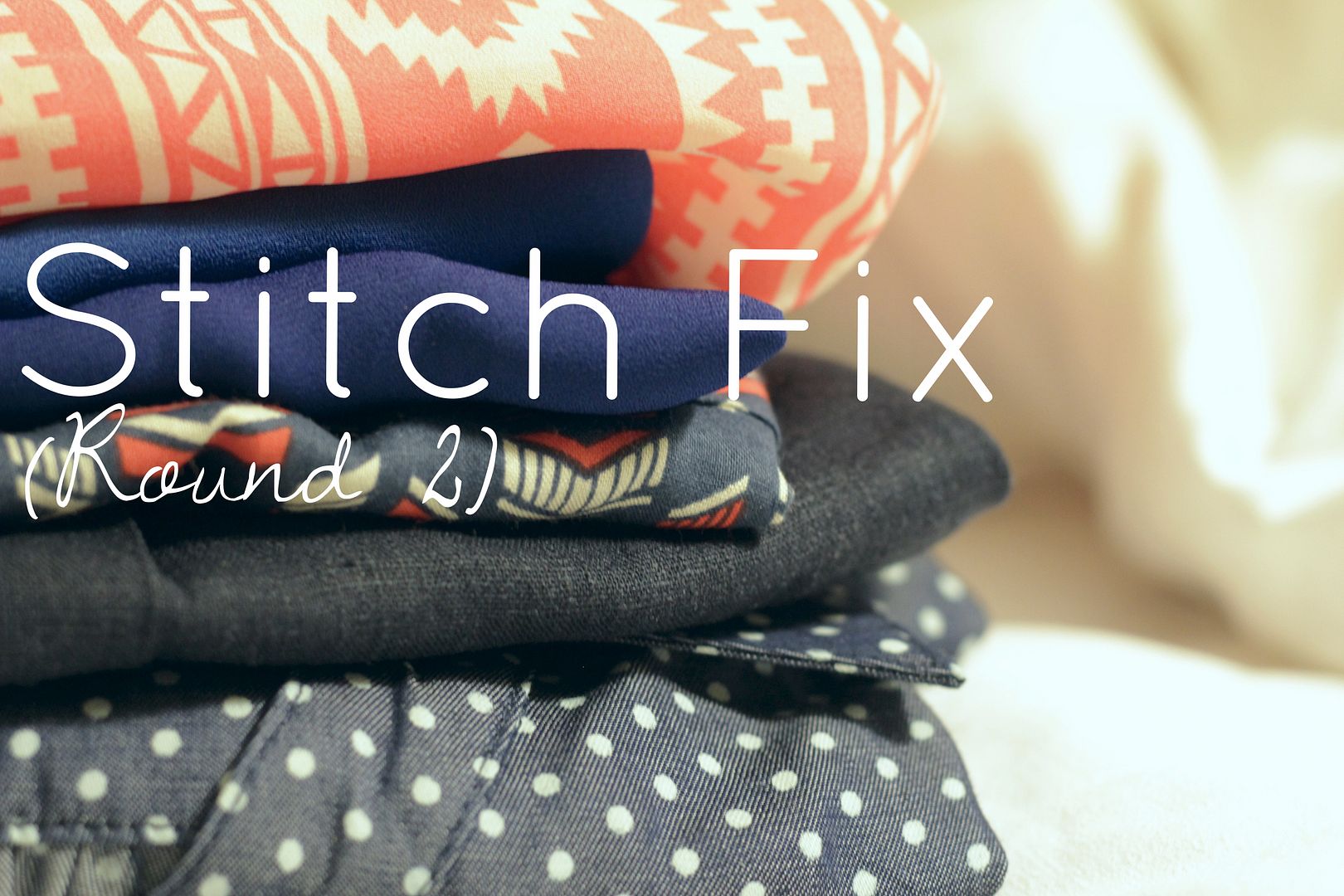 When I was little, there was this tiny Hello Kitty store inside the Nashville mall that I thought was the pinnacle of posh. Sometimes, after running her errands, my mom would take me in and I was allowed choose one small item to purchase. Even with the pink pencils and plastic purses,  I always made a beeline for the same thing— the carefully wrapped mystery bags sitting in a bin beside the candy display.
Sometimes there would be a toy inside or maybe a few pencil toppers and a notepad. The mystery was irresistible, because even though I had no idea which bubble-gum scented kitty-themed trinket awaited me, I knew I would adore it.
Stitch Fix is like that– but for grownups.
I got my second Stitch Fix this past Friday before we left town and I was seriously itching to open that box all weekend– it was like I had a fashion rash or something. I've worn the clothes I kept from my first fix a ton and I hoped to get as much wear out of this new one.
It did not disappoint.
So here we go. What would YOU keep?
***Read about my first fix and how it works
HERE
.***
First of all, can I just say: HOLY CALF MUSCLES Batman! I look like I could kick somebody's teeth in– with style. What the heck? Moving on– this embroidered skirt from Pomelo is cuuute! No bones about it. The details give it an Aztec feel, which I like, but it doesn't have much of a lining and for a denim skirt it's a bit pricey. Reminds me a little of this skirt— except not as puffy. Hmm… to keep, or not to keep?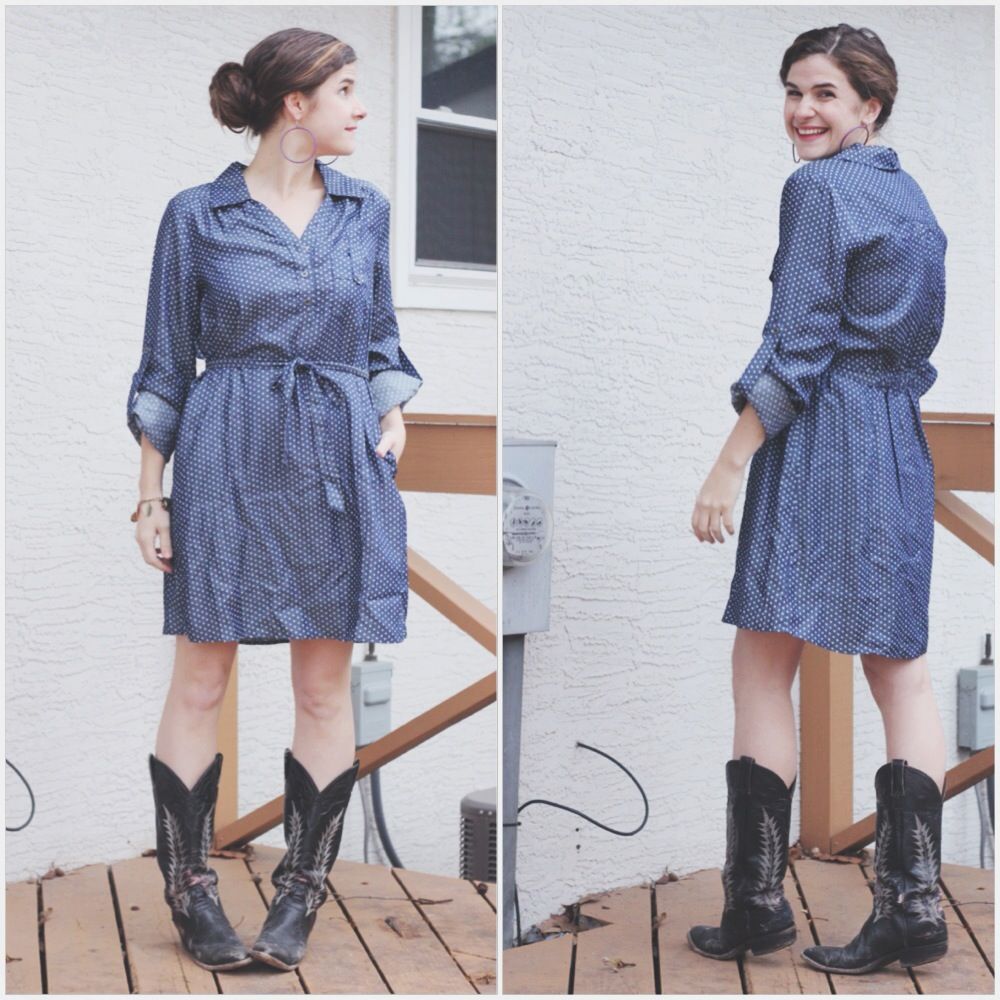 I've never been much of a shirtdress girl. I asked for a chambray top but my sweet stylist said they didn't have one in my size so she sent this 41Hawthorn dress instead. I actually hated it until I saw these photos and then I felt my deep-rooted disdain for the shirtdress slowly melt away. I mean, really— it's not half bad. My main problem here is the price and the fact that, around my general bum area, it bunches up like a mofo (<— which is slang for a the baddest word in the whole world so I'm really banking on the probability that my dad isn't reading this post about women's clothing). Probably sending this dress back but perhaps I shall live to shirtdress another day?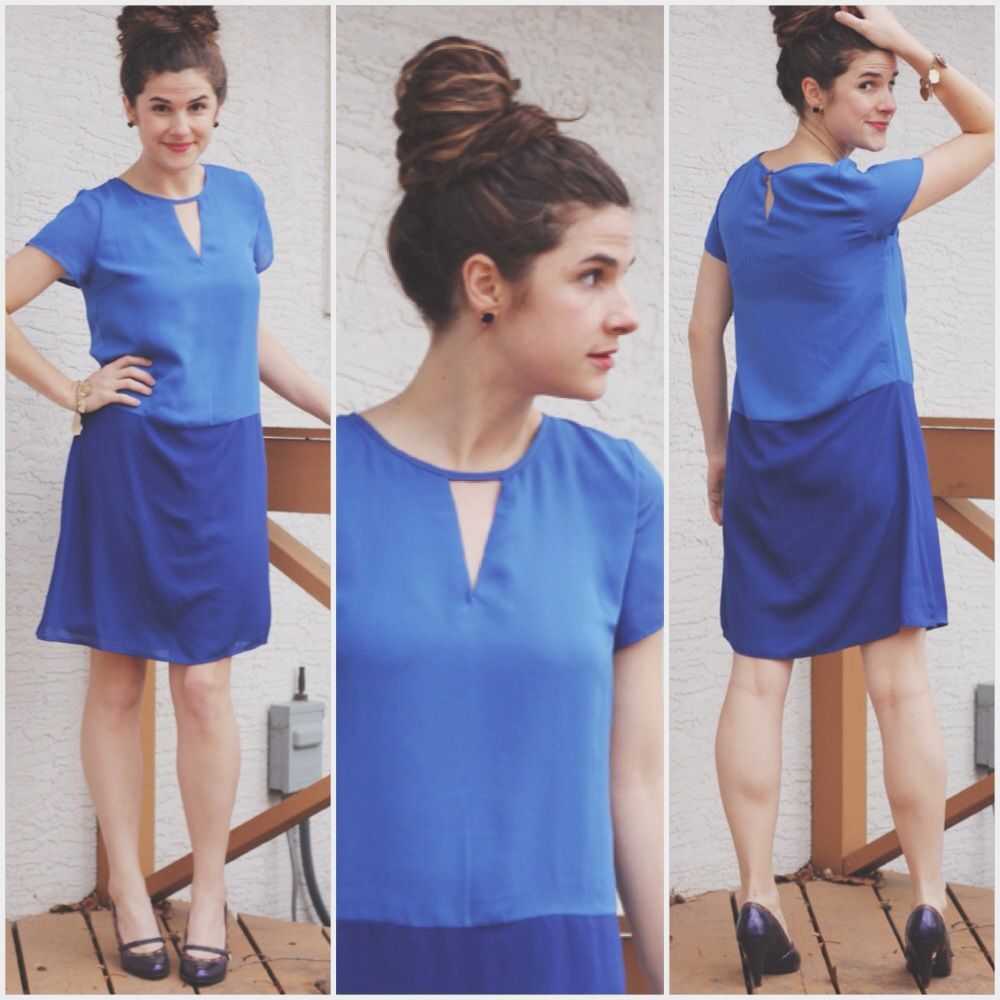 When I took this little gem from 41Hawthorn out of the box, I literally squealed and maybe cried a little. The color! The triangle cutout neckline! The oh-so-forgiving shiftdress fit! Thank you dress gods, for sending something that will both hide my baby-modified waistline AND make me the color of a summer blueberry. Also, it looks great with flats. It wins all the prizes. Keeping it– and maybe already wore it to work like, yesterday…
This Kut From The Kloth top had me feeling a bit meh. I wanted to like it but the front material was so dang starchy that the shirt kind of sat across my chest like a sandwich board. I also have a top quite a lot like this one– but it's from Target and it cost waaay less. The cheapskate in me wants me to send this back (she also wants me to stop buying brand name cereal but she can't have everything).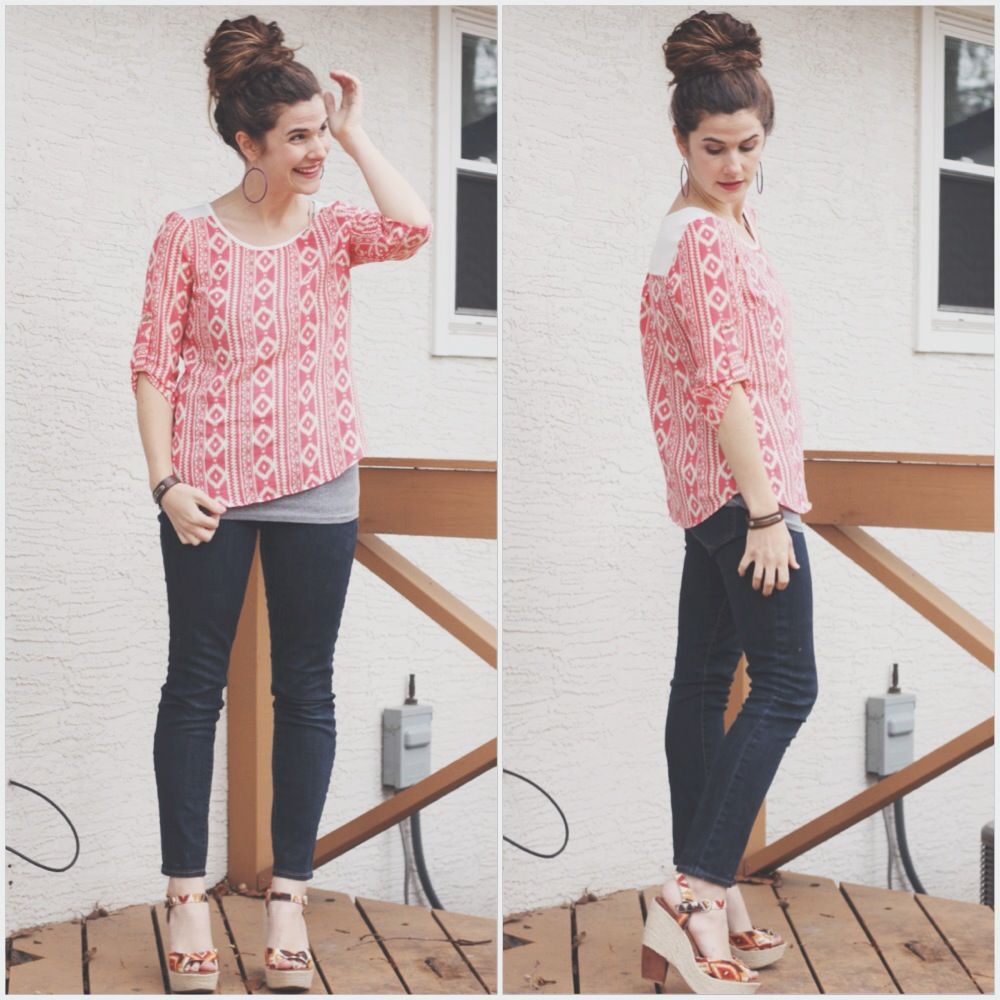 This fix only came with two tops and this one from Ezra was my favorite. I've been digging coral/peach/orange lately (and not just for clothes but for walls, nail polish, and candy, too) so I knew this would be a hit. The fit was great (seriously, everything I've ever gotten from Stitch Fix fit nicely, which I think is super impressive) and the length was perfect. It's thin enough to work all summer and since it's getting to be that time of year, I'm thinking I'll keep it.
Woot! That's all for now! My second fix was just as fun as the first and now I'm looking ahead to Round 3.  Ad-dic-ted.
Have you gotten your first Stitch Fix yet? You really should. I mean it..
Last thing– can we just get real for a moment? It was freezing when I took the pictures above and each one is a far cry from the real "look" I sport everyday after I get home from work. Here's what I really wear on our back deck after hours (I promise it is neither fashion forward nor freshly pressed):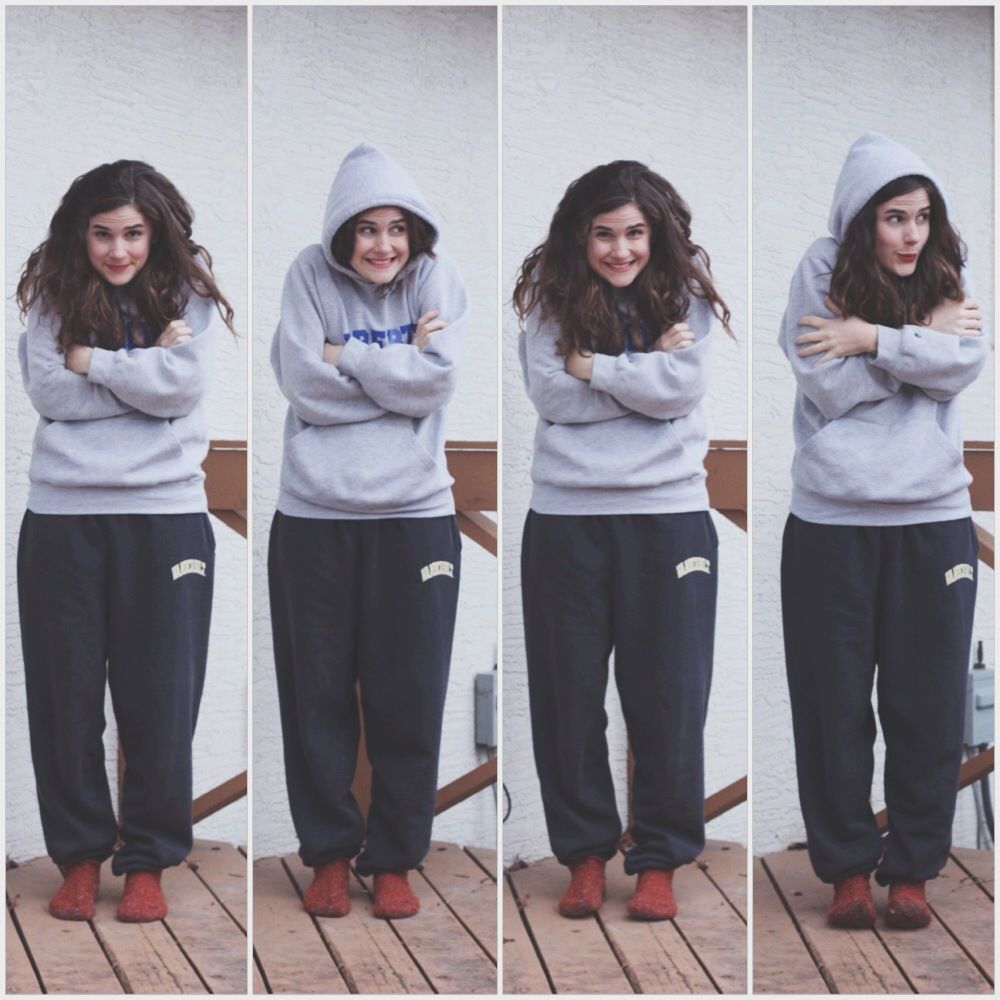 Nothing will ever look as good as these sweat pants feel.

Nothing.
(( Check out Stitch Fix and try yours
HERE.
))
Which of the items above are keepers in your book?