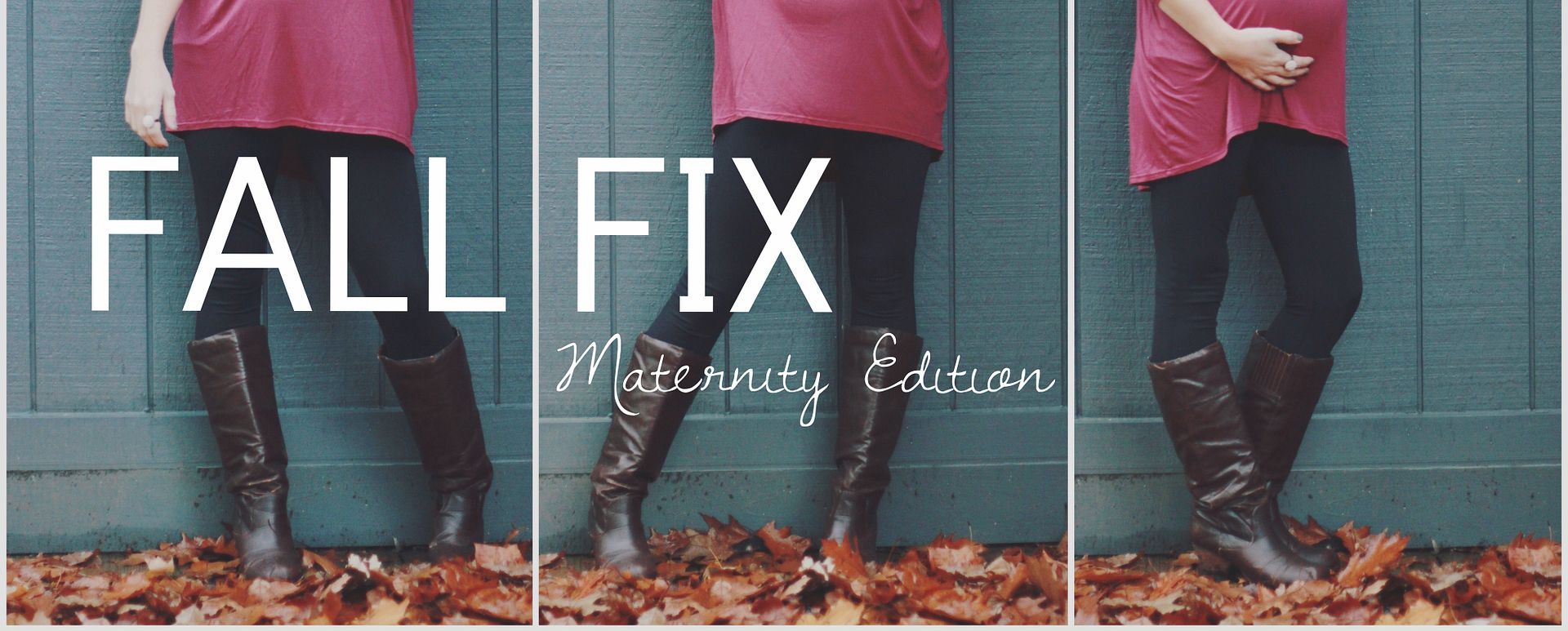 Maybe it's the fact that I was freezing cold while taking these photos (I seriously clung to every scrap warmth between camera clicks) or maybe it's the fact that NONE of my MacGyver-esque wardrobe tricks are working anymore and no rubber band, belly band, or gob of chewed bubble gum can keep my regular pants from squeezing me like an anaconda. Either way, when this little box of goodness arrived in the mail, it was like a sprinkle of heaven.
Seriously? I think it might be my favorite fix yet.
I've gotten lots of fun pieces from Stitch Fix
in the past (the blue dress from THIS fix is still one of my true loves) but this box wins in the you-could-wear-this-staple-piece-everyday category. Everything was soft. Everything was cozy. Everything fit, which is impressive considering my every-changing size.
I think part of what made this fix so fab is that Stitch Fix is actually carrying some maternity items now! Not everything in my box was made for big-bellied folk, but two of the items were and it definitely made me more comfortable. Stitch fix maternity wear has come a long way.
Alright– decision time…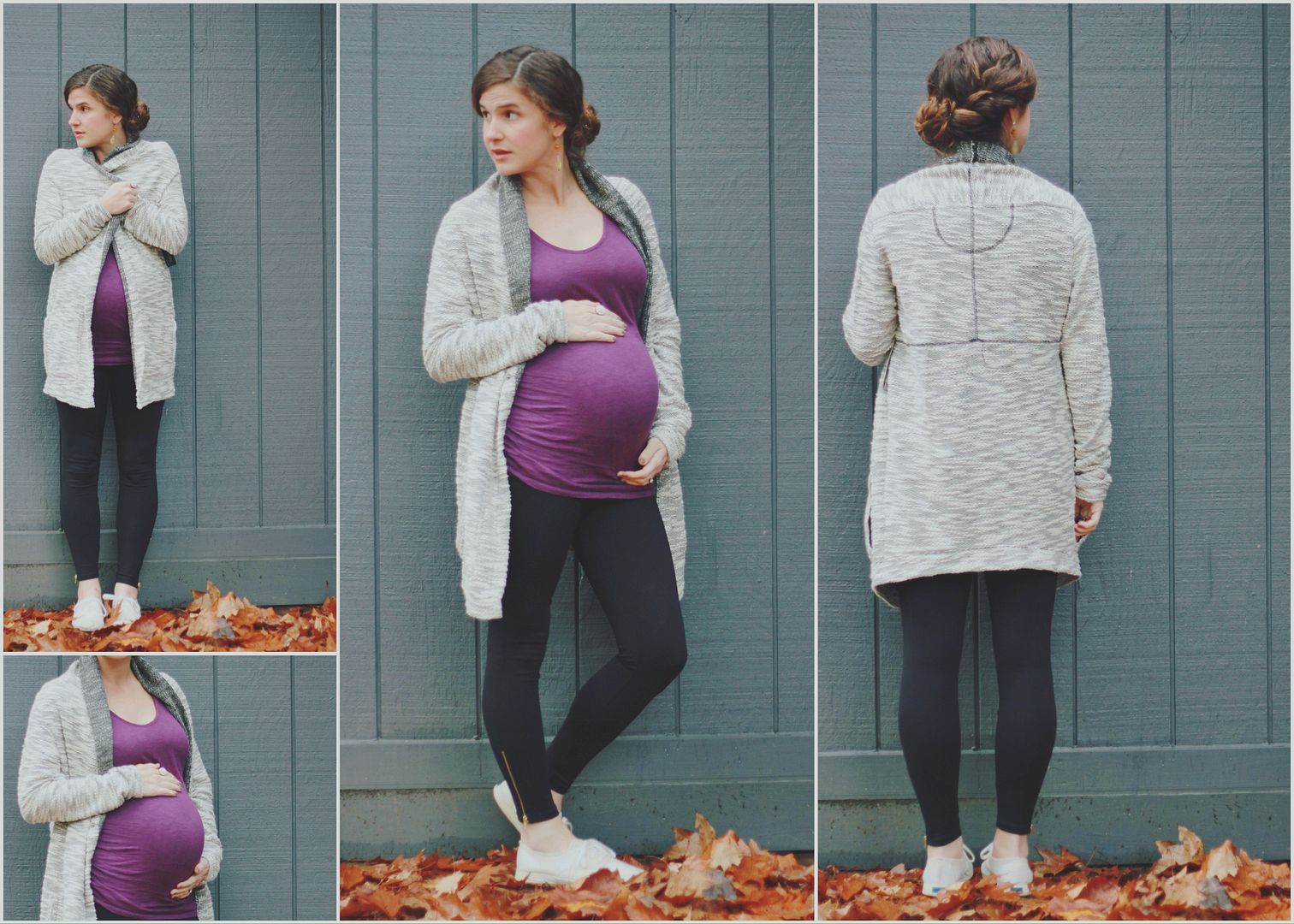 ((Boris French Terry Spacedye Jacket by Gentle Fawn)) This is one I can see myself wearing often. It's not really a jacket (more of a cardigan) and it's long enough to cover my behind, which is a must when wearing leggings to work. The fabric is super soft and I like the contrasting grays in the color. I have it styled pretty casually in this photo but I think it would work well over a dress with colored tights and boots, too.
((Kiley Maternity Ankle Zip Legging by Rune)) The leggings were also part of my fix. Actually, I'm wearing them in every single one of these photos. Also, I'm wearing them right now. Also, I have every intention of sleeping in them. Heavens to Betsy, these suckers are COMFORTABLE. I have one pair of ultra-cheap maternity leggings from my last pregnancy but they don't give much belly support and I spend most of my day yanking them up to keep the crotch from sagging down to my knees. These are thicker and the ankle zipper is cute and I'm going to marry them, if they'll have me.
((Alva Maternity Cowl Neck by LA Made Maternity)) I wasn't sure about this maternity top at first. The material is thin but very soft and stretchy. Most maternity tops cling a bit to show off your bump but this number is loose and billowy, which I wasn't sure if I liked. The longer I had it on though, the more I dug it. Might be a good layering piece for Fall? The color works with most neutrals– plus, I could probably get away with it after the baby comes.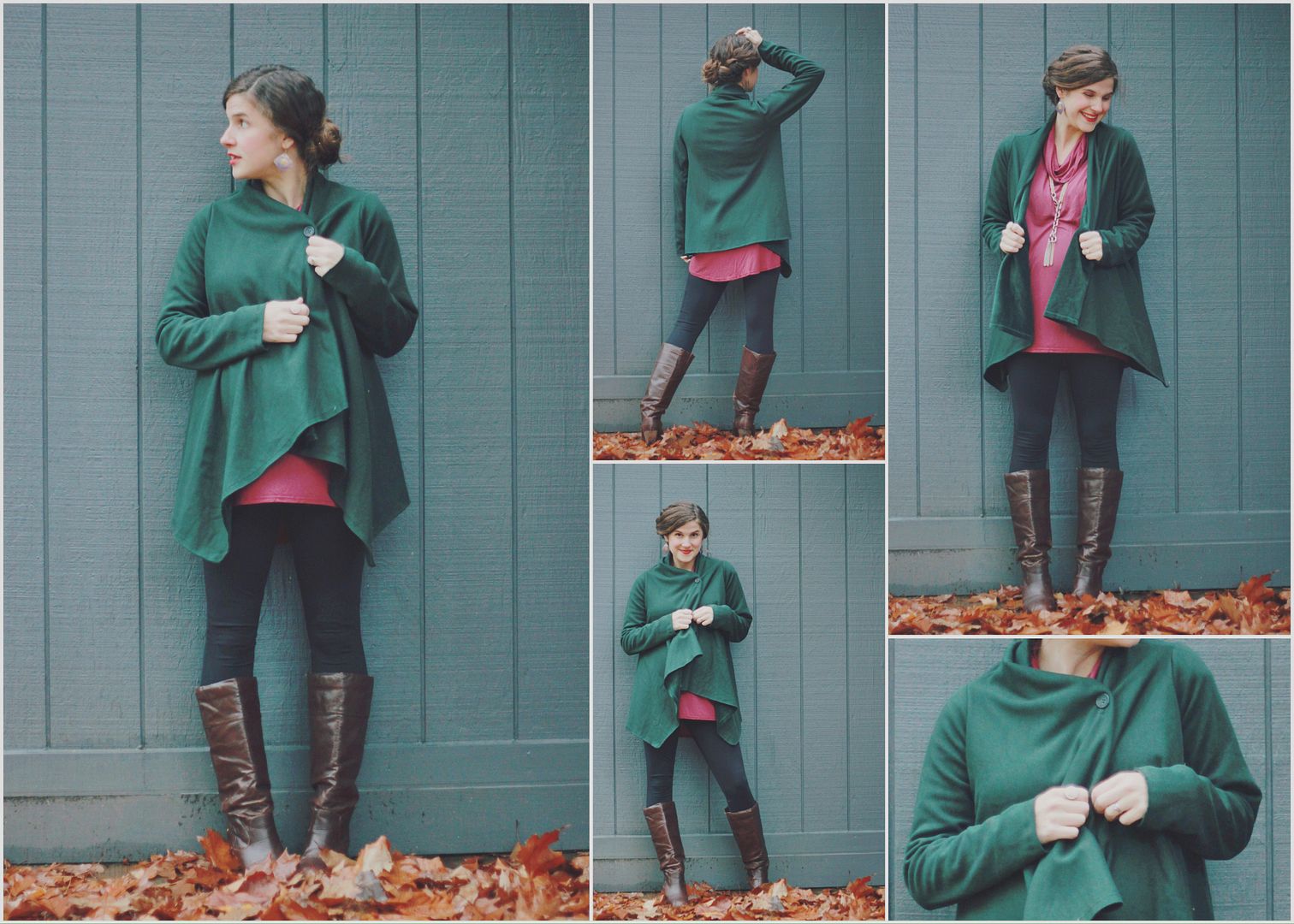 ((Bralie French Terry Asymmetrical Cape by Mystree)) This was my favorite. I love that it's asymmetrical, I love the color, and I love that the inside is lined with something fuzzy. Wearing this thing is like sitting inside a bunny rabbit's ear. So freaking soft. It gets all the prizes. I'm keeping it forever.
((Char Ikat Print Maxi Skirt by Market and Spruce)) This skirt is very thin and incredibly stretchy. The navy and coral color make it easy to pair with lots of different tops and I'm thinking that a knotted tee or tank would carry it into spring and summer pretty easily. It's not maternity but fit just fine anyway. I like how flowy the fabric is and I like the pattern. Wish it was maybe a teensy bit thicker but if I keep it, I'll probably be glad it's so thin in the summer months.
So many good choices. Help a girl out, y'all– what would YOU keep from this box? I gotta make a decision STAT…
---
How Stitch Fix works: Fill out their Style Profile and their personal stylists will handpick a "Fix" of five clothing items and accessories unique to your taste, budget and lifestyle. Simply buy what you like and return the rest. ((Haven't tried Stitch Fix
yet? I suggest you give it a whirl. Treat yo self HERE
.))