The questions keep rolling in and they are so so good. Keep em' coming! Here are the featured questions (and answers) for this week:
Chelsea asked: Can Simeon feel his legs and feet or is he paralyzed?
Great question. All children with spina bifida experience some level of paralysis (complete or partial loss of function) in their lower limbs. For some, this means they can't feel or move their feet but can walk with a little support, for others this may mean that they can move down to their knees but can't feel much. From what we can tell, Simeon has no feeling or purposeful movement from his hips down. I say "purposeful" because he does move his legs and toes, but it is doesn't happen often and seems involuntary– kind of like a little muscle spasm.
Not feeling your legs isn't all bad (guess who's baby never cries during shots or toe pricks, suckers?) but it isn't rosy either. Simeon could get a fracture or hurt himself without showing any pain so we need to be on the lookout for signs of injury.
For this reason, Sim is not allowed to chew on his feet. When he bites, he bites hard and he doesn't realize he's hurting himself. Last time he got his foot in his mouth it was like the battle of Gettysburg inside his sock. And I was horrified. And definitely cried a little on his behalf– ouch!
MissMoonyPenny asked: Is Simeon curious about why some people walk and some, like people with SB, don't? Does he want to try walking?
So far, no. While Simeon is quite attuned to the sound of the graham cracker box opening and notices every time my iPhone lights up, he is completely unaware of the fact that other kids walk and he doesn't. I know the day will come when he will notice. I know he will ask why. I know it will be difficult– perhaps more for me than for him. But, we're not there yet.
And no, he has never tried to walk (unless you count rocking around in his braces). Probably for the same reason that I have never tried to do a back handspring– because it would be scary and because I would definitely hurt myself.
Anonymous asked: Did you have to teach Simeon how to use the wheelchair? Like have him watch someone move it or sit in one?
Nope. We just sat him in it and put his hands on the wheels. We showed him that the wheels moved forwards and backwards and then we let him go for it. Isn't that amazing? For the first week he just kind of rocked back and forth on the wheels. By week two he was moving around the room. And after a month or two he was able to spin and turn corners.
Clearly, he's a genius.
Ellen asked: What surgeries and other medical interventions are anticipated for his future?
Honestly, there are a zillion possibilities but it's likely that he'll have a procedure or two to help with bowel and bladder issues. He could also need tendon lengthening if his legs get stiff from lack of movement, another shunt revision if his current one fails, back braces or back surgery (kids with SB can develop scoliosis), detethering surgery if the scar tissue along his spine interferes with his spinal cord, bowel surgery, bladder augmentations…
Jeez. Now that I'm writing it all out I feel super impressed that I'm not in a state of constant panic.
Ignoring the endless possibilities is my super power.
And how is the sweet little girl who had surgery recently?
I'm so glad you asked! Our friend Grace (mentioned HERE) just came home from the hospital this week as she is not yet ready for inpatient rehab. Grace is on a ventilator and requires 24/7 care to manage her new equipment and physical needs. She is slowly regaining the movement and strength that she lost due to complications from her surgery. She can smile, move her hands, her wrists, and her forearms, and is learning to wear a speaking valve on her new trach, just like Simeon did last year.
Simeon and I visited Grace a few weeks ago and, even in the midst of this struggle, she gave Sim a great-big Gracie grin when we walked into the room. This little lady is resilient. And her parents possess a gentle brand of strength that makes me proud to say they are our friends on this SB journey.
Keep them in your prayers.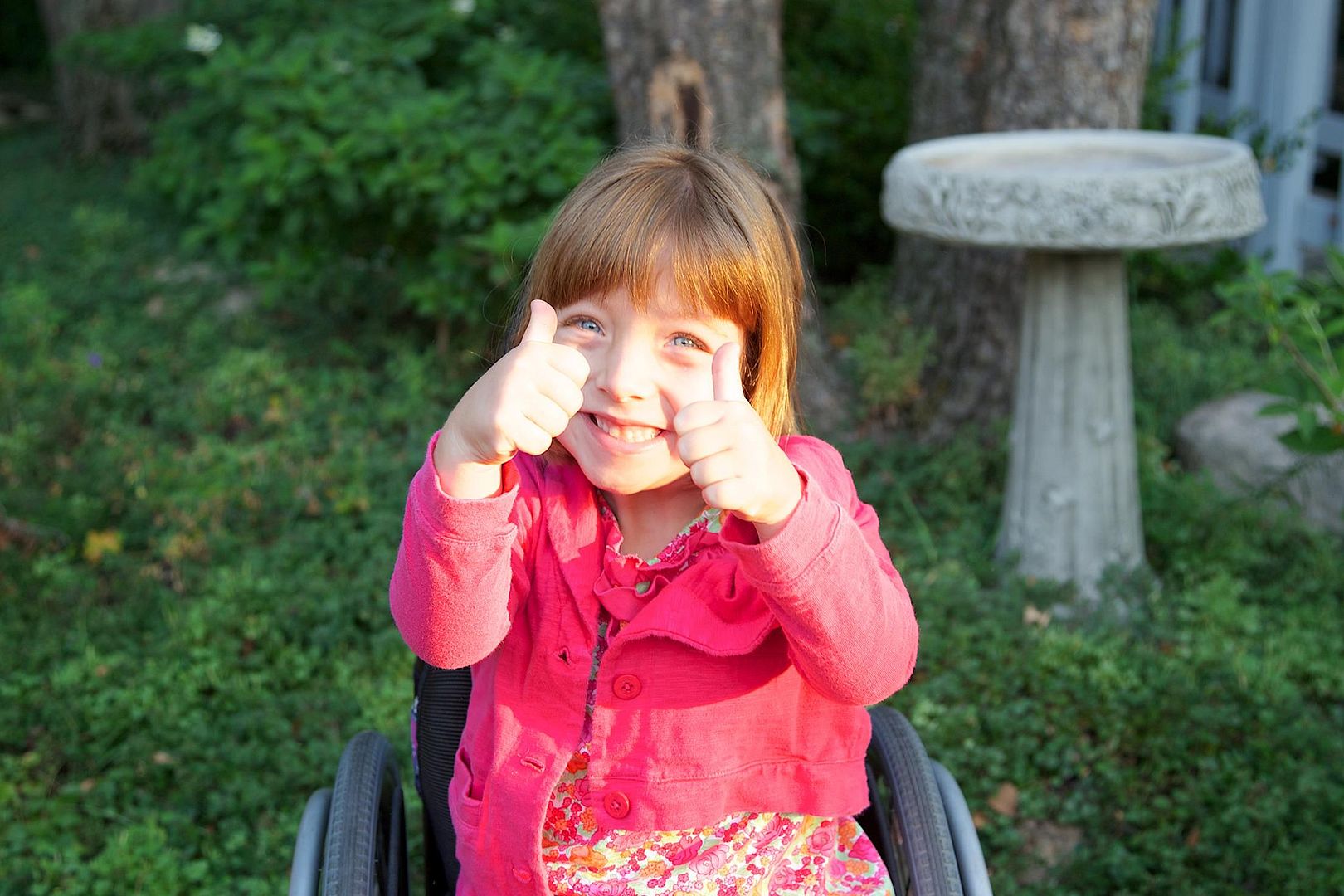 A photo of our buddy Grace from this past August.
That's all I can muster tonight, folks! There is still time to submit your SB questions HERE or by email at mevlyn(at)gmail(dot)com.
Hope Fall is treating you well!