While we're in the neighborhood…
Let's get a shunt revision! As some of you have already heard, our little man had to get his first shunt revision this week. My mommy-radar was on high alert this past week. Similar to Spiderman's spidey-sense (but without the sticky web launcher), my radar told me that Simeon's shunt was in an ornery mood. After staring down his soft spot, watching his mood for signs of discomfort, and rubbing his fontanel like I was trying to get a genie from a lamp, we scheduled an MRI to take a closer look. And there they were– enlarged ventricles. Time for a shunt do-over.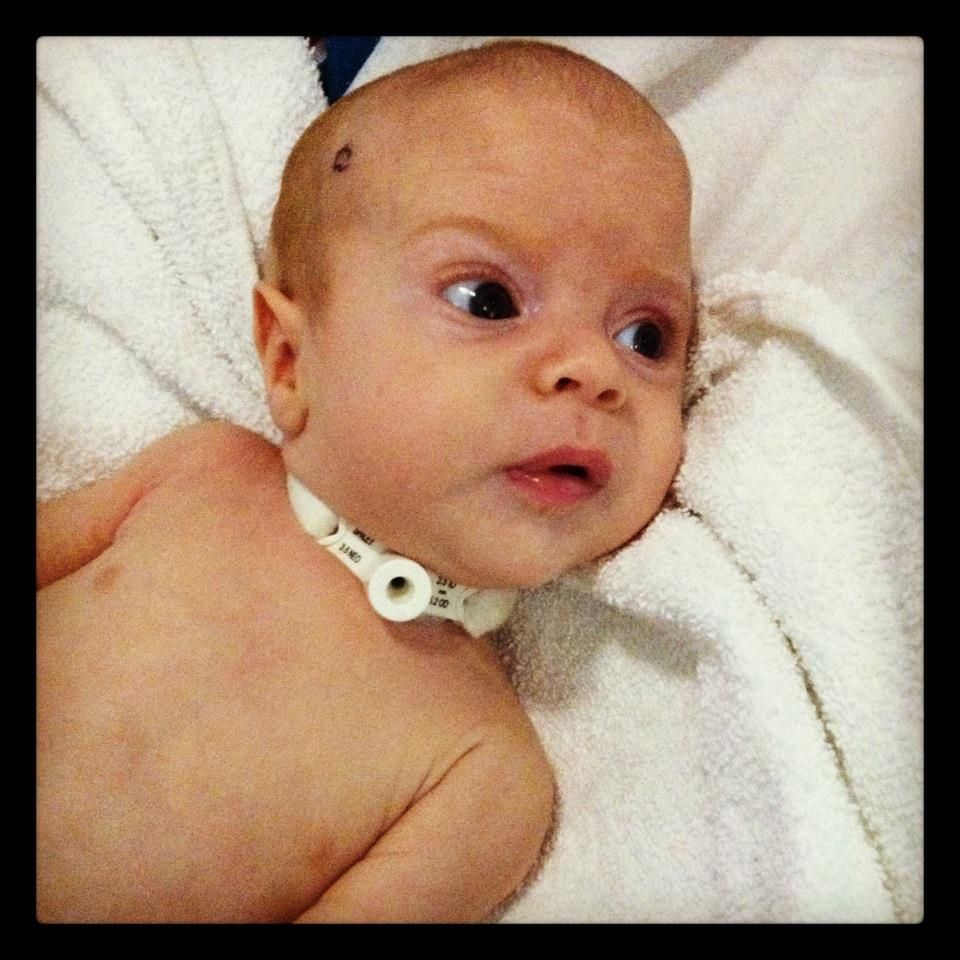 Why is everyone so interested in my brains? Could this be the beginning of the Zombie Apocalypse?
The surgeon generally doesn't know why the shunt is failing until he gets in there and checks it all out. It could be a clog, it could be a kink in the tubing, it could be a valve issue, or any number of other things I don't quite understand. So, bright and early Thursday morning we took Simeon into the OR for surgery number seven. Jeez-louise!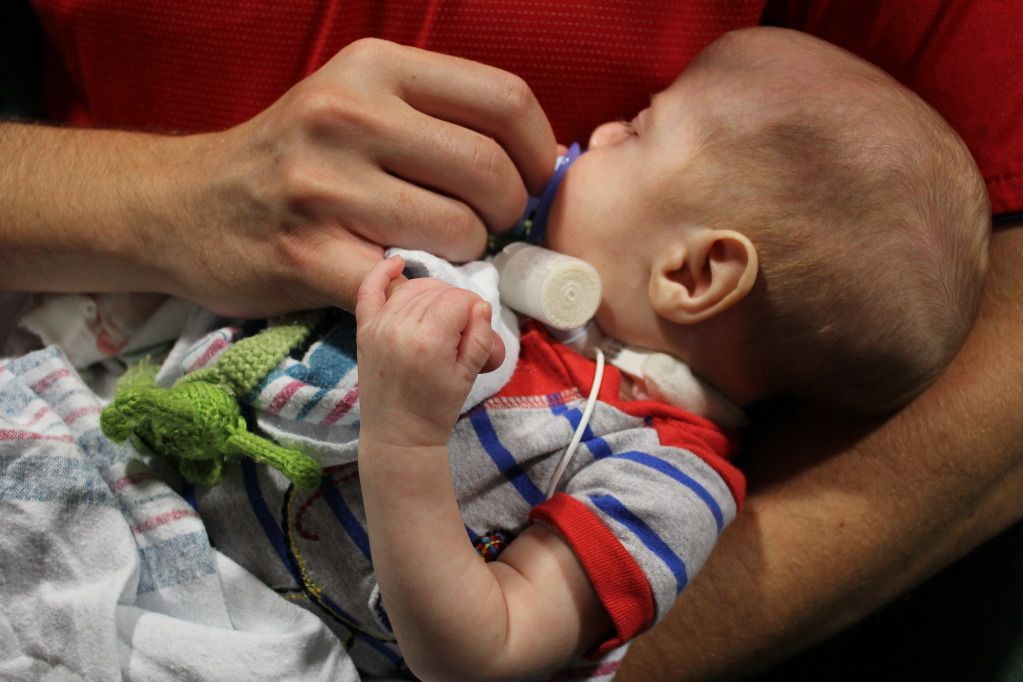 Simeon is a big fan of Daddy
Once he took a look inside, our neurosurgeon saw that the catheter, which sits inside the ventricle, was clogged. Fluid that would normally move through this catheter, to the valve, and down the tubing into Sim's belly was not able to get out. This explains Simeon's bulging soft spot and maybe his crankiness the past few days (that, or I just happen to have a fussy tyrant on my hands). During the surgery there was a bit of bleeding when they removed the catheter. This means the catheter was sticking to the wall of the ventricle (yikes! brains!) and when the removed it the tissue tore causing a bleed. We got a CT scan to check for increased bleeding but only saw a minimal amount so the surgeon isn't too worried. We planned on being here until Monday anyway so they are observing Simeon for signs of complications. So far he is doing well!
Things this mom doesn't like: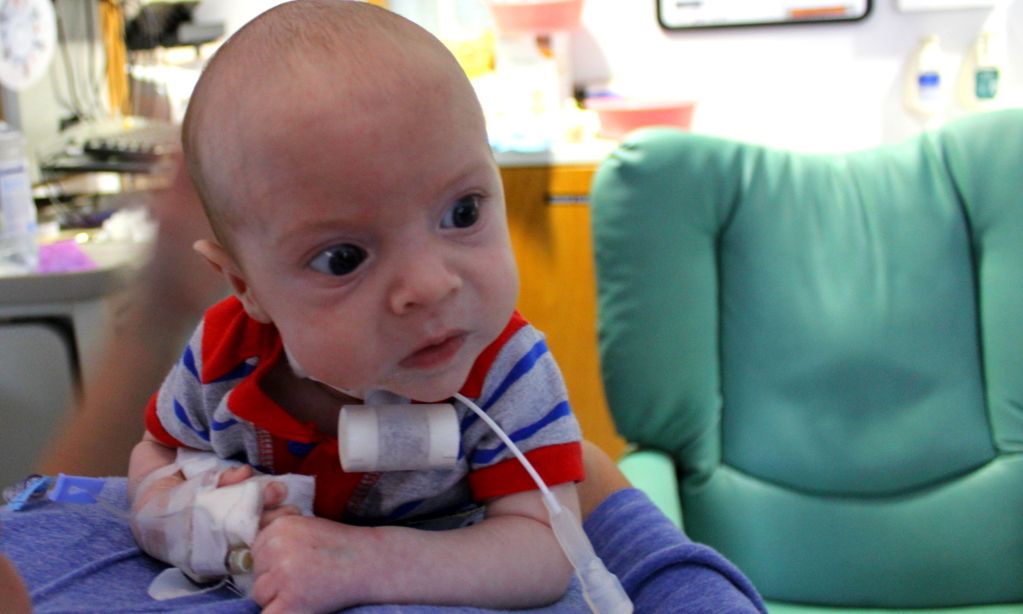 Fussy babies who yell at you for changing their diaper and make you feel guilty for keeping them clean. Well, excuse me for trying to ensure that you don't smell like a foot all the time, Mr. Crabby-pants!
Soft spots that bulge and throb like something out of an alien movie.
Swelling around his shunt. "Looks like they cut an avocado in half and stuck it under his skin!" said our nurse. Too true.
Watching Simeon get an IV. It scares him and makes him so sad. I can't stand it.
Struggling to find a bottle nipple that Simeon can suck his thickened feeds out of. He's like Goldilocks– this one's too hard, this one's too easy, but where is the "just right" one? The quest for the perfect nipple continues!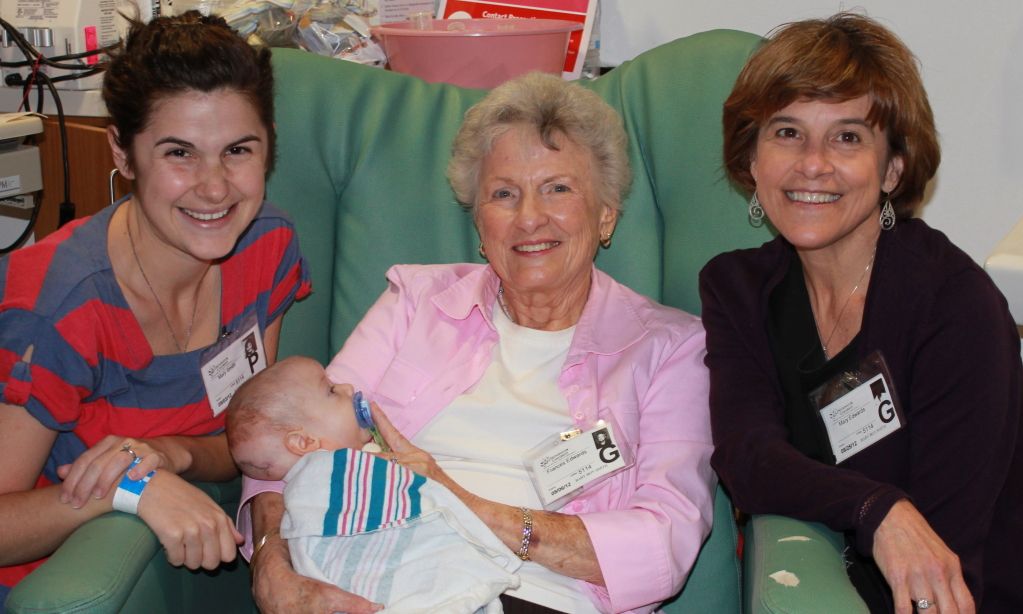 Four Generations!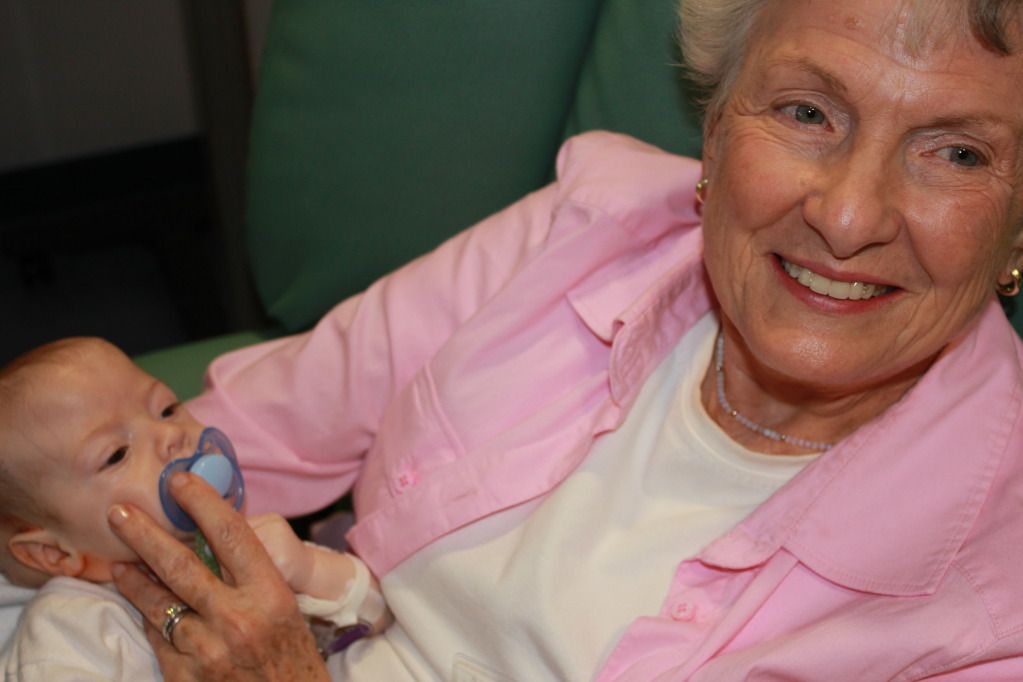 Simeon and his Great Grandmother. The fabulous Frances!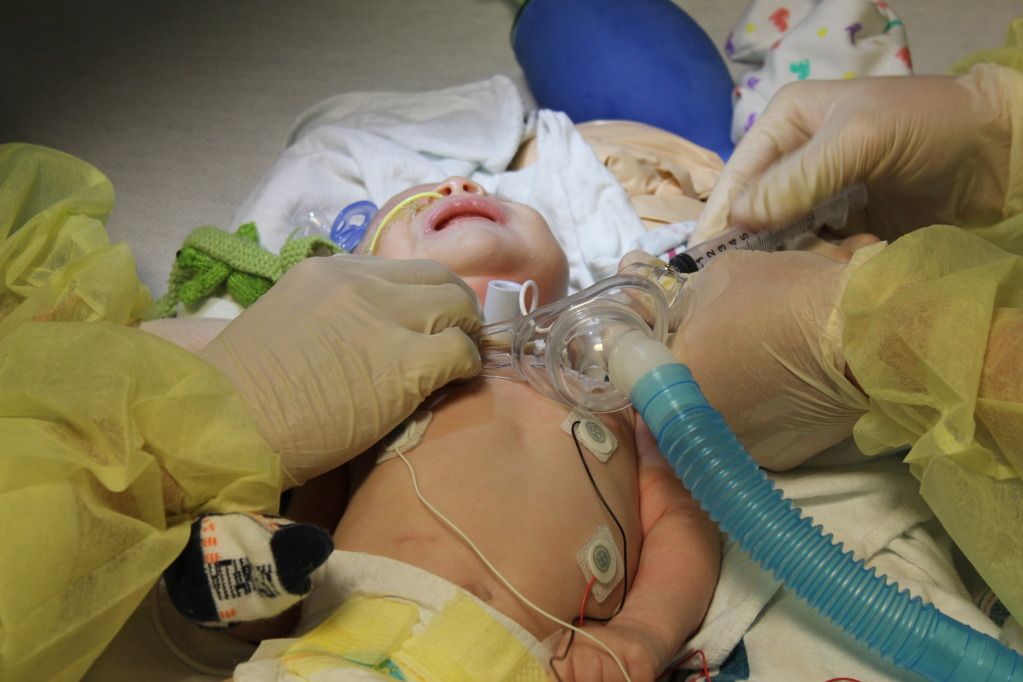 Simeon's first trach change! Greg and I have since learned to do this ourselves. And it looks way less impressive and important when we do it!
I used to enjoy excitement, but lately not so much. I'm crossing my fingers and hoping for the most boring weekend of my life. Greg and I will do all of Simeon's care this weekend. Part of getting discharged with a trach is proving you can take care of it on your own. I think we've got this one in the bag!
Maybe Monday night we'll be home sweet home?
And now for some things that make me laugh…
Uncanny resemblance, isn't it? I call this "A Barrel of Laughs."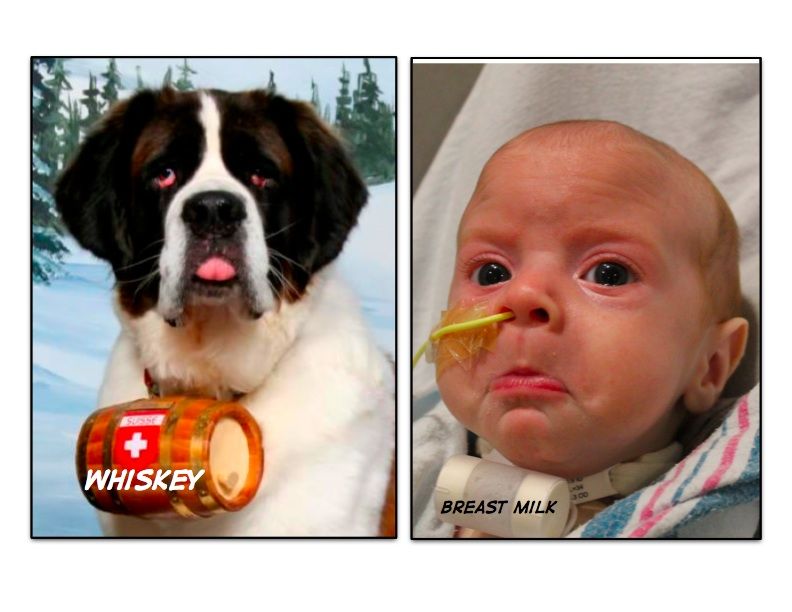 If you are lost in the snow, Simeon will find you and revive you with milk from his rescue flask. He is currently being trained to fetch, roll over, and bring in the newspaper. Isn't the one on the right the cutest little worker dog you've ever seen?
Trach is the catch of the day! Fresh, never frozen.
Things have been good on the Smith Dairy Farm!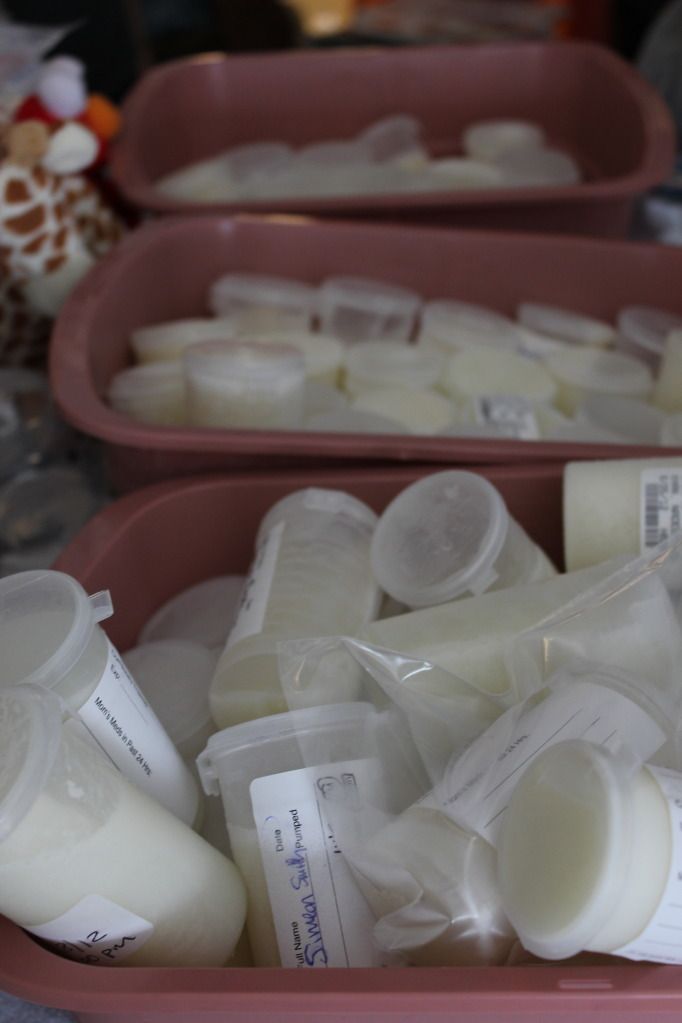 Whenever we switch rooms, we have to bring miles of milk along with us.