Being pregnant is kind of like breaking your arm in 2nd grade. Hear me out. The similarities are endless but for the sake of comparison, these are my favorites:
Everyone wants to hear stories about it and thinks you're the coolest.
You get lots of extra attention and jazzy equipment.
Deep down, people feel kind of sorry for you but not too sorry because, let's be honest, whatever caused this was definitely your own fault.
Your condition will eventually disappear and life will go on as usual but you'll never forget that magical time when your body was totally the bomb. Sometimes you'll even miss it a little.
Other than the fact that I can't choose the color of my bump, nor will I let you write your name on it with permanent marker (actually, I probably would if you asked really nicely), pregnancy and 2nd grade broken arms have quite a bit in common. And there's one more thing I failed to mention, one more BIG thing these two share:
EVERYONE wants to carry your stuff.
It doesn't really matter if I'm trying to lift a box of books or a box of cotton candy, someone will catch me in the act and rush to my aid in a panic. Most folks are nice, politely offering assistance and listening when I say I've got it. Others take a more naughty approach, slapping my hands away with a reprimanding look and grabbing my burden before I can protest. It always makes me chuckle. Not because I don't appreciate the help (sometimes I really do need it) and not because I think I'm superwoman. It's just that when folks grow concerned over my lifting of a few paperbacks or a folding chair, it reminds me of how many times a week I do this:
That's right friends, I lift this 35lb nightmare of unwieldy levers and spinning wheels in and out of our van for every appointment, errand, or adventure that the kid and I go on. Obviously, if I have help then I don't lift it but Simeon and I fly solo a lot so there's just no alternative.
At first, it worried me. I asked my doc if I should be concerned (actually what I said was, "If I keep picking this thing up, is my baby going to fall out?!") and, while she cautioned me not to overdo it, she said that pregnant women are generally alright to lift things that they lifted regularly before they became pregnant– like a 30lb toddler or a giant basket of donuts. So far, it hasn't been that bad.
Now, I'd be lying if I said I don't complain about having to do this. I've done my share of whining and Greg has to hear me moan about how "I just can't go on like this for much longer…" but honestly, that's how I talk about any physical activity I engage in. I've complained to an equal degree about jogging while not pregnant, carrying groceries, and (in the past few days) tying my shoes. Perfecting my technique helped build my confidence, though.
Here's my general method:
Not to toot my own horn but, "toot toot" because this isn't easy. Just like it isn't easy for pregnant moms to carry loads of laundry up and down the stairs or paint the nursery or rake the leaves in the yard or do the hundreds of things we do every day. The point is, we all care for our families in one way or another and we can't stop just because we're growing a human. I don't think we'd want to, anyway.
So, you can keep helping me carry my books and my bags. I didn't break my arm in 2nd grade so this is as close as I'm going to get to that kind of fame and attention. And, if you happen to catch me lifting my son's wheelchair into the trunk of my car, feel free to applaud. I'll wave and bow and be on my way.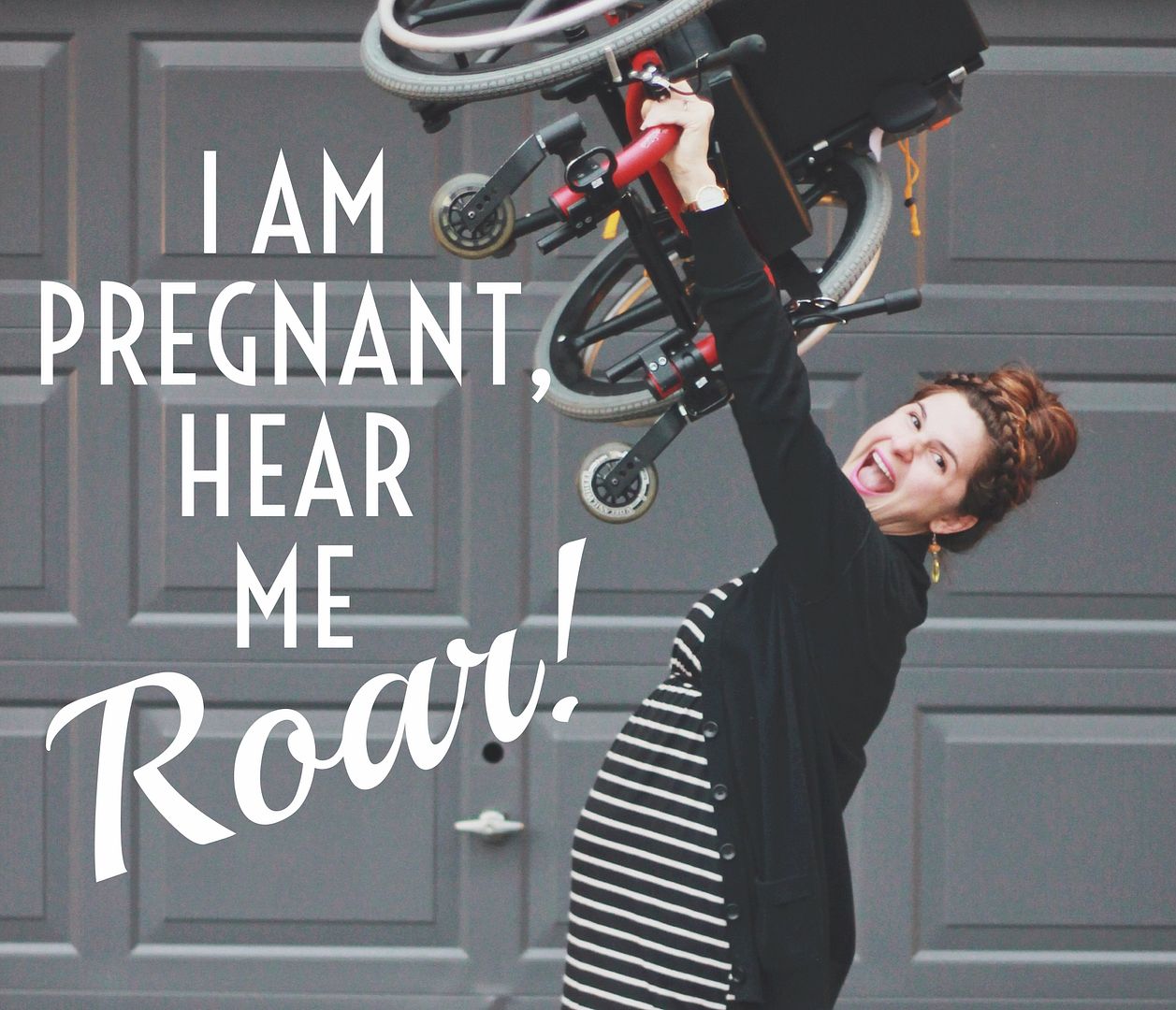 Spill it friends– what did you lift, move, climb on, rake, or shovel during your pregnancy? How much did people freak out about it? Did it make you feel like the Hulk? Also, did anyone here break their arm in second grade? If you did, then you are the coolest.