Twelve days, you guys. Twelve. Days.
Barring any surprises, that's how long I have until Miss. Frances arrives. Like, woah.
On New Years Eve I sat down to make some resolutions but after a lot of pondering (by which I mean exactly 30 seconds of halfhearted "thinking" during the Gilmore Girls theme song) I gave up on the idea and decided to have a drink instead (don't freak out– more on that drink later).
The thing is, you make resolutions when you know what you need. You know what needs to change or improve. You know what fun new thing you want to try or what distraction you'd like to remove from your life. You know what your life looks like and what could be different. But in twelve days my life is going to change and I have zero idea what it will look like. I don't know if I'll want to add a fun new hobby this year (making baby headbands is a thing, right?) or remove distractions that interfere with my new role as a mother of two (you're allowed to quit all your commitments and hide in your house for a few months, yes?). I just don't know what I'll need. So, today I bring you no resolutions.
Instead, I bring you Mev's Pregnancy Cocktail recipe, aka: the lazy man's granita.
I've always been a cocktail-loving lady and, during the winter months, bourbon is my drink of choice. I would expand on that and tell you how much I truly love bourbon but it would probably get weird and embarrassing when you consider my current "with child" state, so just know that I REALLY REALLY think bourbon is the yummiest of all the alcohols.
Since having a stiff drink while pregnant would qualify as "not making good choices," I've had to find another drink to turn to. Enter Mev's Pregnancy Cocktail or the lazy man's granita. Regardless of what the Italians would have you believe in order to make you feel inferior to them, granita is just a fancy word for slushy (I don't actually know if Italians want us to feel inferior, but all their fancy cathedrals and delicious pizzas make me wonder…). No joke, I've made one of these drinks every night for the past two months. On one occasion, our grocery store didn't have the one ingredient I needed and I actually cried. I have a sickness.
Recipe
(Disclaimer: I'm calling it a "recipe" so I can feel cool. It's really just me explaining how to put soda in the freezer.)
What you'll need:

Directions:
Pop open a can of your favorite San Pellegrino soda (Grapefruit is my favorite but today I'm using blood orange because it's festive).
Pour it into a cocktail glass like you're about to get crazy.
Put that sucker in the freezer.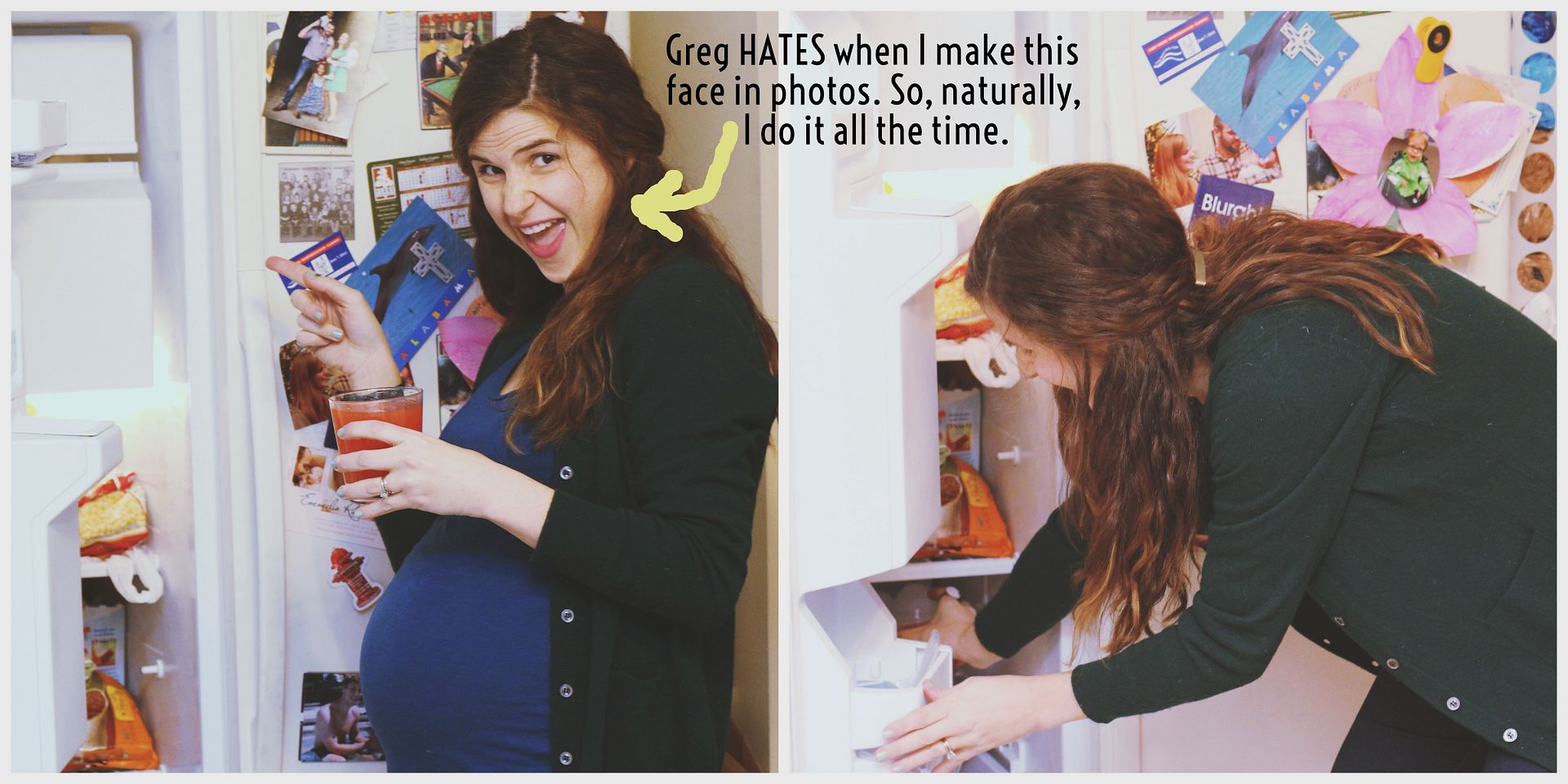 Check on it every hour or so, stirring gently to break up the ice that forms around the edges. If you forget to stir, it'll turn into a giant ice cube and will be impossible to eat/drink.
You'll notice it getting more slush-like each hour. The carbonation will make it puff up a bit and it may even rise above the edge of your glass. Don't worry– that's how you know it's gonna be delicious.
After about 3 1/2 hours, it should be good to go. Take it out sooner if you like a wet slushy or later if you want it super icy. (I usually pop this in the freezer right before dinner at 6:00 so it's ready around 9:30 after the boy is in bed).
There you have it. A pregnancy cocktail (or granita if you're fancy) for lazy women everywhere. Enjoy. Imbibe. You're welcome.
((FYI: You can try this with lots of different sodas (Coke works quite nicely) but don't use diet. It gets weird and too icy and impossible to stir. Not very yummy. Just spring for the sugar– you know you want to anyway…))
What was your biggest pregnancy craving? And, if you'd be so kind, could you please direct me to other virgin cocktail recipes? Although drinking "virgin" in my current state seems like false advertising (get it? hardy har har)…