Simeon's favorite book is Dear Zoo.
"Seven days until Christmas. We're running out of time…" <— My husband gives me a countdown like this, everyday. Because he really likes Christmas and because he likes to see me stress and because he's the meanest.
I still have a few last-minute gifts to track down and since I'm figuring that you do too, let me recommend some books for your little ones that will make their hearts soar (and giggle, and think deep thoughts, and howl with laughter). Here are my picks for this year:
Picture Book Gift Guide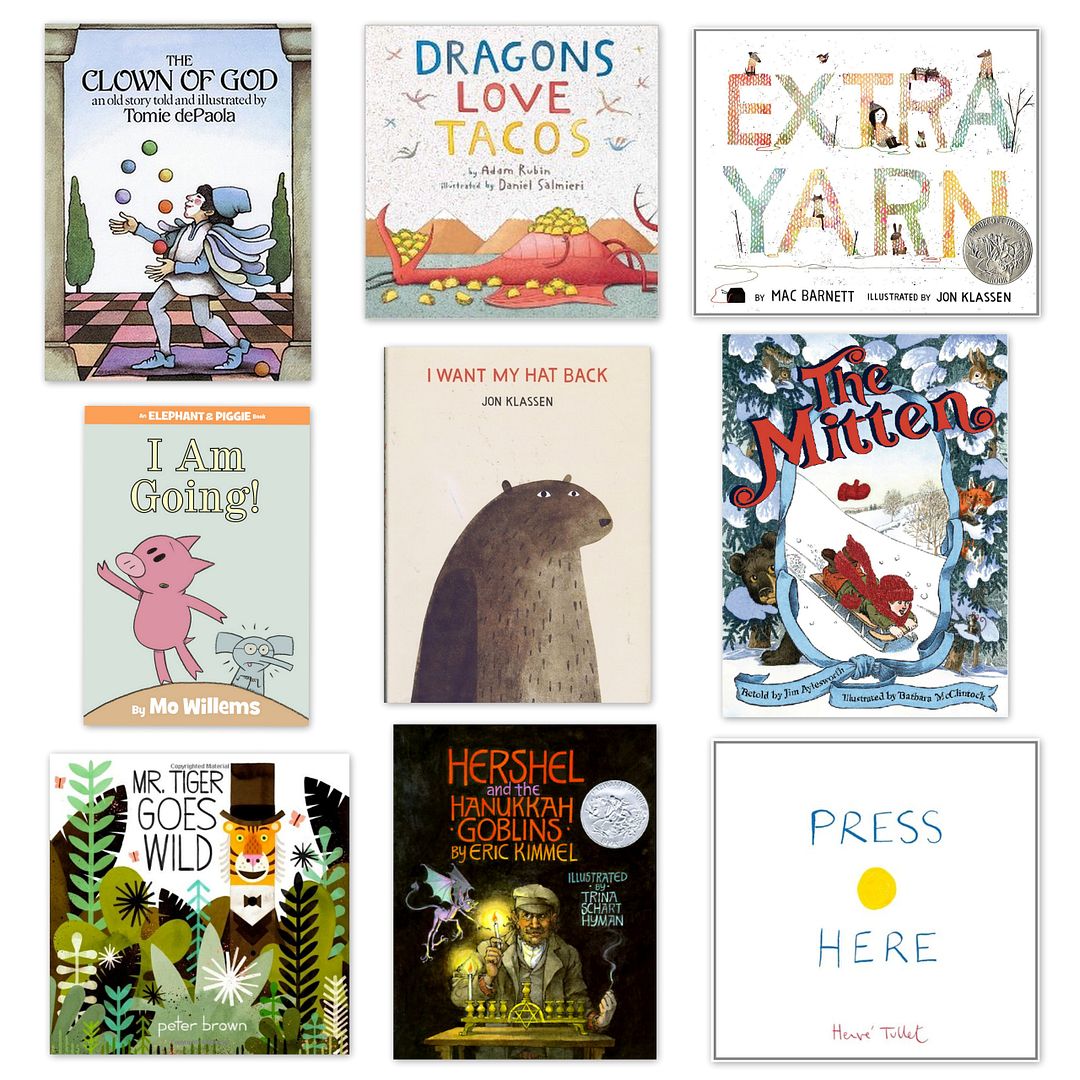 FYI– the links below are not affiliate links, because I don't know how that works and I'm too lazy to find out.
The Clown of God by Tomie dePaola- I know this is an older book but I vividly remember the first time I read it as a child. I tried it out on some of my students this year and by the time we reached the final page you could hear a pin drop (no small feat in a room full of 8-year-olds). In case you haven't read it, it's an old French legend about a juggler who offers the only gift he has to the Christ Child. It's like The Little Drummer Boy– but with out all that annoying rat-a-tat-tatting. And it makes me cry.
Dragons Love Tacos by Adam Rubin- Didn't you know that? They LOVE them. If you're interested in having a party for dragons, you'd best serve tacos — but not salsa. If dragons eat salsa, things get ugly. This book is ridiculous and silly and super fun to read aloud. Love it.
Extra Yarn by Mac Barnett – This was a Caldecott Honor book last year and I really felt it should have been number one. The illustrations are simple and so is the story but somehow you keep turning the pages wanting more. My students loved this book about a little girl who finds a box of yarn that never runs out. She knits sweaters for people, she knits sweaters for dogs, she knits sweaters for things that don't even wear sweaters. A little bit magic and a little bit adventure, this book is seriously fabulous.

I Am Going by Mo Willems – BUY YOUR CHILDREN EVERYTHING THIS MAN HAS EVER WRITTEN. I'm serious. My students BEG for me to read these aloud. They are great for early readers but I am not kidding when I tell you that my 5th AND 6th graders ask me to read these aloud on the regular (not to toot my own horn but I do a pretty convincing elephant voice). Mo Willems is an evil genius.
I Want My Hat Back by Jon Klassen – Yes, I know that this is the same illustrator from Extra Yarn but this book is a real standout. I casually picked it up at the library one day and was cackling my head off a few pages in. It's about a bear who has lost his hat and travels through the forest politely asking the animals if they have seen it. Klassen's characters rock a deadpan expression that make the book's climax that much funnier. My students beg for this story and I almost always give in because I like it so much. PLEASE READ THIS BOOK.
The Mitten by Jim Aylesworth – Most kids have heard Jan Brett's version of this story, but I think Aylesworth's is just as charming. Lots of repetition in this one, which is great for reading aloud and reading together. The back cover features a Hot Cocoa recipe that my students get super excited about!
Mr. Tiger Goes Wild by Peter Brown – Mr. Tiger is sick of being proper– so he decides to go WILD! Unfortunately, the other animals are not impressed and when Mr. Tiger takes his wildness too far, they are absolutely appalled. I love the illustrations in this book and it always makes the kids chuckle saying, "But tigers ARE wild, Mrs. Smith!!" It's short and sweet, making it nice for bedtime when parents are exhausted and can't last much longer.
Hershel and the Hanukkah Goblins by Eric Kimmel – I might not be Jewish, but I know a good story when I hear one! Do you have any idea hard it is to find a picture but that even my older students enjoy? This is one does the trick. It's the tale of a town plagued by goblins who will not allow anyone to celebrate Hanukkah. Only Hershel is brave enough to confront the goblins and break their power– but he must use his wit and quick thinking to do so. Great story here.
Press Here by Hervé Tullet – Put down the iPad. Leave your Kindle at the door. Who says books can't be interactive? Each page of Press Here prompts the reader to do specific actions (press the yellow dot, tilt the book on its side) that take them on an imaginative and quite extraordinary reading experience. It's reading outside the box with a story that won't work unless your child gets involved. So different and so creative. Check it out.
Since we're in the holiday mood– I'm doing a giveaway of the newly released book by Courtney Westlake titled That's How You Know. Courtney blogs over at Blessed by Brenna and I did a guest post for her here. Courtney's little family is a lovely example of living a graceful life with special needs. Her book takes you on a joyful walk through all the wonderful ways that God celebrates and loves our children. Enter below to win a copy!
Read about the book or purchase a copy
here.