We were late for our appointment but no one seemed to mind. The ten inches of snow and thick crusts of ice meant that most folks would be staying indoors– but I was too excited to reschedule. We were picking up Sim's new wheelchair.
We walked to the back of the store, breezing by canes, scooters, and bathroom grab bars. It always feels odd, bringing my toddler to a place so geriatric, but medical equipment does not discriminate based on age and the giant Disney mural on the back wall felt like a message. "Little ones are welcome, too."

Sidenote: I'm not sure how Pooh ended up in a wheelchair but my guess is that it had something to do with making poor choices. Like climbing too high for honey. Or thievery.
I could see another family ahead of us– a mother and daughter with a large German Shepherd lying between them. A guide dog, I assumed. Simeon saw them too and began the usual greeting he reserves for the canine set, "Bouffff! Bouffff!" (his version of woof woof), while reaching towards the dog and whining for a snuggle. The kid loves dogs (and no, I'm not getting him one– because I'm a monster).
I could make out this family's chatter while the store owner listened quietly. And that's when I heard the mother speaking words that sounded bizarrely familiar. "It's just tough" she said. "When we're around other dogs, I can see that he wants to run with them– but he just can't keep up."
Oh. The German Sheppard wasn't a guide dog. He was a dog with a disability. And he was being fitted for his very own wheels– just like my son.
The objects of our affection may have been different (one rather furry, the other wearing glasses) but the sentiment this dog-mama expressed was the same as mine.
Something about it gave me pause. Seeing this little family of first-timers made me remember the day that Simeon received his very first chair. It reminded me of the joy and the pain I felt. It reminded me that even in circumstances beyond our control we can still grow and explore and adventure.
Sim and his furry friend only need the right tools. Just like you and me.
_______________________________________________________
About the new wheels
Brand: Ki Mobility
Type: Little Wave
Other Stuff: In most of the photos you can see Sim with the chest strap on. He still needs support to sit up straight so we need this option for now. The push bar is so much better than the one on our old chair and the wheels have handrims (his old chair did not) so that eventually he won't have to put his hands directly on the wheels to push. The chair has him sitting up higher so he'll be more on the level of his peers.
Fun Stuff: We chose red (matte) for the frame and added light-up casters in the front.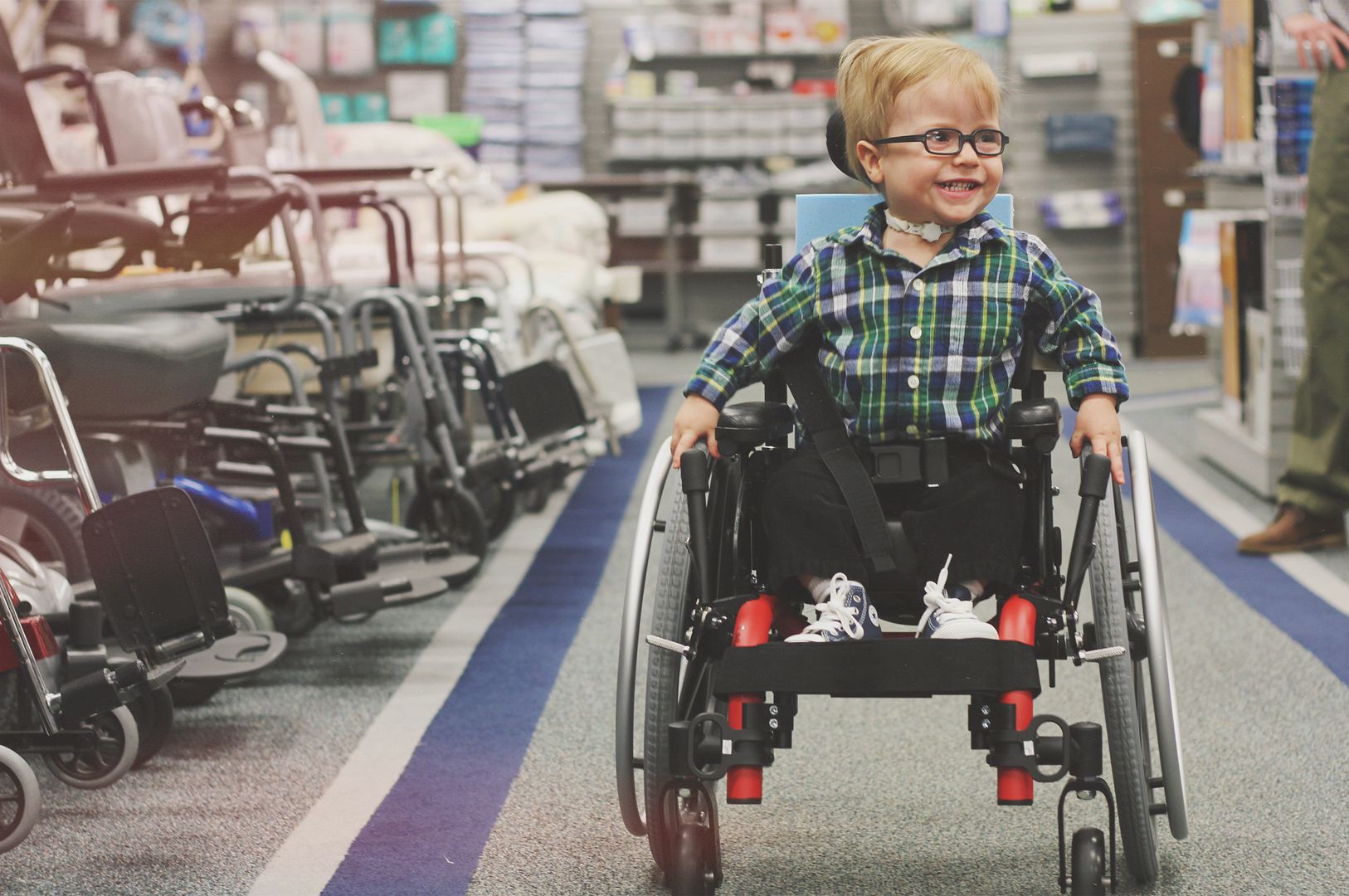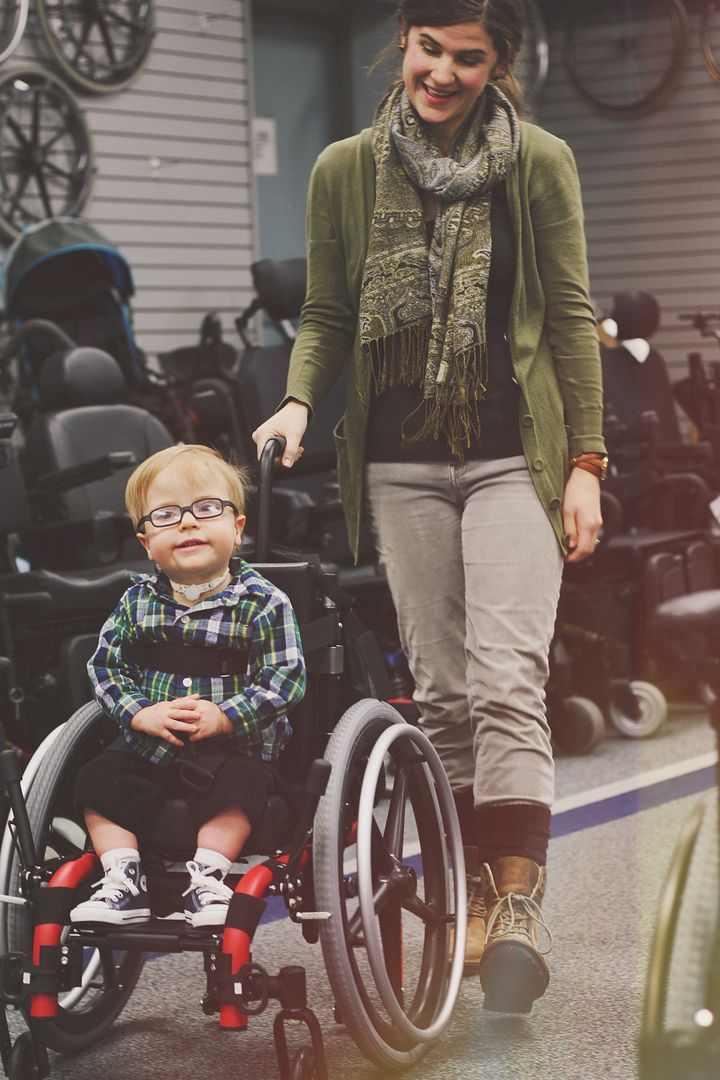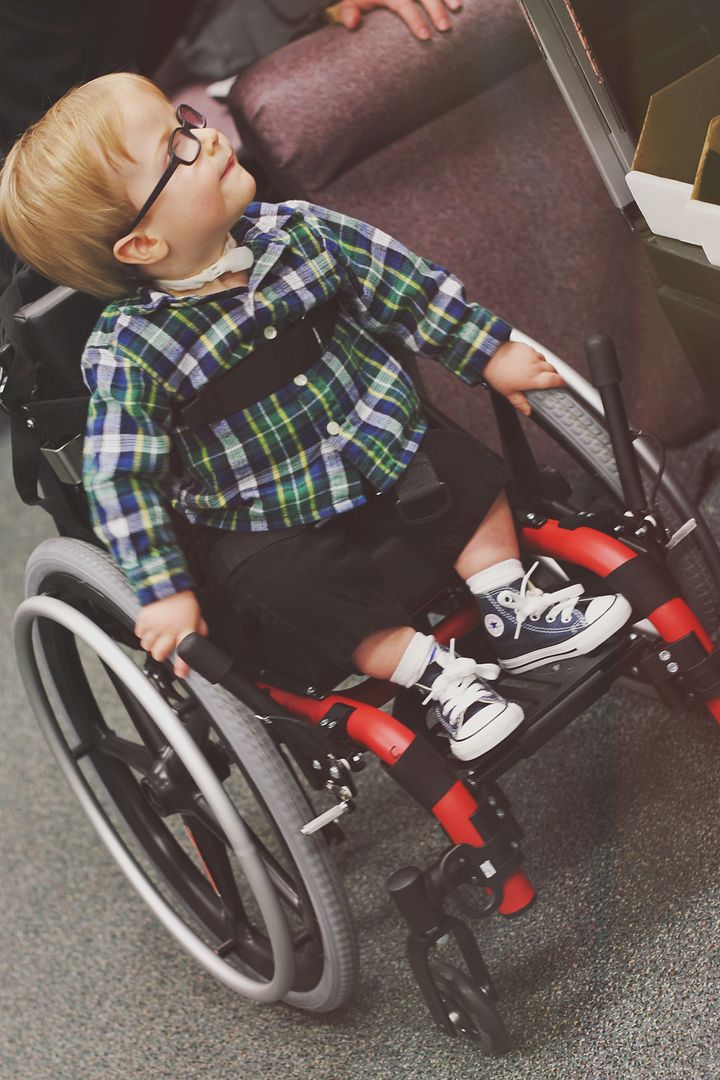 Trying out his moves with Daddy and Nurse Chrissy
A side-by-side comparison of his old Quickie vs. his Little Wave. His Quickie was on loan to us from the county and will be finding another home soon!
Any other Ki users out there? Is this kid stylin' or what?