A few weeks before Sim turned 11 months (11 months?? How can that be?!), the following conversation occurred in my library:
5th Grader: Woa! Your husband looks just like Ashton Kutcher.

M.E.: (confused) When have you seen my husband?

5th Grader: (pointing to my screen saver) In that picture where he's holding your baby.

M.E.: (defeated) Hmmm… That's actually a picture of me…
I'm not kidding. The kid thought I was Greg– and that Greg bore a striking resemblance to the one and only Mr. Ashton Kutcher.
"Say what??" I thought. "Me? Preposterous." I mean, look at me– girl face, girl hair, girl clothes. What the what?
Come on you guys, how much girlier can my momma get?!
But, after careful review, I think the little twerp may be on to something. My case of mistaken identity was based on the following photo:
Now, I know what you're thinking– All I see is a quaint Madonna-and-child-style photo with all the qualities of a best selling Hallmark Card: chubby kid, faces aglow with joy, and one hot mama. But slow down. Let's move in a little closer, shall we?
Hmm… Anyone else noticing the sideburns, which are conveniently emphasized by some nice shadowing? That's right– I'm a dark haired lady with serious sideburn potential. Masculine jawline? check. Kutcher-esque nose point? check. Uh. Oh.

Please observe:
There you have it. Uncanny, isn't it? But, I've decided to look on the bright side.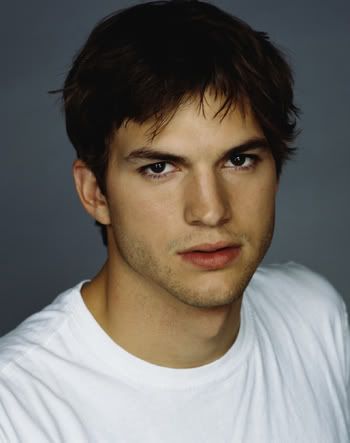 Possible benefits of looking like Ashton Kutcher:
I have the perfect disguise for red carpet events– granted, I'll have to wear a tux to keep up the illusion.

One day, through a hilarious comedy of errors, I may get into an epic lovers' quarrel with Demi Moore– this would be both thrilling and terrifying, as she could most likely beat me up.

Kutcher is slated to play Steve Jobs in an upcoming biopic– I look like Kutcher, therefore I look like Steve Jobs, therefore I look like a genius.
Jealous yet?
I know, I know– I may be making too much of this. I realize that I don't look like Mr. Kutcher in every photo, but it seems that, at times, our resemblance is striking enough for a 5th grade boy to take notice.
On the other hand, kids are tiny people with some pretty coo-coo ideas. A dear friend's 4-year-old daughter recently commented that I look like this chick:
I suppose everyone is entitled to their opinion.
PS: In the above side-by-side photo, nostril "flair" is spelled that way on purpose because my nostrils are part of my sassy flair– also, I posted the photo before I noticed the spelling mistake so… just go with it.