I come from a long line of bad pet owners.
Growing up, my siblings and I regularly tortured our parents with demands for various species of fish, fowl, and beast. We made promises to love and care for each sought after creature. We wept, gnashed our teeth, and slammed doors. For us, suffering the injustice of petlessness was a fate worse than death. So we loitered outside our local pet store, pressing our hands against the windows like Ariel reaching towards the light from her secret cave of  fork-hairbrushes and royal man-candy statues. It was pathetic.
Inevitably, when the whining became too much to bear, our parents gave in and one of us lucky kids would land the holy grail of childhood possessions. While my tastes leaned towards the classics (dogs, cats, parakeets) my brother craved more exotic fare (lizards, rats, japanese fighting fish, scorpions). It really didn't matter though– these adventures in pet-rearing almost always ended badly (and I'm not kidding about the scorpions, BTW…he had two of them… they were super gross). The bloom did not stay on the rose (by which I mean the screaming parakeet) forever.
Now that I am a grown-up myself, I don't plan on getting a pet anytime soon. Or maybe I don't plan on getting one ever. But based on the little man's recent inclinations towards friends both furry and feathered, I fear it will be a losing game.
It seems, you see, that my son is a bit of an animal lover. And it scares the bejesus out of me.
Because he doesn't have regular contact with four-legged fur balls, you would think that encountering a large canine would strike fear into his soul. Not so. In fact, the boy's first love was a curly-haired ginger by the name of June (or "Bwoof," as he lovingly calls her). June tolerated his advances through the holiday season, but her affections soon waned. To this day, Simeon chases after her like a lovesick puppy. The poor dog is so over it.
I've seen Simeon snuggle up to strangers' cats, giant collies, exotic birds, and a vast array of zoo life– all without batting an eye. But honestly, my kid liking something isn't really enough to sway me. Kids like all kinds of weird things that I don't feel the need to bring inside my home and keep forever– like mud, or beetles, or the guy from Roto-Rooter. For me, "liking" something isn't going to cut it. I'm strong enough to say no to those things.
What I'm not so sure I have the power to resist is mother-heart-melting stuff like this: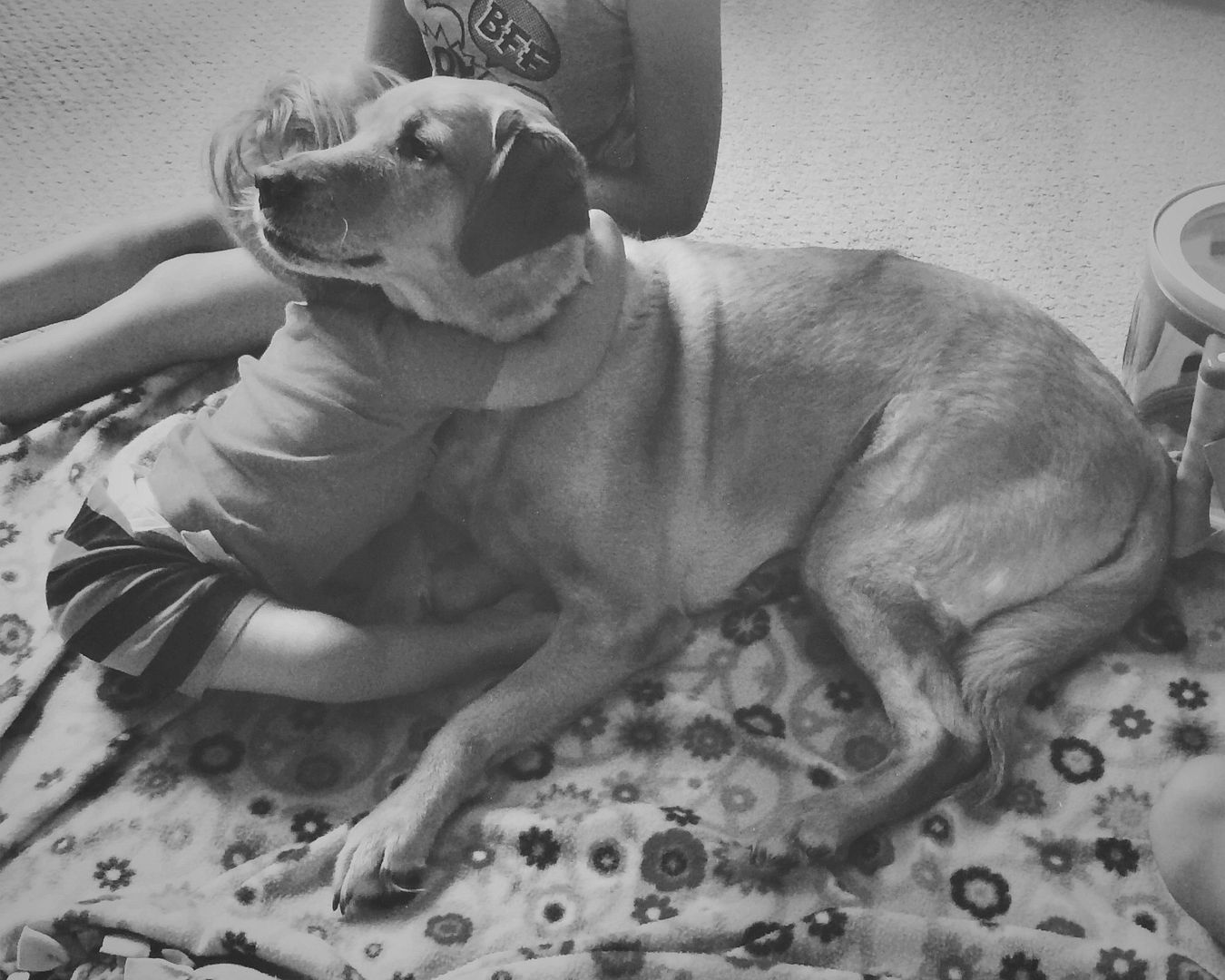 Make. It. Stop.
The problem is, when Simeon is around animals he lights up in a way that just slays me. Yes, I play it cool, but on the inside I've reverted back to my 10-year-old self. I can feel my willpower slip and my brain short circuit as it sends out a silent petlessness S.O.S. that goes something like this:
"GIVE ME ALL THE DOGS  IN CHRISTENDOM BECAUSE MY TODDLER NEEDS TO SNUGGLE THEM AND I AM GOING TO WATCH WHILE STUFFING MY FACE WITH POPCORN AND MILK DUDS!!!"
I know, I know– pathetic. And I know that getting a pet right now, before I have a BABY, is a bad call. I know it would probably go the way of my brother's rats, my parakeet, or my sister's runaway bunny. But… maybe, eventually? I don't know you guys.
There are so many pets you can get, I just don't think we're quite ready for any of them. Not yet…
What about you? What's the weirdest pet you ever had growing up?
And how did you decide if your kids were ready for a pet? How did you stay strong and say "no" when they (or you) weren't ready? I've considered looking into a service dog for Sim down the road (maybe when the boy is 5 or 6)– anyone have experience?