As the mommy of a young'un, I absolutely live for meeting other mothers who are a little farther along in this journey. Women who make me laugh and who make me look at this crazy world of disability parenting and say "I totally got this!" One of those ladies is Heather. I found her blog by chance way back when Sim was a newborn and I've been following ever since. She writes with honesty about the things so many of us are afraid to say.
She does it with grace and she does it with beauty and today, she is doing it here! We are swapping blog spaces to share our thoughts on mobility for kids. You can find my guest post on her space today (check it out HERE) but first, read on to learn about her journey towards making (and not making) the tough mobility decisions for her son, Aidan.
_________________________________________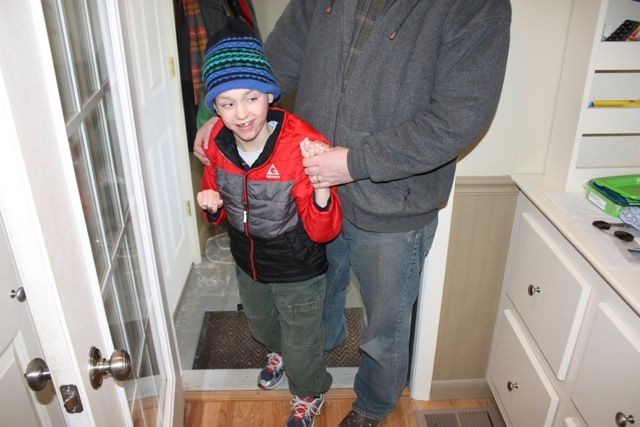 Meet my son Aidan.
He's a Walking Walker who Walks.
Yes, he walks with assistance and only short distances but still, he's a kid who walks.
Aidan was born thirteen years ago with an undiagnosed developmental disability and low muscle tone. We worked hard to get his trunk strong enough to support his body, to hold himself up on his two feet and get his legs moving.
Aidan walks. And I've celebrated every step of the way.
And yet, he can't get very far. He can't explore his own environment of his own volition.
But I'm an Optimist. A Hoping Hope-er who Hopes. It's my job as Aidan's mom to hold the bar high for him.
And yet, that got in the way for Aidan.
When he was ten years old Aidan needed to be evaluated for a wheelchair. Yes, his physical therapist had advocated for one earlier (three cheers for early mobility) but I wasn't emotionally ready.
He's a Walker and a chair would make him look so….disabled…. like he can't walk.
A wheelchair didn't sound like Mobility and Freedom and Independence and Rainbows and Unicorns.
It sounded like failure, like defeat, like giving up.
My son would be relegated to a sedentary life and I would be the Quitting Quitter who Quit on him.
As I sorted through the many practical decisions about getting a chair – manual or power, could he propel himself or drive, could it be used across all circumstances – I got stuck on my feeeelings.
While I wanted to say no to a life of can't and dependent and impaired, I almost said no to a life of exploration and self-determination and cognitive improvements.
This video chronicles our difficult decision making process:
So now I'm the Preaching Preacher who Preaches early mobility and be brave mamas and be open to tough choices. But I'm still the Hoping Hope-er who Hopes because Aidan is still a Walking Walker who Walks and Drives and Propels himself and uses any means necessary to get where he wants to go.
Even to the cookie jar. Isn't that what Smarty Smarty Pants do?
*****
Check out the factors we considered and the research that matters on our
Mobility Journey page
and share with others who may have questions.
*****
Heather met her husband in a castle in Ireland and they have 2 handsome princes. When Heather is not involved in the myriad of tasks required in raising a child with a disability, she can be found with her hands on her piano, her nose in a book, or her fingers at her keyboard blogging at Team Aidan. Come join our journey!