If there's one time when a pregnant working gal could really use a Stitch Fix pick-me-up, it's the week before school starts (assuming the pregnant lady is a teacher/librarian and likes getting clothes in the mail– if she likes other stuff, like fishing gear or Tupperware or something peculiar, then she should skip the clothes and do her own weird thing). Looks like it's time for my second maternity fix.
I liked this maternity Stitch Fix a bit more than the last one, probably because I've come to terms with my expanding waistline, and I'm actually looking pregnant these days rather than just looking like a gas factory <— trust me, I know my body and last month I promise you that only 1/3rd of the situation in there was "baby"– the other 2/3rds was… rather unsavory. I'm officially 16 weeks today and so far Nugget #2 is looking happy and growing like a weed–  just like his/her brother.
For this fix, my stylist selected items that might work with my new figure and she did a pretty bang up job. Stitch Fix does not carry maternity wear so they definitely have to get creative but I like what they came up with!
Alright, check it out. Which of these items needs a forever home?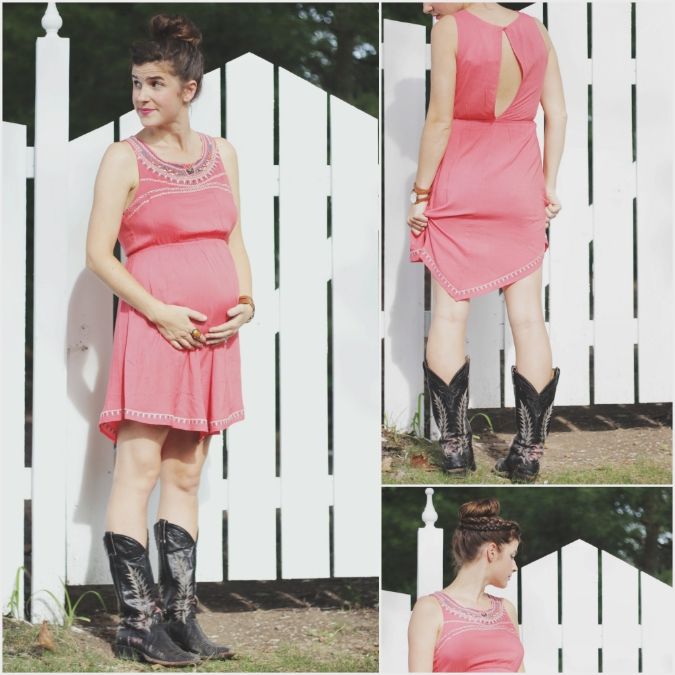 I had my doubts about this En Crème embroidered dress. The elastic waist seemed too low for a pregnant gal who yearns for the comfy empire cut, BUT it turns out I was wrong. The dress worked just fine with my belly and was super cozy. The details are pretty and the color is too (although I've kind of overdone it on pink/coral lately). It has an open back which looks cool but begs the question: how do you wear a bra in this thing? Any ideas? Are you just supposed to go free under there? I'm too old to understand these things. Torn on this one, for sure…
Stitch Fix has never sent jewelry before! I thought this was a fun change. I didn't try these Zad earrings on because I got all weird about whether or not that's sanitary or what if it's trashy or what if I get Ebola so I just looked at them and held them up by my face. They're pretty– but I wasn't swooning or anything.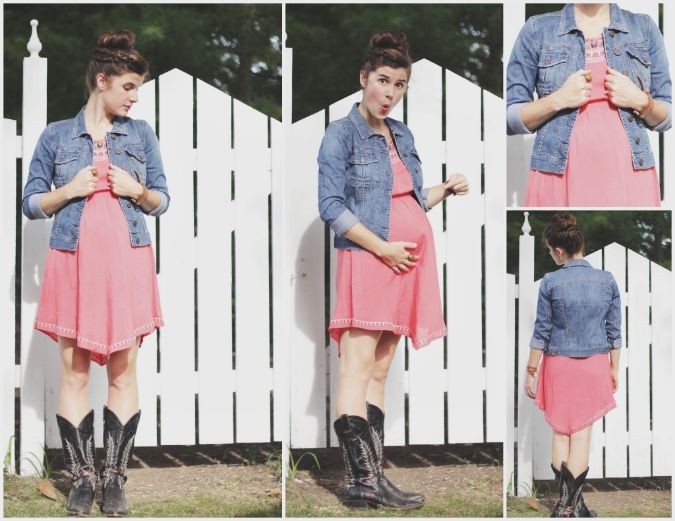 I was super excited about this Kut From The Kloth Denim Jacket. I have an old jean jacket but it's bulky and too short and I bought it in high school so it's probably time to pay my respects and let it go already. This jacket is lightweight and a nice shade of… jean? Anyway, I like it. Leaning towards keeping this one.

I actually like this 41Hawthorn Tunic better in these photos than I did in person. Unfortunately, the tie waist doesn't hit me above the bump and sits just a few inches over my belly button. It looked okay from the front but was very frumpy from the side and when I get just the slightest bit larger, it will look pretty silly. Very comfortable though! The last item was this pair of black Rune leggings. I REALLY liked them. They had more weight than most leggings and fit nicely but I probably won't fit into them for long (even with the stretchy waistband). Maybe I should spring for some maternity leggings? Womp womp.
So there you have it! Stitch Fix: 5 items, 3 days, keep what you like, return what you don't. It's kind of magic.
((Get your fix HERE and read more about the service (and my first fix) HERE.))
Time to weigh in, you guys. Which of these little pretties should I take in like a stray cat?