Sitting on this hospital couch, I keep thinking about when I decided to take Simeon to the farmer's market in our neighborhood. I needed some basic food items and I figured it was a safe enough distance from our home for a first-time-out-with-baby excursion. We had only been at the market a few minutes before I realized something was different– people were staring. Now, I've been to the market many times before and this was definitely new. Each person I passed looked me up and down with a grin and while I like to think this curious behavior was due to my sassy farmer's market attire, the fact that I still couldn't get my pants buttoned really limited my outfit choices and my clothing was a bit… frumpy. Maybe I had something on my face? How embarrassing.
Then it happened: one of the starers walked right up to me, and that's when I realized I was wrong. No one was staring at me– they were staring at the baby. "What a cute little one! Isn't it nice to have a healthy pink new baby!" she said. I chuckled (you don't know the half of it, lady!), said thank you, and enjoyed the feeling of pride that comes with knowing you do, indeed, have the cutest baby in all the land.
I guess I had forgotten how much people like babies. Maybe it's just that I'm not used to having one with me all the time, but it's like having a stranger magnet in your arms. And here's where I have to be honest– the attention is kind of fun. When I was pregnant, I was so afraid that Simeon would look different from other babies– a big head maybe or bulging eyes. I was afraid he would have a stamp on his face saying "something is wrong with me." And then he was here. And he was perfect.
But he still doesn't look like any other baby. He has a big scar on the back of his head and I'm ashamed to say that sometimes, when we used to go out, I would hide it. I could place a hat or a blanket in such a way that no one would know he was different. No one would ask about our story. No one would get that face. You know the one: that poor-baby-what-happened-to-him face.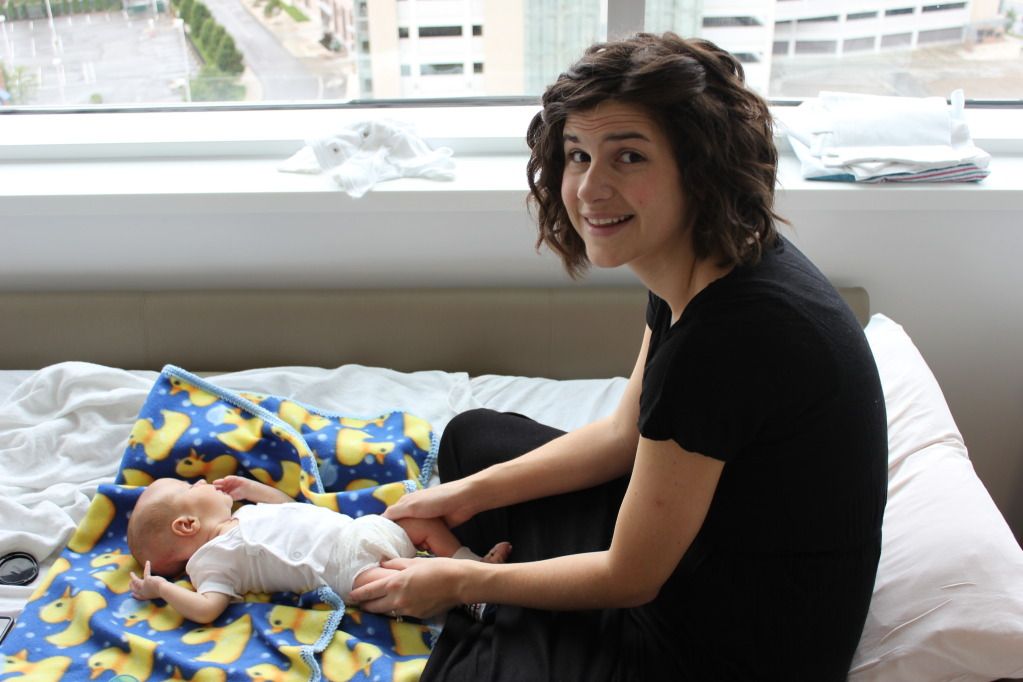 Doing our exercises!
Now, I know looks aren't everything but…
We have a hit a wall here at Children's. The doctors simply don't know what to do about Simeon's apnea. They know that something is obstructing his airway but they can't seem to figure out what. They're stumped. At this point, they feel that giving Simeon a tracheotomy may be the only option. They are making a few last ditch efforts but it isn't looking good.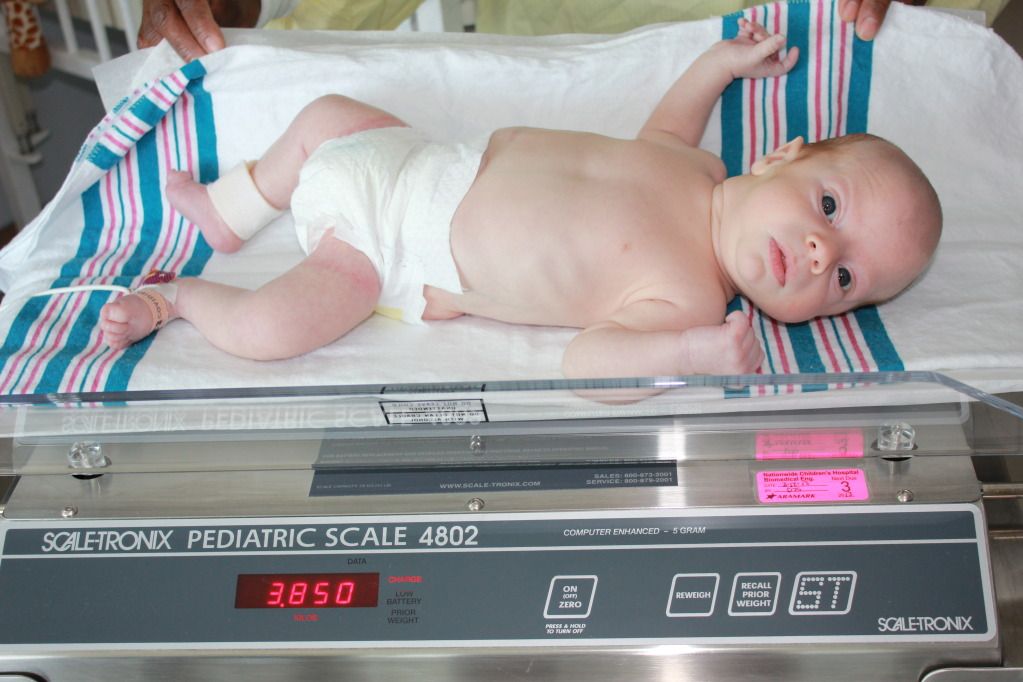 What do you mean I'm small? I outta get off of this scale and give you a knuckle sandwich!
And so I learn something more about myself. Something I'm not proud of: I care about looks– a lot. I can hide a scar. I can hide the fact that Simeon's legs don't move much. I can pretend that his body is like everyone elses. But I can't hide a trach. I can't hide it from strangers but I hate that I can't hide it from myself. I want to look at my baby and see only him. No cords, no monitors, no equipment. Just Simeon, all pink and soft and squishy. I know I shouldn't, but I care about how my baby looks.
No one looks at a cute baby with a trach and says "what a cute baby." They say "what happened to your baby?" or (and maybe this is worse) they say nothing at all. I care about how others look at him.
We all know a family who has a child with a disability. Maybe you get their Christmas card. I can remember the way I used to feel getting those cards. All December long I would open cards. I would say "Look how big so-and-so is getting!" or "Wow, matching sweaters! Interesting choice." And then I would get to that family's card and my face would change. It was that face. The poor-baby face I mentioned earlier. I might say,"They look like they are making it alright…" or I would say nothing at all. I'm ashamed to say I felt sorry for them. All I saw was what made them different.
Its hard when you become the people you used to feel sorry for. I keep thinking about our first family Christmas card. I don't want a trach in my card. I don't want a trach in any of my family photos. I want people to see us the way I see us. We're fun. We're silly. We have a super cute baby. But in learning about myself, I know I'm learning about others too. We can't help noticing the differences. We can't help thinking we're thankful that's not us. Looks aren't everything but they aren't nothing either.
And here's some real honesty– why I have not prayed recently:
I'm tired.
I don't want to talk to Him. (And I'm sure God is impressed with my measly silent treatment. That'll show Him!)
I feel the only reasonable thing I can pray for is strength, but that's not what I want. I want my son to be healed.
If you don't have something nice to say…
The Psalms are full of angry prayers and maybe I should indulge in some, myself. Perhaps some why-hast-Thou-forsaken-me's would do me good. At the same time, I'm fearful of opening the gates. I'm afraid that my feelings would roll out like those furious, unstoppable, forest fires. Evacuate the hospital! Flee the city! She's burning everything in sight!
So, for now, I let others pray for me. Sometimes that's what we really need, anyway.
—
In other, more cheery news: Here are some pictures from Simeon's first 4th of July!
Why must I wear a sun hat indoors?? Don't you people know we're in the hospital?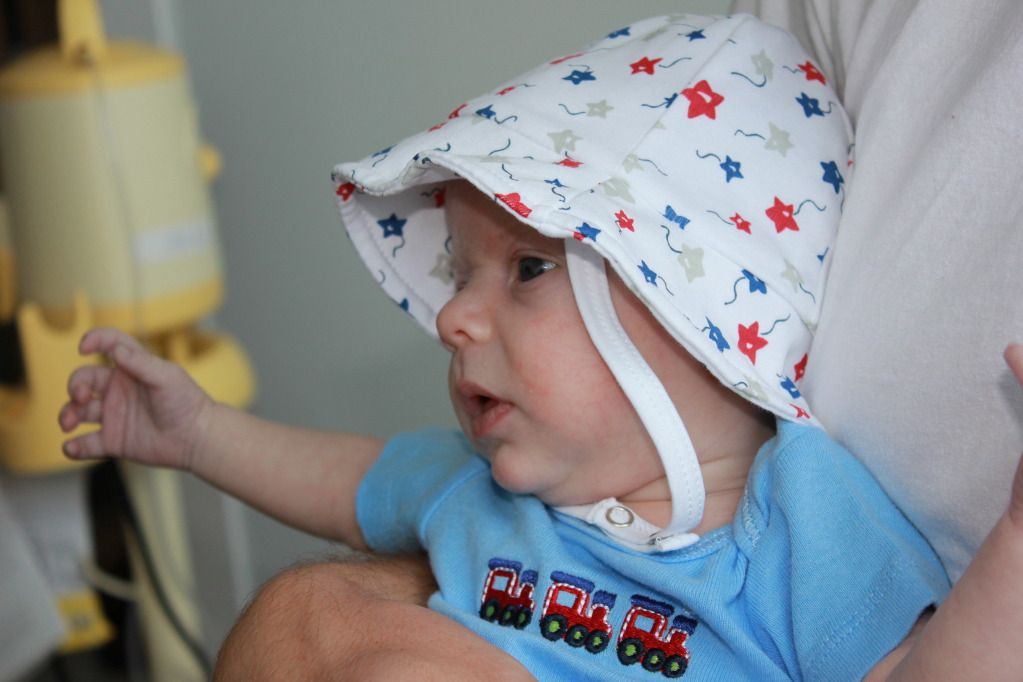 I will endure this silly hat for the sake of my country!
At times like these, I choose to meditate on the history of our great nation….
What's a baby gotta do to get a sparkler up in here?