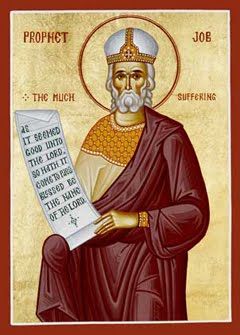 "Then the LORD answered Job out of the whirlwind, and said, "Who is this that darkeneth counsel by words without knowledge? Gird up now thy loins like a man; for I will demand of thee, and answer thou me. Where wast thou when I laid the foundations of the earth?"
–Job 38:1-4
I don't understand the book of Job.
Now, before I begin, I feel I should point out that there really is no comparison to the guy. I understand my troubles are nowhere near his. I've got nothing on Job but even though I'm not sitting in ashes and scraping myself with potsherds, I am in the midst of quite a struggle and he's been on my mind.
So, I just don't get it. I don't understand why we're okay with this story and personally, I think it's pretty rotten.

Highlights from The Book of Job (Mev style):
Act One:
Here comes Job! What a fantastic guy! How could God not notice such upstanding behavior? Give this guy some cattle! Give this guy some sons and daughters!

Act Two:
God: Boy, do I love Job!
Satan: He only acts so great because you're nice to him.
God: Wanna bet?
Act Three:
Look out, Job! No more cattle. No more sons and daughters. Eww! You've got boils and all manner of nasty stuff going on. Sheesh. Still praising the Lord, I see. If you insist.
Job: Blessed be the name of the Lord. He gives me stuff and he takes it away. Whatever he wants.
Job's Wife: (giant eye-roll) Ugh, are you kidding me?! Curse God and die.
Job: You sure are a foolish woman.
Act Four:
Job wishes he were dead and his buddies proceed to give him a bunch of bad advice.
Act Five:
God asks Job a bunch of rhetorical questions (Where were you when I made the earth? Could you catch a sea monster?) and Job admits that God is in charge and all-knowing. God blesses Job with more cattle and more sons and more daughters (the oldest daughter was named Jemima by the way. Who knew that was a Biblical name?).
THE END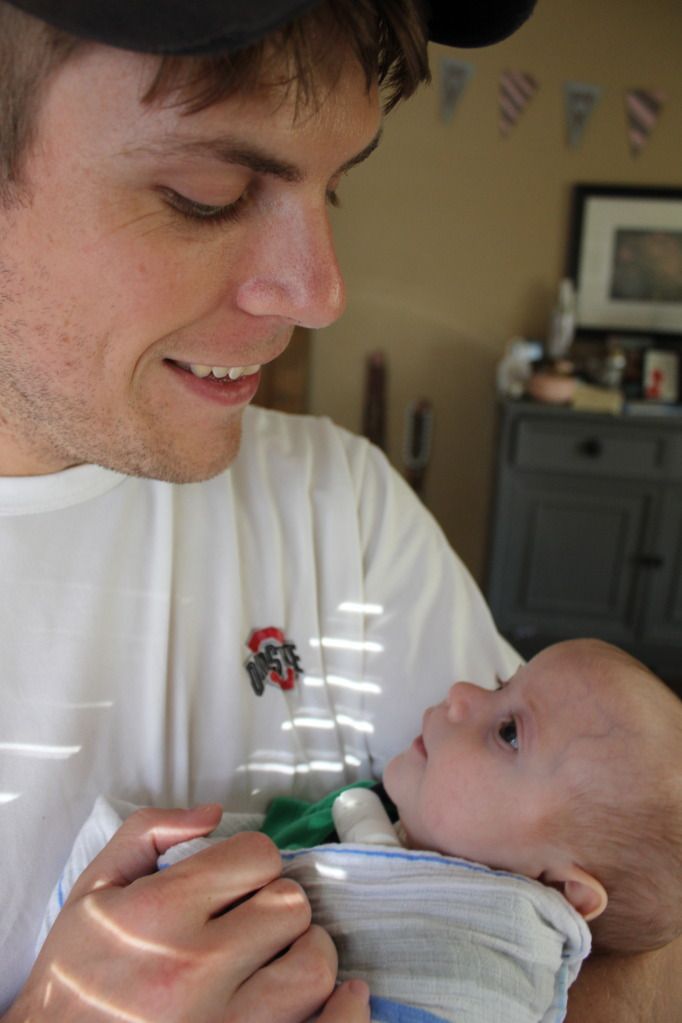 So there it is. When I heard this story growing up, Job's wife seemed like quite the villain. I remember sitting in Bible class (Christian School!) and learning about this monster of a woman. I imagined her sulky and plump , waving off Job's wise words and grumpily sassing back her famous line– curse God and die! What a sourpuss! But now, in the midst of my own troubles, her response makes a lot more sense to me than Job's goody-two-shoes behavior. I know we should be like Job, but can we really blame his wife for her frustration? Those were her sons and daughters too.
I'm trying to be like Job. I'm trying to stay faithful but in the past few days I've felt more like the story's villain than its hero. I am angry at God for not intervening. I don't understand why He isn't easing our circumstances. Sometimes I feel like He doesn't care about my son. I love Simeon and I would do anything to make this easier for him. If God's love is bigger than mine, why does he seem so far away?
Job wondered why he was born only to suffer. He wished for his own death. He wished he had never been born. But he was never angry at God. How could that be?
We've lived in this hospital for 3 months. I miss my home and I miss my life. But the truth is that this is my life life right now and it's Greg's life and it's Simeon's too. That makes me just plain sad. I try to stay positive and I know I will be again, but for now I am full of disappointment and I question my God who feels so far from me.
Tomorrow I will be Job. Today I am his wife.
"But he said unto her, Thou speakest as one of the foolish women speaketh. What? shall we receive good at the hand of God, and shall we not receive evil? In all this did not Job sin with his lips."
–Job 2:10
_______________________________________________________________________________________
You may be thinking, "Geez Mary Evelyn! Weren't you all "it is well with my soul" just a few days ago? Why the long face?"
On Monday we went home– and it was just as wonderful as I thought it would be. I sat on the couch! I made a sandwich! I slept in a real bed! Do you have any idea how amazing the Olympics look in HD??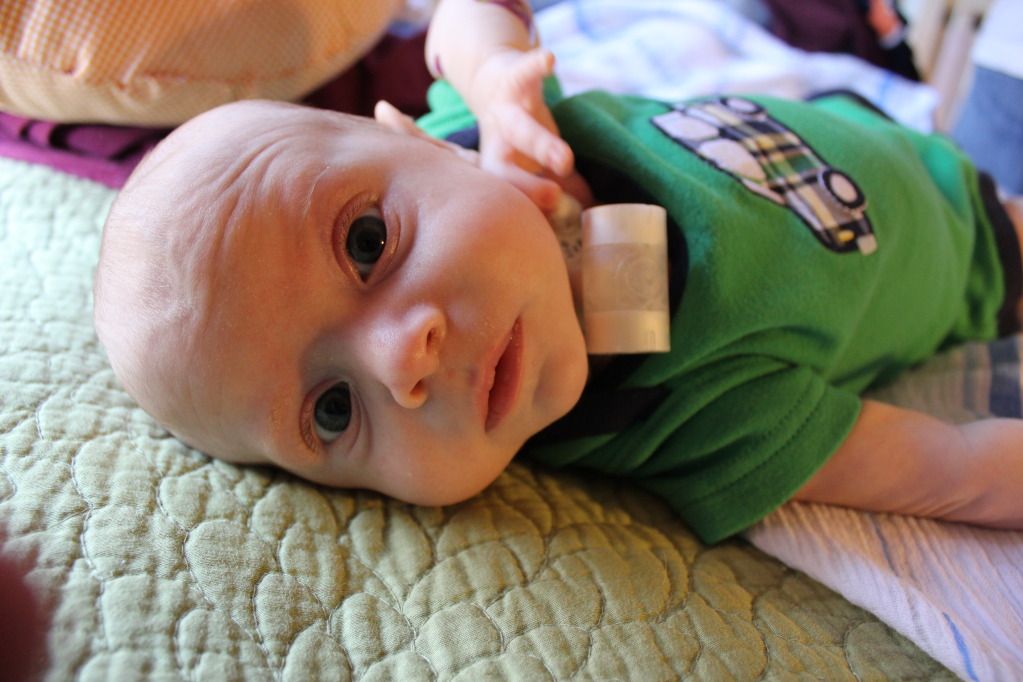 And then night came. We put Simeon to bed in our room and hooked him up to his oxygen monitor– and the numbers started dropping. All night long Simeon's monitor alarmed as he dropped into the 80s. We took turns watching him, hoping we wouldn't need to return to the hospital.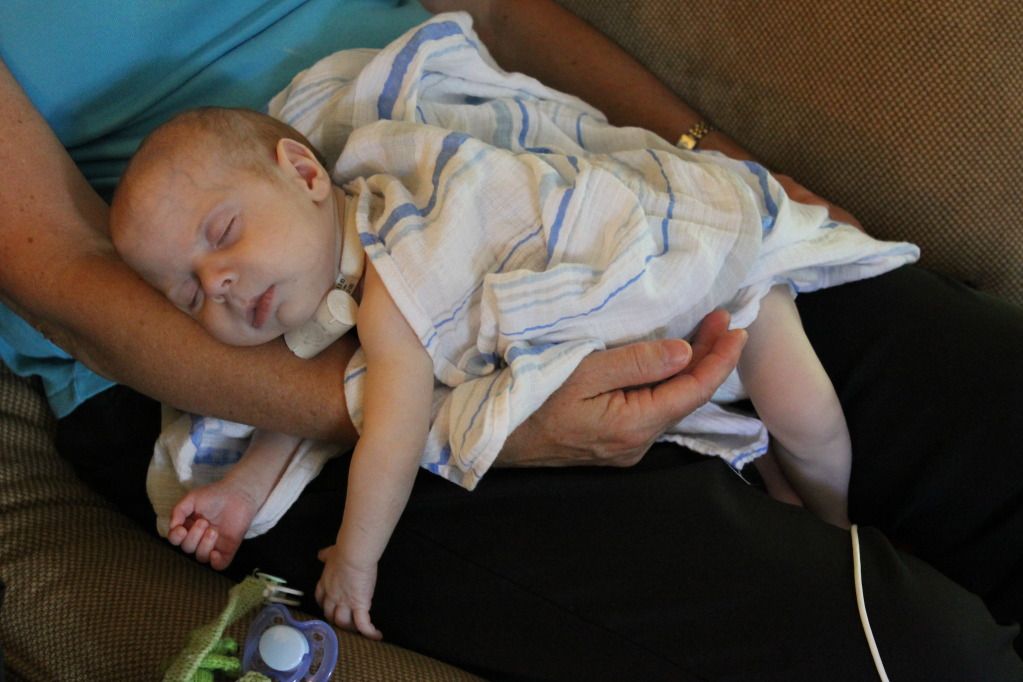 Napping at home with Gigi
Tuesday he seemed better. He did fine during his morning nap but when he fell asleep that afternoon he dropped again. He just couldn't get his oxygen back into the 90s. He turned gray. So we packed our bags and headed to the ER. After six hours we were readmitted to the pulmonary floor– 24 hours after we had left it.
One sleep study and chest X-ray later Simeon has: Central apnea and (drumroll…) pneumonia.
If Simeon's pneumonia is caused by him aspirating during feeds then he will have to get a feeding tube. We need a few more tests and observations to determine if this is the case so we will likely be here for another week or two.
Keep us in your prayers.