"Blessed is the kingdom of the Father and the Son and the Holy Spirit, now and forever and to the ages of ages.
Amen.
In peace let us pray to the Lord."
– The Liturgy of St. John Chrysostom
Last week we got all dolled up. We were looking spiffy. We were going to church and I was so very excited.
When we were in the hospital with Simeon, we didn't go to church on Sundays. Combine that with our time in the NICU and settling back into our home, and it ended up being a pretty long hiatus. The longest of my life, actually. I'll admit, there have been times I dreaded hearing the sound of my alarm clock on a Sunday morning and there have been times that I wanted to forgo the service in favor of a McDonalds Egg McMuffin (because they are tasty. Don't judge, lest ye be judged). But, like they say– you don't know what you've got till it's gone. Or, better yet– absence makes the heart grow fonder.

I am a member of the Orthodox Christian faith. It is the place where I best meet God and I am thankful that this is where Simeon will come to know Him too.
Over the past few months, my soul has been in turmoil. I had to watch my son struggle and I admit that I questioned God and His choices. My mind didn't fare much better. I was mentally exhausted and had little time to reason out what we were going through. And what about my body? Oddly enough, that's where the Church comes in.
Orthodoxy doesn't see the soul as separate from the body– the two work together. So, it stands to reason that we can use one to get to the other. What I mean is that while my soul was laid low, my body was ready to help it receive God's aid.
If you've ever been to an Orthodox Church, you know that the place is a sensory extravaganza.
Hearing (hymns, chanting, censors jingling, prayer, bells)
Smelling (incense, oil)
Seeing (icons, the priest's brightly colored vestments, your neighbor's face!)
Tasting (bread and wine)
Touching (kissing– icons, the cross, your neighbor's cheek– and making the sign of the cross)
It's for this reason, and so many more, that I love Orthodoxy. I struggle when I pray alone. I sometimes feel like I suffer through my private prayers. I just can't go it on my own. In a quiet space, alone in my room, eyes closed, I can't connect. It's as if my soul is floating out there in space, looking for an anchor. Sometimes our bodies can wake up our souls. Just as physical pain may cause us to cry out to God, experiencing the beauty of the liturgy through our senses brings us to worship Him. My soul sees God best when my body can feel the wonder of his creation. The sights, the smells, the tastes, every part of it.
Our souls aren't meant to go it alone. Our souls can get help from the physicality our bodies have to offer. That's why we need the church as a physical space to interact with God and with others. Our souls are not the only part of us that need God. Our bodies need a piece of that too.
And to those of you who say "I can know God perfectly well on my own without a church, thank you very much" I say: Bah-Lo-Knee. We need the community of believers if we want to experience the fullness of our Creator. The disciples had each other. Even monks live in communities with one another. God Himself is a community (Father, Son, Holy Spirit). Even God doesn't go rogue, because that would be all wrong. Besides, you can't have a delish potluck dinner for one, now can you?
So Simeon had his first taste of the Orthodox faith. Or maybe I should say his first smell of it. Or his first touch of it. Either way, he was nourished– body and soul.
O taste and see that the L

ORD

is good;
How blessed is the man who takes refuge in Him!
Psalm 34:8
I see some shiny gold cups up there. Things are lookin' pretty good…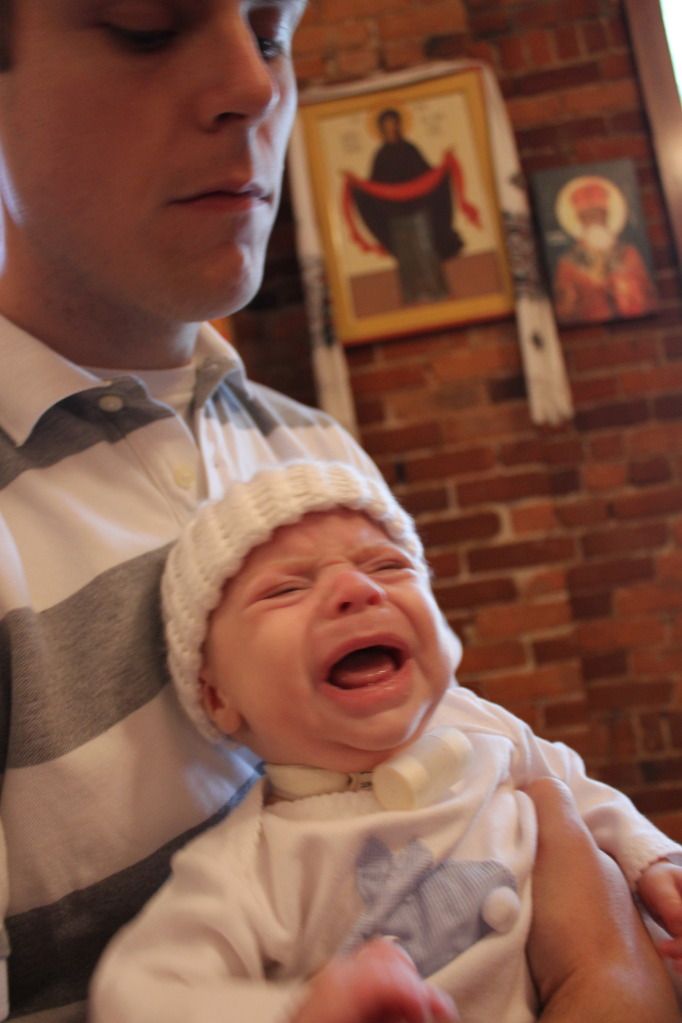 Wine!? Those cups have WINE in them!? What are the babies supposed to drink?!
Too many pictures! Guess you'll have to watch this amateur slideshow.


One of my favorite hymns. I Give You My Peace sung by Ncense
If you would like to learn more about worship in the Orthodox church, I like this introduction:
First Visit to an Orthodox Church: Twelve Things I Wish I'd Known