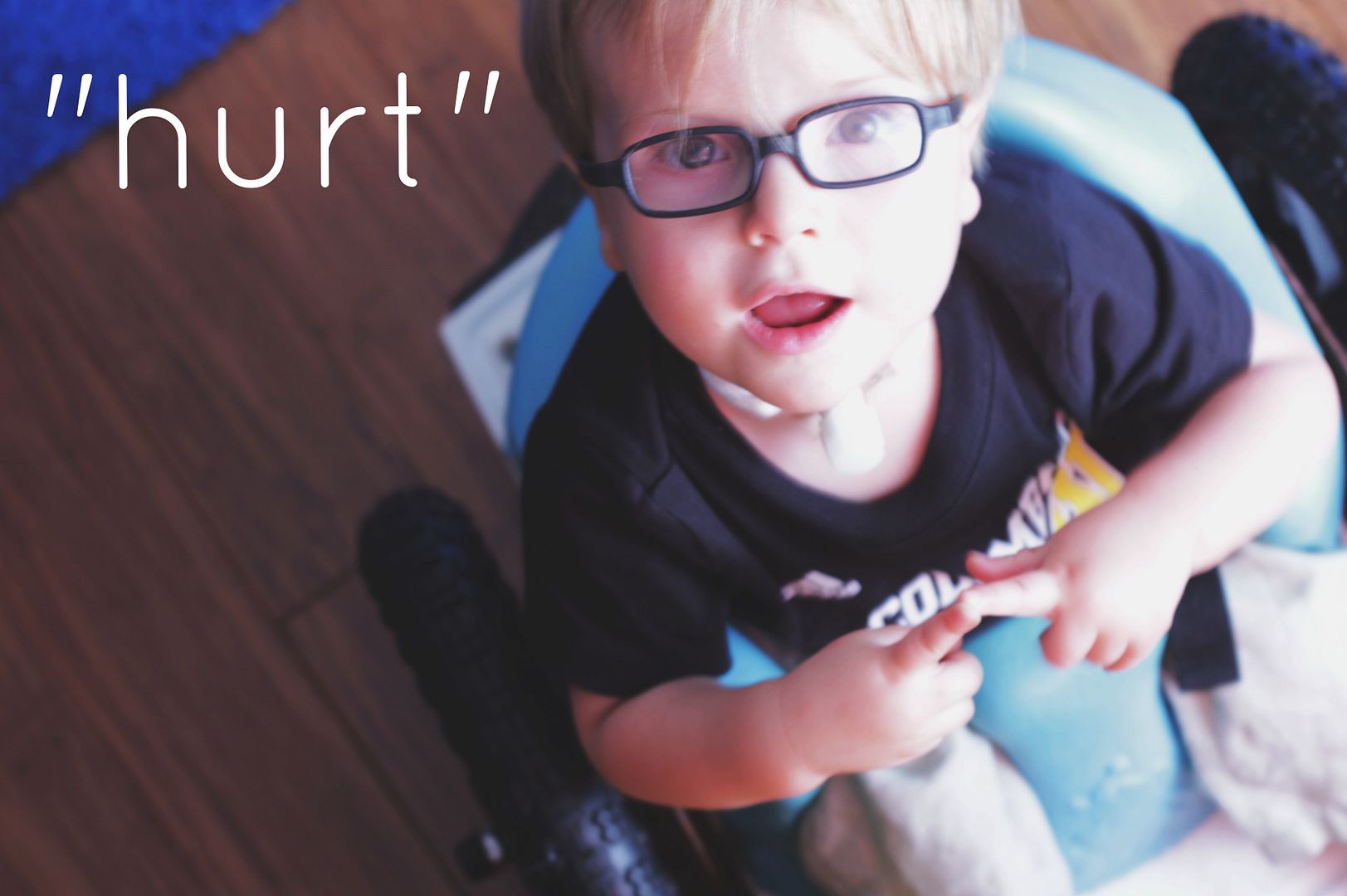 Here's the thing about teaching your kid the sign for "hurt"– someone is going to have to get hurt in the process. At first, I tried waiting for opportune times– surely with a toddler, the word "hurt" has got to come up at some point– but honestly it was kind of hard. Sim just doesn't get hurt that much. There are isolated incidents, like that time he bit his own finger trying to shove all the crackers in Christendom into his mouth-hole, but generally the kid just doesn't get hurt.
It's weird. Toddlers are supposed to injure themselves all the time but how do they do it?
They
fall
down.
That's the issue. To fall down, you have to stand up or climb something (<—mind blowing, I know). All around the world toddlers are dropping like flies– falling off couches, slipping on wood floors, tripping down stairs– while Sim watches them from the security of his chair like a Roman emperor watching a Gladiator death match. The bloodbath is exhilarating.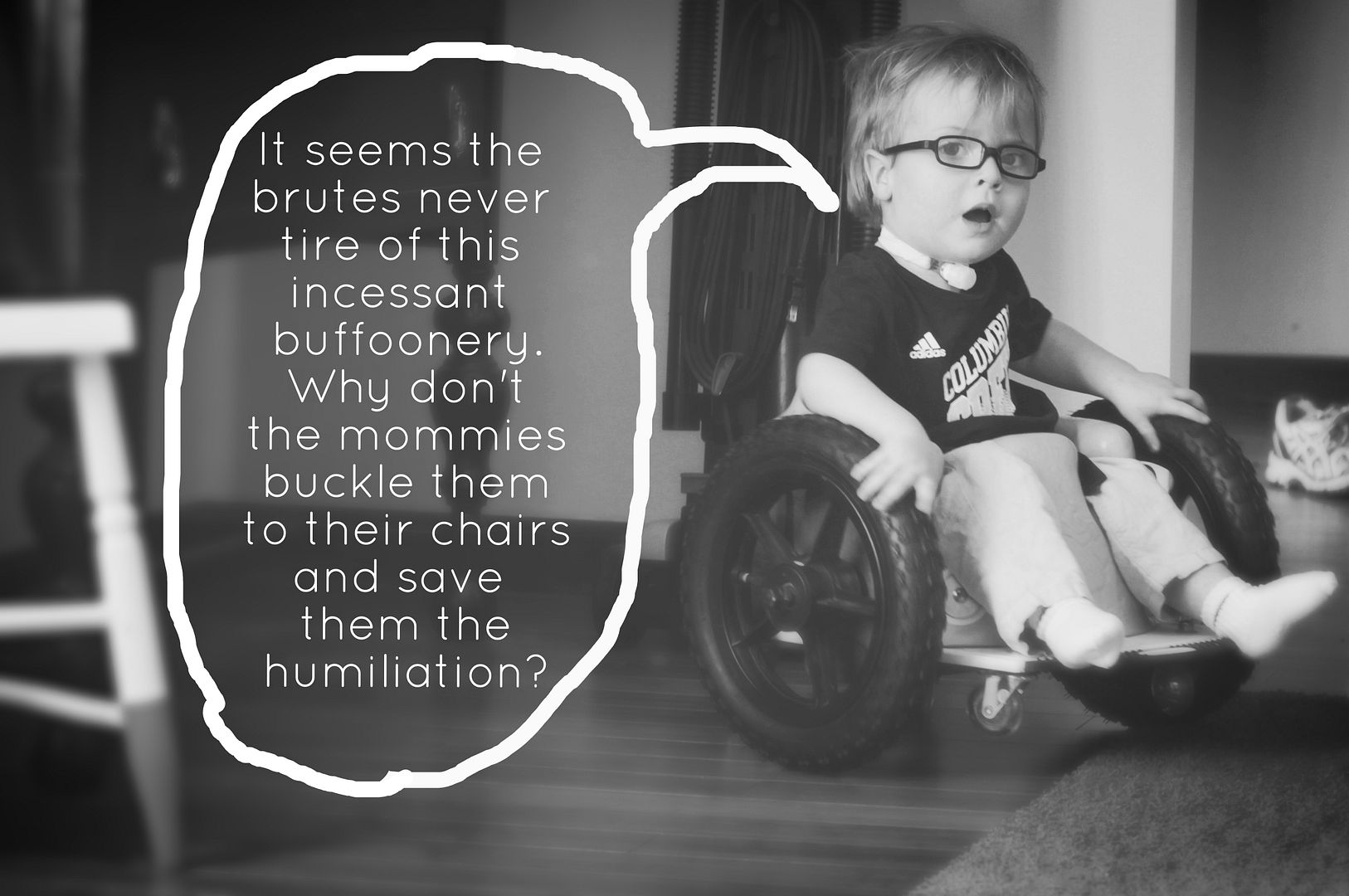 For a long time, I could only model the "hurt" sign when Sim inflicted hurt on me. When his toddler tantrums evolved to Stage IV (the clobber-all-offending-adults level), it wasn't hard to find an opportunity.
Fist to the face during an unwelcome diaper change?
M.E.: "Simeon, that hurts mommy."
Hair pulled when I forget to sing Raffi's iconic "Brush Your Teeth" song during our evening routine?
M.E.:"Ow! Sheesh, Sim. That HURTS!"
Bitten for no apparent reason (because my child is like a Pitt Bull that's never experienced tenderness)?
M.E.: "FOR THE LOVE, SIMEON!! GOSH DARN IT that HUUUURTS!!!"
After a few days he started to catch on. He had known what "hurt" meant a long time ago but now he would hug me if I used the word in reference to being clobbered by his tiny fists. When he got mad and banged his head on the floor, (because his tantrums had moved on to Stage V– the self-injury-scares-the-fart-out-of-my-parents-and-makes-them-think-I-need-therapy level) I would dramatically sign "hurt" while he screamed in my face.
Then he finally started to sign it. And then he signed it at appropriate times.

And then he immediately began abusing it.
The thing is, Sim really likes to be hugged and he saw a pattern:
something painful happens–> he signs "hurt"–> he gets sympathy and snuggles
He used the system to his advantage.
So now he shoves his fingers in my mouth and gestures for me to bite them– just so he can dramatically sign hurt and lean in for a hug. He hits himself in the head– then signs hurt and reaches out for snuggles. And last night (this is no joke) he took my palm, forcefully curled my fingers to make a fist, then hit himself in the head with said fist— all so he had a reason to stick his lip out, sign hurt, and get some love.
Kids are nuts– but Sim hurts so good I can't resist him.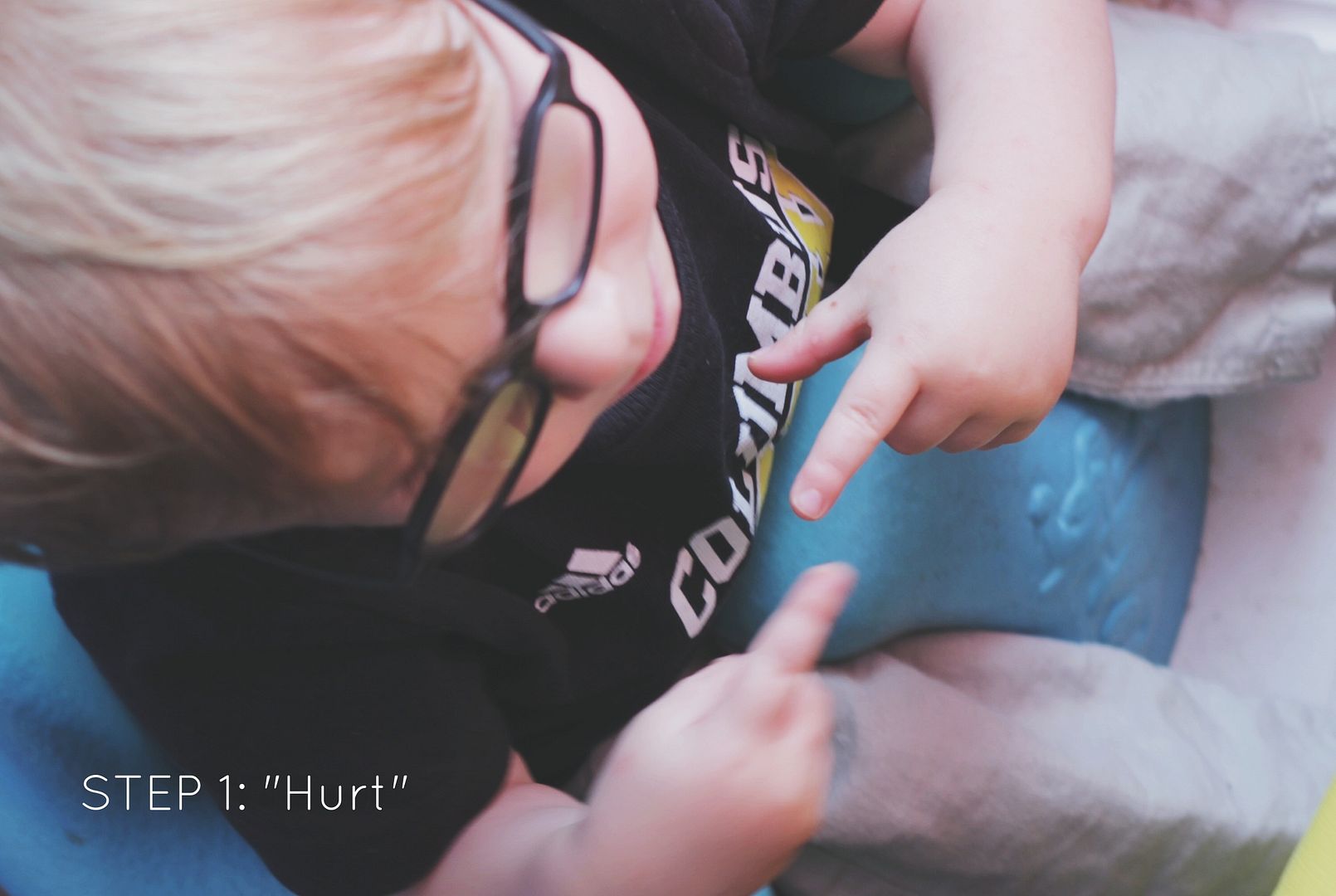 Anyone else have an injury-feigning toddler who will do anything for Grade A snuggles?
Any other moms-of-wheelchair-users have kids who seldom get hurt (in the traditional sense)?