Because I am a baby and because my hands are the size of Ritz crackers, I've asked my mother to type this post while I dictate.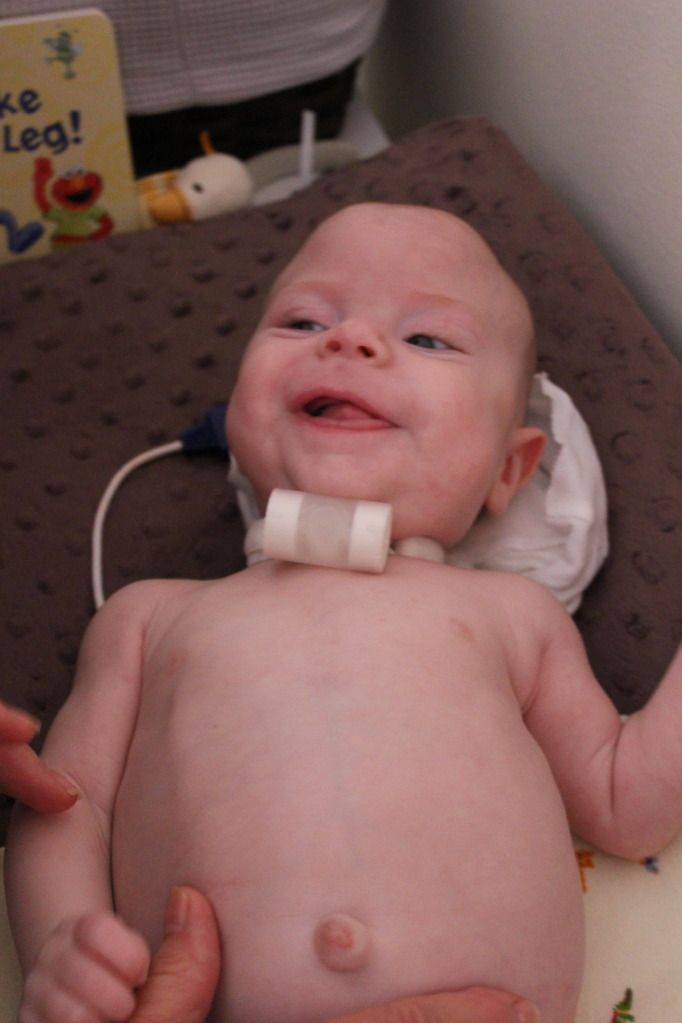 Being home has been… interesting. My mother and father, although generous and well meaning, are the most frightful amateurs. They fail daily in ways innumerable, from dropping my paci on the floor to letting me sleep until I am nearly starved. Yesterday the two old coots took my trach ties off without having a new one handy, forcing me to lay on the changing table in hysterics while my mother ran frantically to get a new one. Most undignified. It's a wonder I've survived the past week.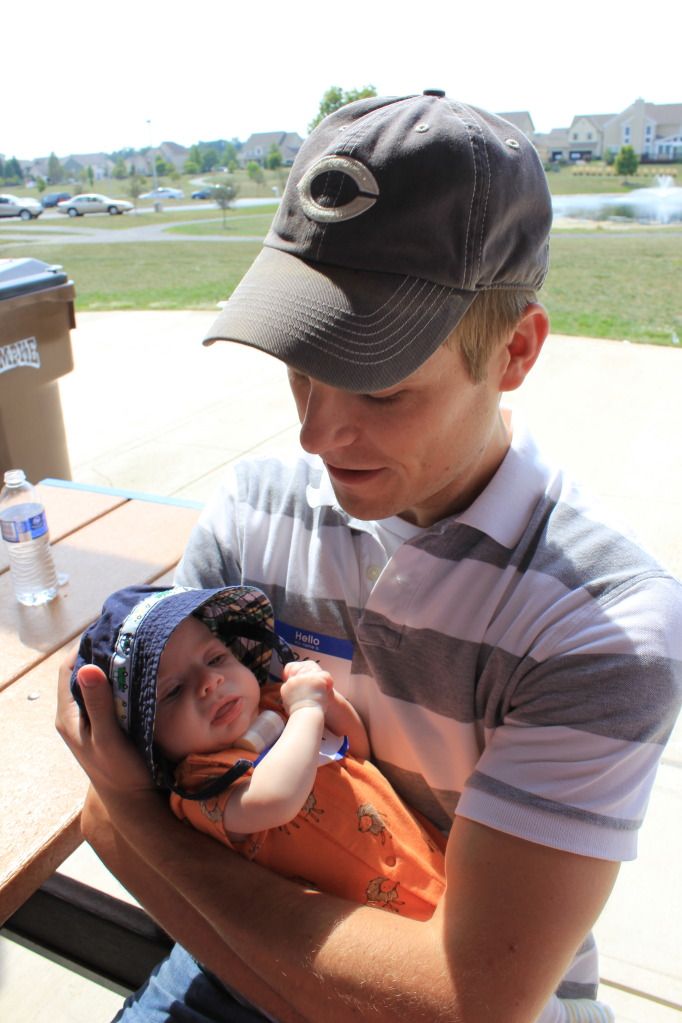 My father, from what I can tell, is a tallish light haired man who disappears for most of the day and resurfaces late in the night. I would worry that he is some kind of Dracula character, were it not for his silly dances and the uncivilized way he constantly wags his tongue at me. I usually respond by sticking my tongue out at him, just to show him how it feels, but it seems to encourage the behavior and he does it all the more. He spends most of the weekend talking to the television and making passes at my mother. Embarrassing.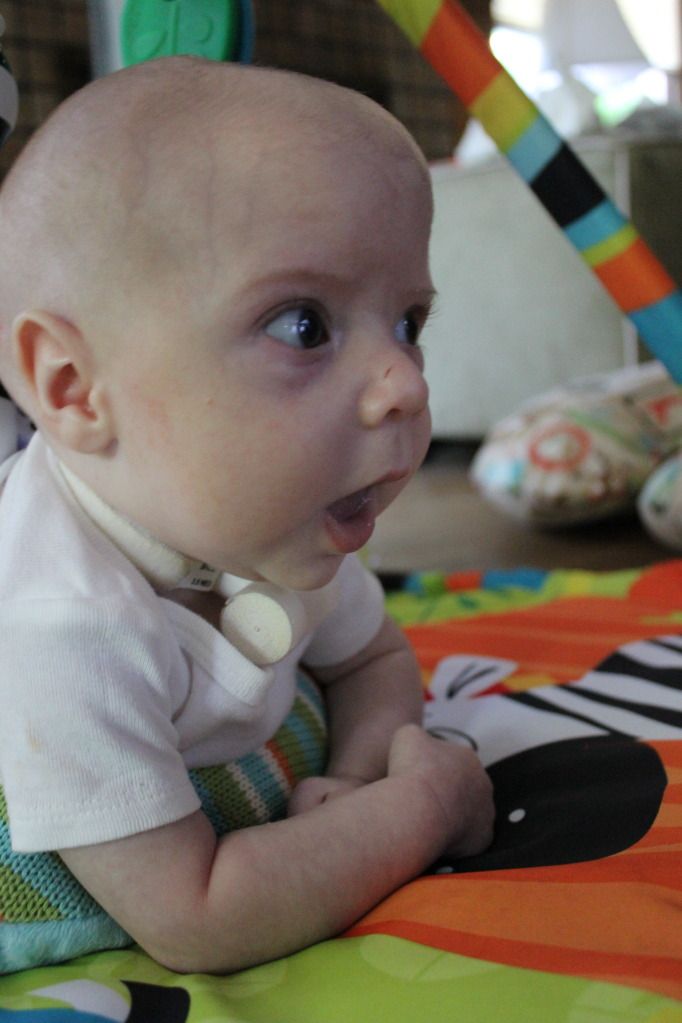 Have some decency, Mother!
My mother, although rather fetching and looking quite good (considering up until a few months ago her appearance could only be described as rotund) spends most of the day watching trashy television shows and alternately torturing and comforting me. Diaper changes are a painful experience as she is unable to finish the job without creating an ungodly mess. She seems unnaturally interested in my excrement, regularly asking my father if "it looks normal." A most disagreeable conversation generally ensues and, believe you me, I would cover my ears if I had the coordination.
At the very least, they are improving. Each day brings fewer moments of terror and I do my best to keep them on their toes. This morning I took them by surprise by spitting up all over my trach. Success! Really one of my best pranks. You should have seen the look on my Mother's face! Priceless. I trust that by finding more ways to horrify and delight them, I can greatly improve their abilities. Practice makes perfect, as they say, and hopefully I shall survive to see another day.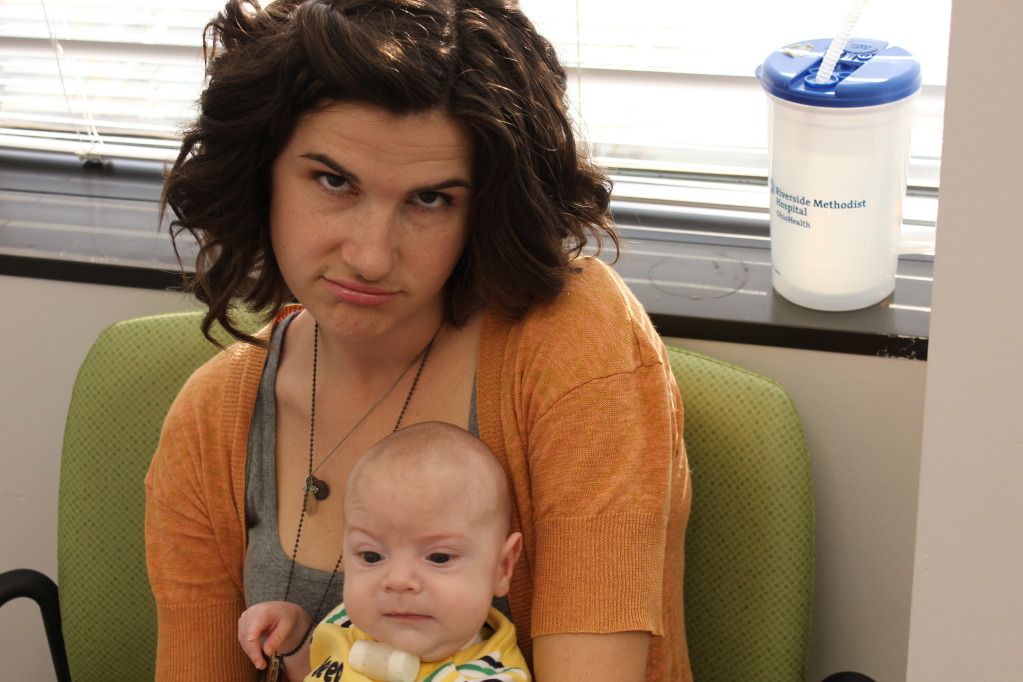 At Dr. G's office after my little spit up event. Mother is not pleased.
I would be remiss if I ended without saying thank you. You may have noticed that the school year has started and yet my mother is still at home driving me crazy. Throughout the past few months we've received some astonishingly terrific gifts in the mail. We've gotten lots of baby things for me (the postman must think I'm quite spoiled) but we've also gotten quite a bit of financial help for my parents. Judging by my mother's over-the-top reactions , I would say she's more than appreciative. Without all this kindness, we would really be up a creek. The most amazing thing that some of these gifts have come from people we've never even met. Even though she drives me crazy, all the financial gifts have made it possible for my mother to stay home with me for a few weeks and we are really enjoying getting to know each other. All that kindness is paying our rent!
Here are just a few of the special things the postman has brought us:
Mother's friend from high school, Lisa Maxfield, made her these necklaces. Really beautiful, wouldn't you say? So far Lisa isn't selling these, but maybe you can leave a comment that will convince her to change her mind! Check out her blog and beautiful family here:
http://justlove127.com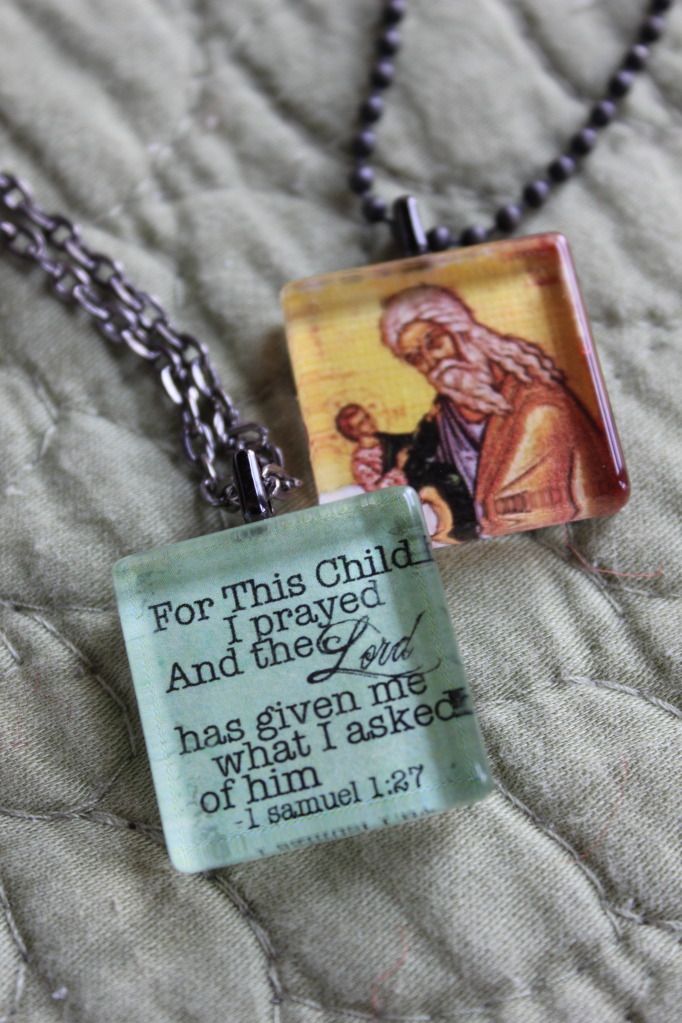 That's St. Simeon on the right
Daddy's friend Betsy sent us this icon from Greece. Since I like shiny things, this is a particular favorite.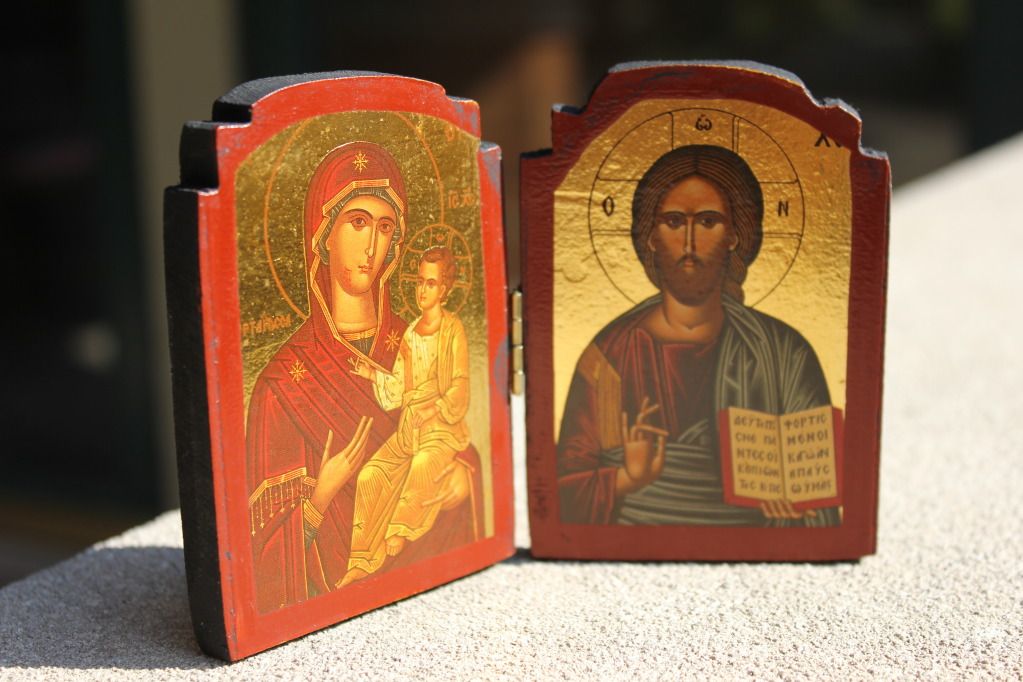 Valerie Petschulat sent me these comfy travel pillows! Let me know if you want one and my mother will get you in touch with her.
Just chillaxing after a long day of baby stuff….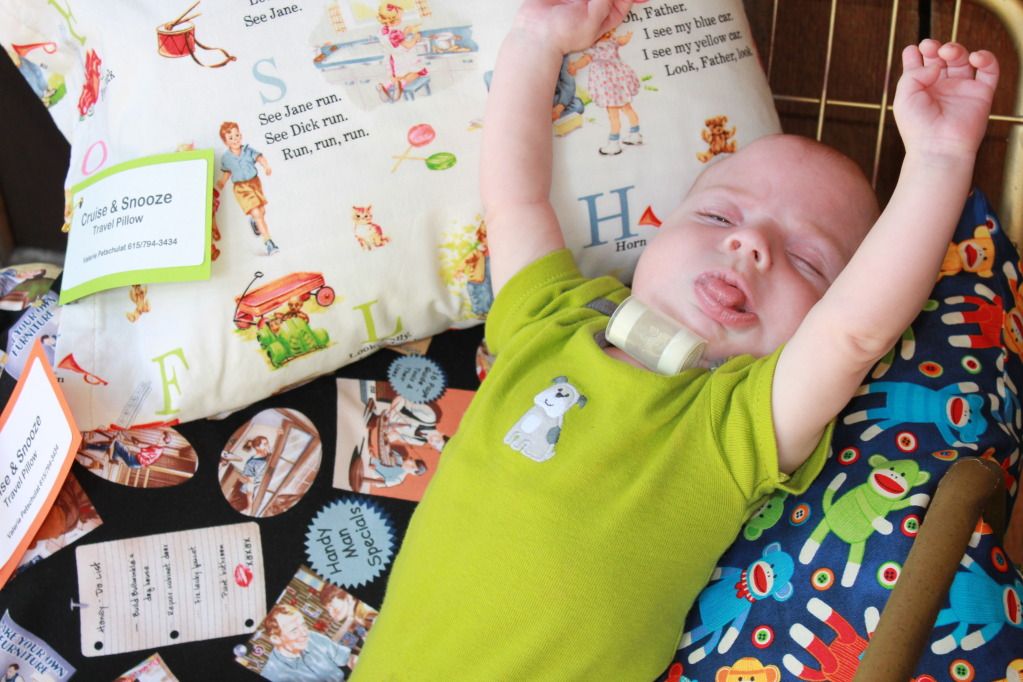 This is the life! Stretching… Peeing in my pants….
I've been hitting the bottle pretty hard today…
Our good friend Worth sent us this cute quilt! I like to enjoy it topless.
Take a gander ladies, my mother will be putting a shirt on me soon and you'll miss this view.
And finally, thank you to the Ayoub and Daly families! You have infinitely increased my mother's fashion factor with the cute pouches (they're not just for kangaroo's anymore!), amazing quilt, and camera strap. The trach pads will keep me comfy and cooler than other babies. Here are just a few photos (too much loot to include!).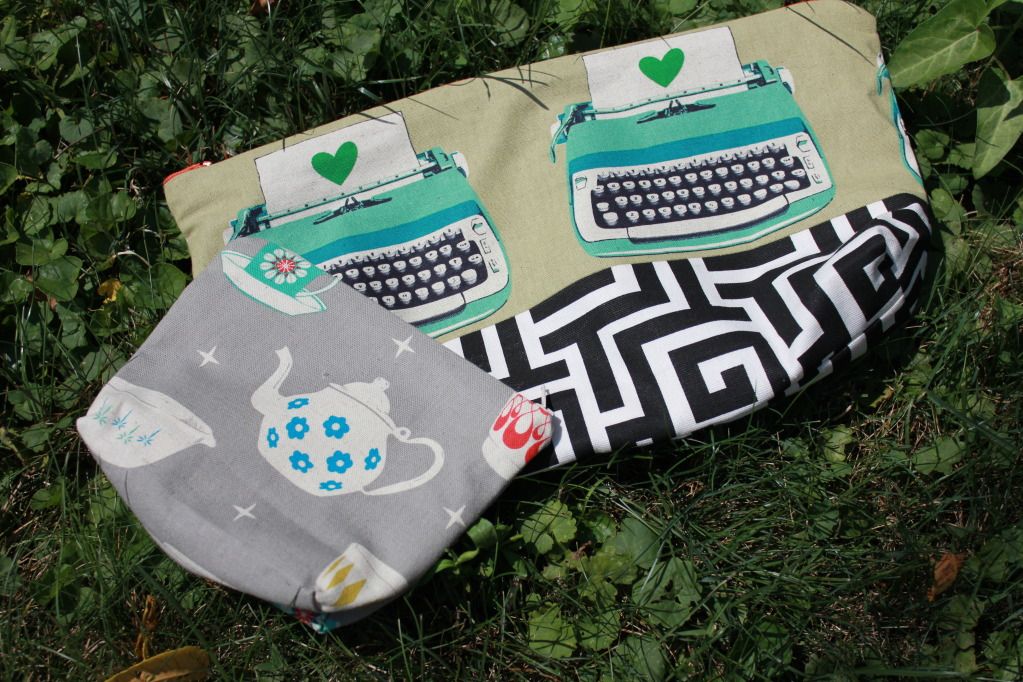 How did you know my mom loves tea?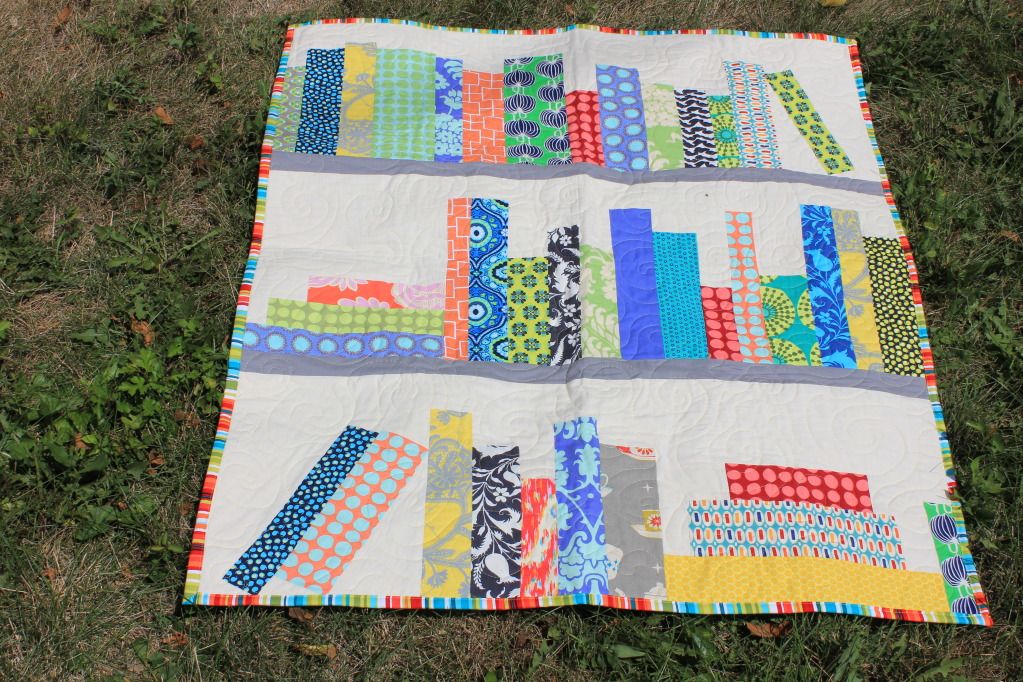 While my librarian mother prefers the book side of the quilt…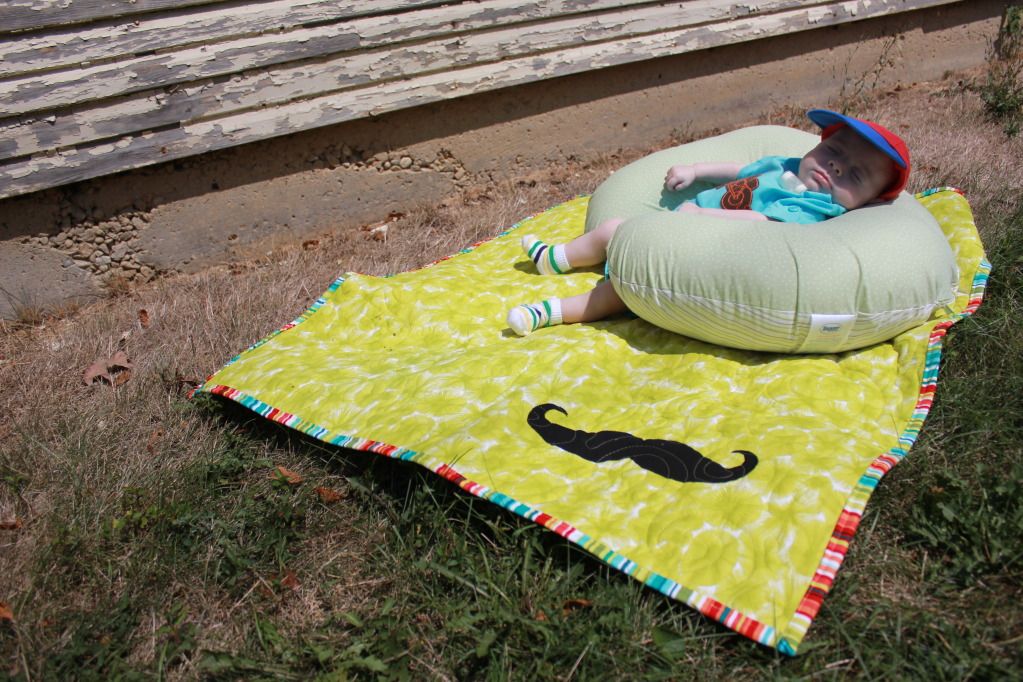 I prefer the manly mustachioed side.
That's all for now. Thank you for reading my post and for keeping me in your prayers. It's been a crazy three months, right?
Sincerely,