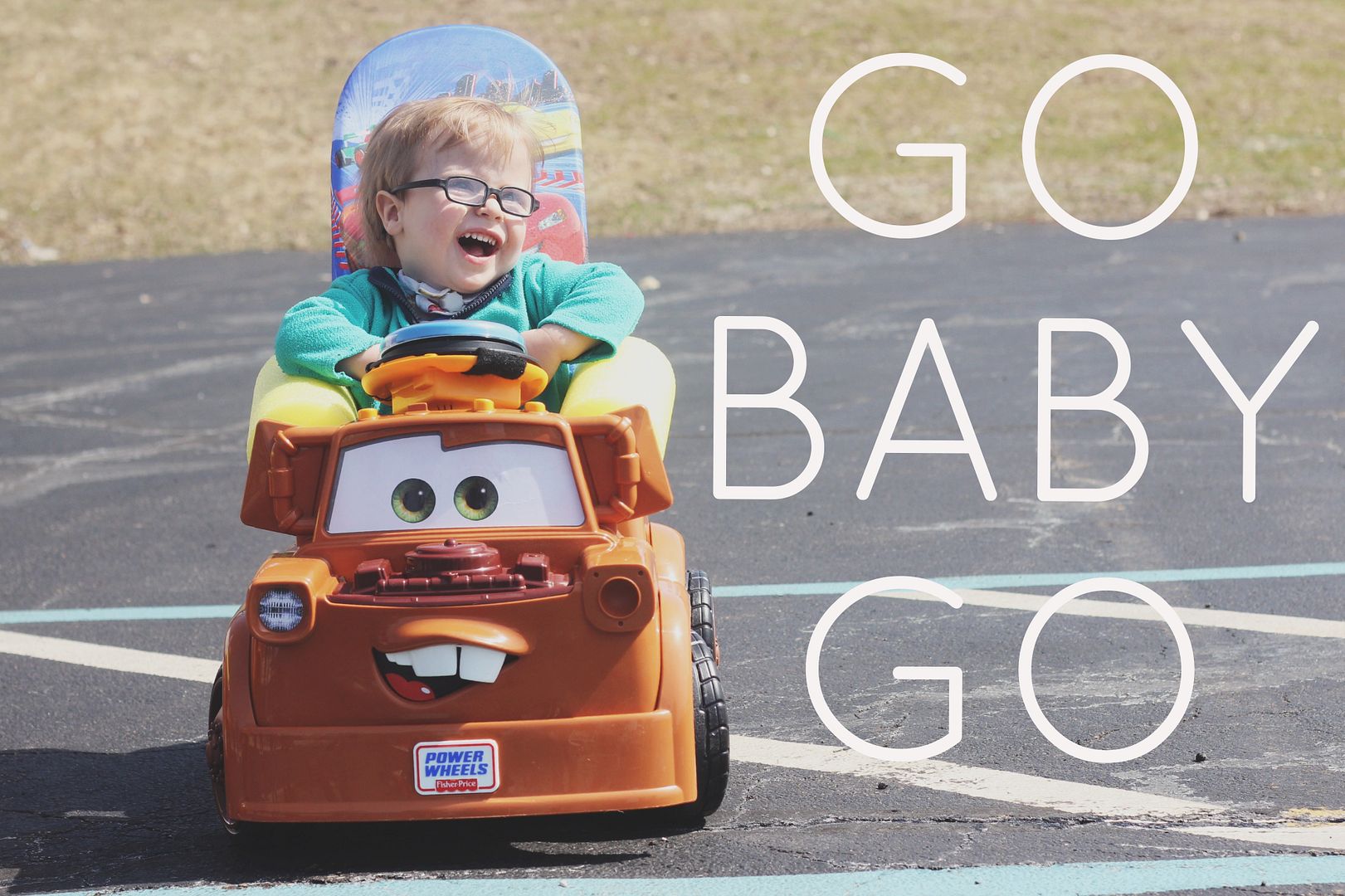 Last weekend, our family attended a Go Baby Go event in Cincinnati– and it was fantastic.
You may have seen a video floating around Facebook recently about Cole Galloway and his Go Baby Go movement.  Galloway, a researcher at the University of Delaware, is looking to get kids with disabilities moving by modifying toy cars. Not only do these ride-on cars help kids like Sim keep up with peers and become more mobile, they also encourage early exploration for children with mobility impairments.
A little background on the concept:
After studying infant behavior, Galloway became interested in closing what he calls "the exploration gap" meaning the gap that we see between children with typical mobility and those who experience mobility impairments such as cerebral palsy, spina bifida, and Down syndrome. And it's not a small gap– it's as giant and harmful as the colossal bag of Cheetos I ate by myself in the car last night (but not as delicious or cheesy).
Research shows that many of these children would benefit from a power wheelchair at a young age but there are currently no chairs of this kind for the very young (birth to 3 years).  This means that while most children are climbing, crawling, and exploring their world, kids with serious mobility issues (like Simeon!) are pretty sedentary by comparison.  This is a huge problem. Being less mobile leads to speech delays, cognitive delays, and social isolation. Go Baby Go wants to change that by getting kids mobile as soon as possible and they're using toys to do it. Permobil (the leading provider of power wheelchairs) sponsors the Go Baby Go events and is looking to create a power mobility device for the 2 to 3-year-old crowd in the next few years. I think that's fantastic enough to have a big cow over (<—why doesn't anyone say "have a cow" anymore? Bring. It. Back).
Our day began with an interesting (and entertaining) talk from Dr. Galloway and was followed by car building.  For under $200 we modified a typical ride-on car by adding a push button activator and seating adjustments. One of Sim's PTs was there and helped us get his ride ready to roll.
It was exciting to be a part of this day and to witness such enthusiastic collaboration between academics, therapists, market leaders, and families. But it was difficult too.  Simeon is almost two years old and even though I've known all along that this "exploration gap" exists, seeing the research really hit close to home.
We have got to get our kids moving, you guys.  And we can't wait until they're two or three or five to do it. Manual chairs, power chairs, toy cars, whatever. Our kids need to move.

And now for the fun stuff! Here's Sim testing his new ride:
Most children like Simeon don't get their first wheelchair until they are two-years-old. Think about how much lost time that is.  We can do better and I think we will very soon.
Find details on the Go Baby Go movement
HERE
.
Watch the video
HERE
.
Find pieces and parts for toy modification
HERE
.
Read the NY Times article
HERE
.
What do you think of early mobility?  How much has it mattered to your child (typical or otherwise)?