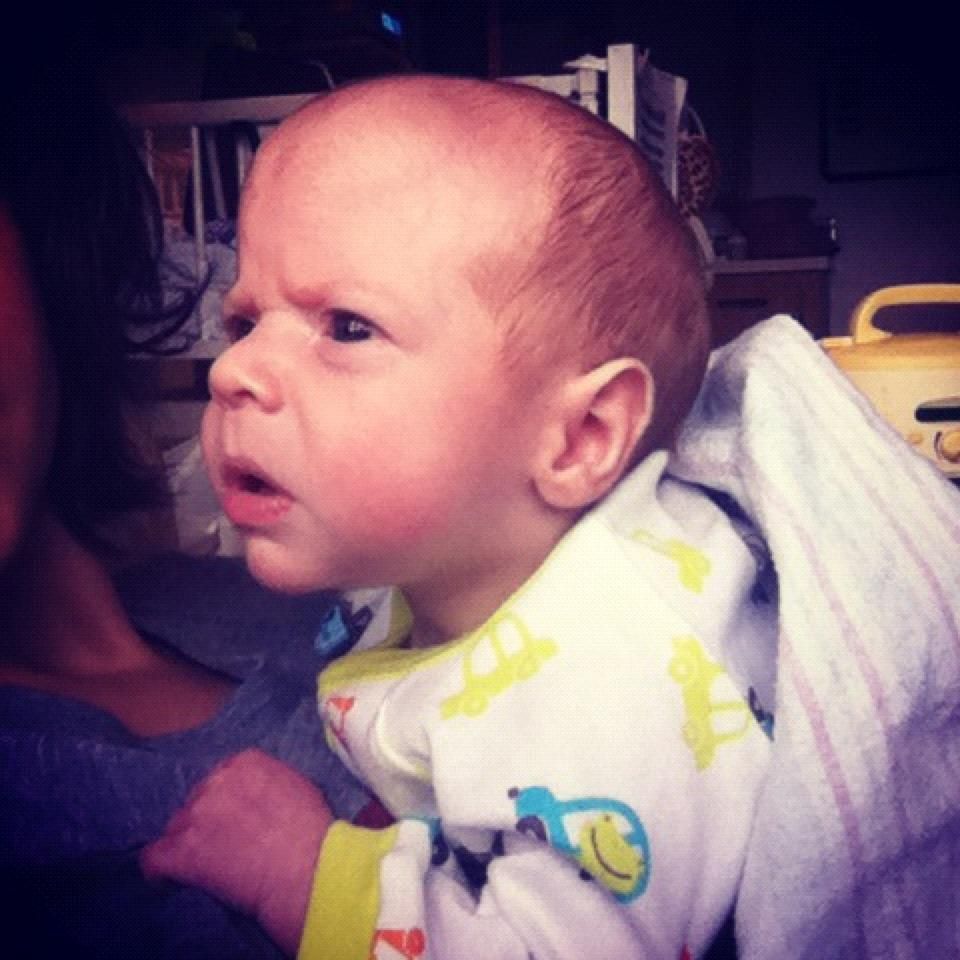 Will the cuteness ever end??!
Over a delicious dinner in the hospital lobby (talk about ambiance!), I told my friend Meg that while I'm thankful Simeon has so far avoided a tracheotomy, I wonder what people will think if I keep writing about it and it never happens. I'll be like that lying little scoundrel who couldn't keep his mouth shut about the imaginary wolf. Boy did the townspeople hate that kid! "Oh my goodness!" Meg said. "You're like the girl who cried trach!"
All this is to say that I hope our good news doesn't make you question the legitimacy of my original trach fears. And we're not out of the woods yet– a trach is still a possible treatment for Simeon's condition but we're hoping it can be avoided.
So why no trach? Well, we've had a little miracle.
Shortly after airing all my fears, Simeon's breathing worsened. His oxygen levels dipped more frequently and he worked so hard to breath that he was extra sleepy and difficult to rouse during his episodes. As he slept in my arms, I noticed him struggling harder than usual to move air into his lungs. His face became gray, then blue, and his oxygen level dropped into the 60s. It was scary. And, horror of horrors, the nurses and residents seemed nervous too. If the hospital is an airplane then the nurse would be the stewardess. So basically, just when I felt my airplane hit some wicked turbulence, I saw the stewardess' clutching each other in terror and illegally calling their family members to say goodbye. Not a good sign.
Cute baby restraint or cruelly humorous baby torture device?
So we were moved to the PICU. Here, Simeon could be monitored more closely. This was a hard move for me. I had grown attached to all our nurses on the general pediatric floor. We were there for two weeks– they all knew our little family and took great care of us. The PICU was less friendly with lots of rules that make it difficult to stay with your child.
Lamest things about the PICU:
The bathrooms are for "patients only." Technically parents are supposed to leave their child's room and walk down the hall to the public bathroom. The nurse told me it was okay to use the bathroom in Simeon's room. "All the parents do it" she said. "But you should know that we don't knock when we go in there." I looked at her confused. "Even if you know I might be using it?" I asked. She shrugged, unconcerned. "Yeah, we don't knock." Nothing like using the toilet in constant fear of interruption.
No food in the PICU! This means you have to leave the entire unit to have a peanut. So when Simeon couldn't eat before a procedure I had to leave him, crying alone in his crib, while I went to the lobby for a snack. This felt miserable so I chose to ignore this rule. Greg and I stashed all kinds of food contraband behind the couch. It felt like summer camp, except there weren't any good songs. Maybe I should write some?
No cell phone use. Ha! Fat chance.
Mothers must use the pumping room to pump. So, in the middle of the night I would put on my shoes, get my supplies, and walk down the hall to pump. Here's the best part: the lights in the pump room are activated by motion so about 10 minutes in I would be plunged into darkness. Oh!– the sad state of a woman, udders out, hooked up to a machine, in the dark, flailing her arms in a desperate attempt to restore the lights.
No flowers. For real? Who's in charge of this joint? Miss. Hannigan? Miss. Trunchbull? Geez!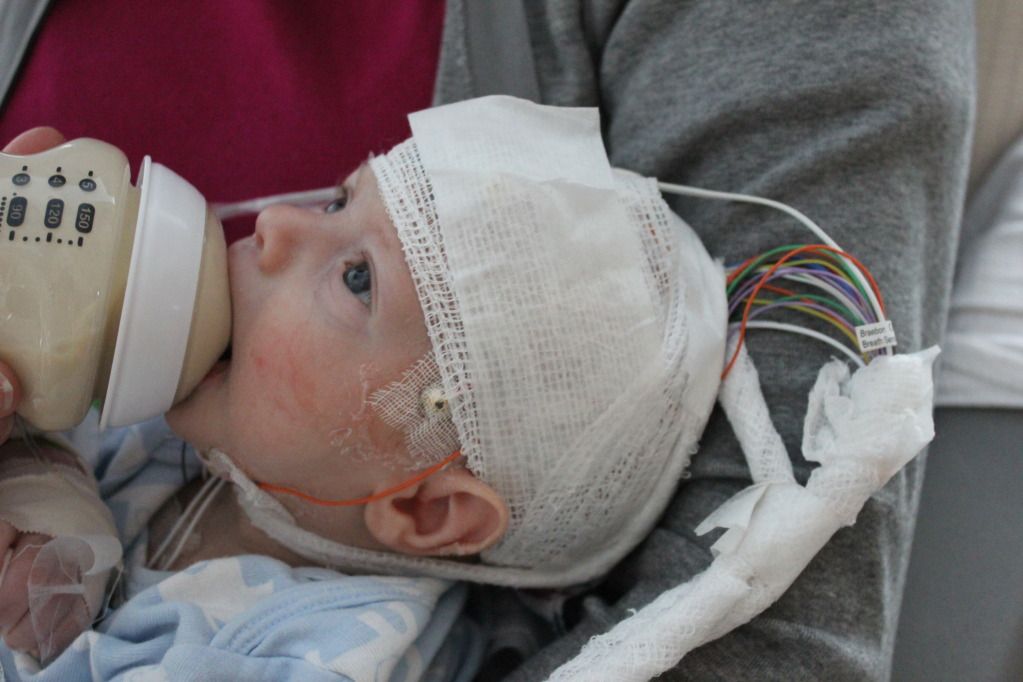 Simeon's magic hat!
So we settled into our new home with every intention of getting a tracheotomy. There was really not much else to do. The docs couldn't figure out what was obstructing Simeon's airway and they were running out of options. The ENT decided to scope Simeon's airway under anesthesia one more time to see if there was anything he had missed– but he didn't sound too hopeful. Before they took Simeon in, he told me that if they couldn't find anything new they wanted to go ahead and give him a trach. "I feel like we've kind of failed this little guy" he said. I could tell he was frustrated. There didn't seem to be a clear cause for Simeon's apnea.
We gave permission for the trach. Greg took the rest of the day off and came to the hospital to meet me. Watching them take Simeon into the operating room was terrible. I knew that when he came out he would most likely have a trach. I wouldn't be able to hold him for about 6 days because he would be sedated as he healed and I didn't know how long it would be until I could hear his voice again. That scared me more than anything. I remember when they told me that Simeon wouldn't be able to vocalize because of the trach. I would miss all those baby noises.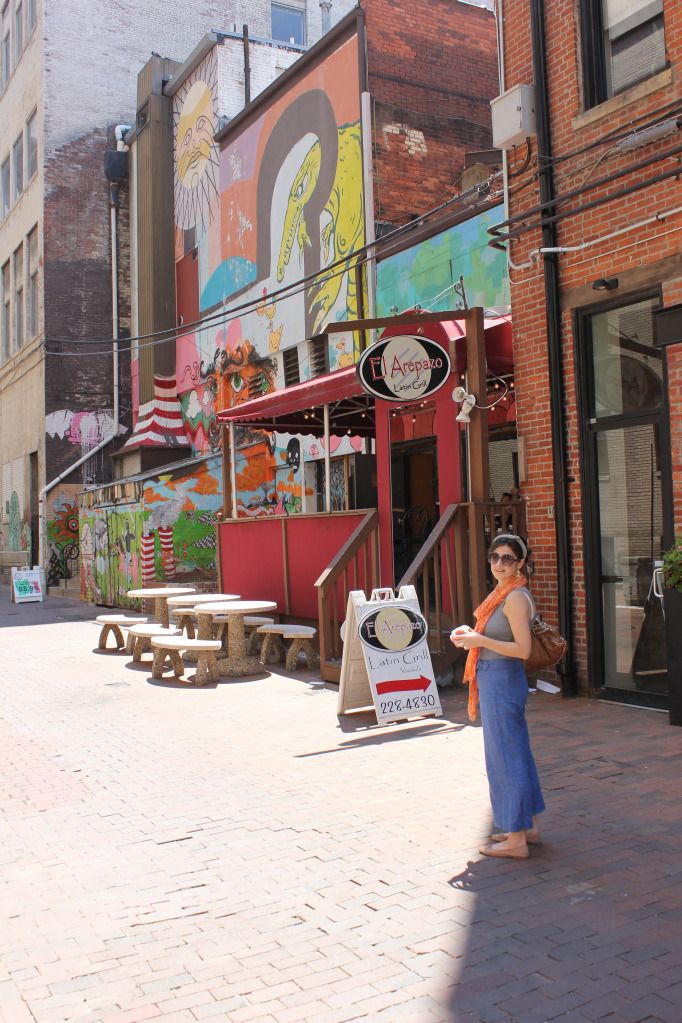 Mommy and Daddy took a lunch break!
And then a little miracle: halfway through the surgery, the docs came out to tell us they had found something in Simeon's airway that could explain the obstruction. By trimming some tissue, they hoped they could improve his breathing enough to avoid a trach. Unfortunately, they were able to see that Simeon is obstructing in 4 different places. Fixing this one could be enough, but if not we were still trach bound. And so we decided to try it. I got to hold the little man and hear his voice again. I really was so thankful.
After the surgery, Simeon stayed in the PICU for 2 days. No drop in his oxygen levels. We were all a bit shocked that the surgery made such a big difference so quickly. They moved us out of the PICU and to the pulmonary floor. We plan to have a sleep study done this week to see if Simeon has improved enough for us to go home.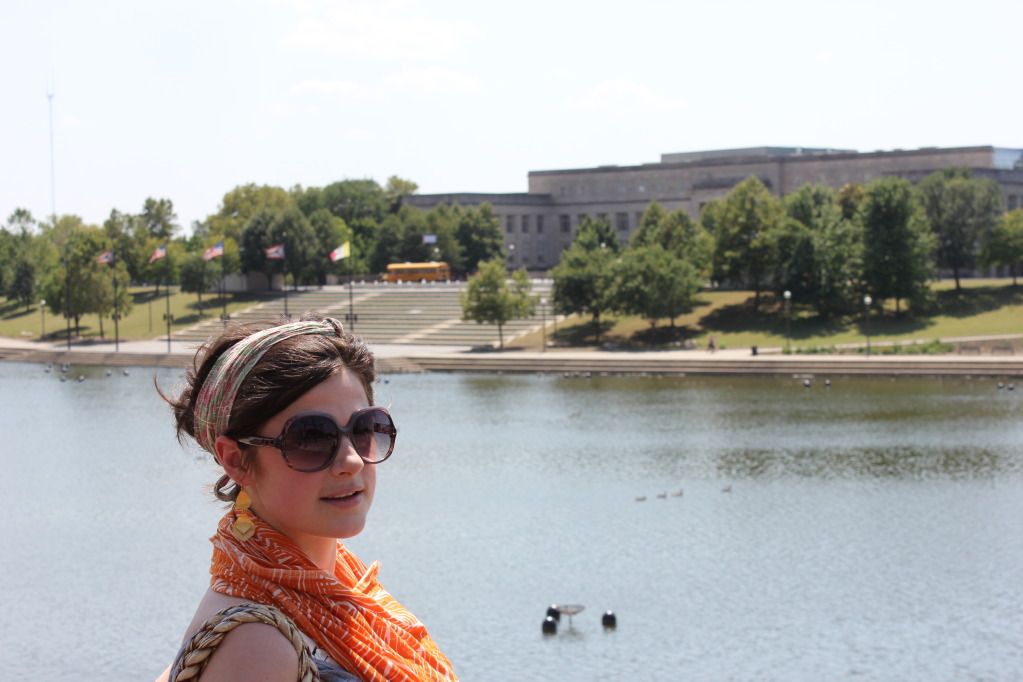 But even as I type this, Simeon's breathing sounds worse. The surgery was three days ago and his oxygen is beginning to drop again during naps. At this point, I don't know what will happen but I know that I'm so thankful for all the prayers and support that have gotten us this far. Even if Simeon needs a tracheotomy, finding the cause of his obstruction was an answer to prayer.
Newsflash:
By 3 am this morning, Simeon's breathing had not improved. We were just moved back to the PICU. Greg and I were able to pack a few things but will need to walk back to the pulmonary floor in the morning to retrieve the rest of our belongings. They are putting Simeon on a CPAP in the hope that it will allow him to get some restful sleep tonight. We will likely see the ENT tomorrow. At this point, I don't know that there are many options for us.
I feel disconnected. I've watched Simeon cry himself to exhaustion so many times in the past 3 weeks. No baby likes to get poked and prodded in the middle of the night and having an empty stomach doesn't help. I don't know how to help.
I've tucked a paper copy of the weeping icon under his blanket. Maybe I'll pray myself to sleep tonight. Do you ever wish our faith was more like hocus pocus magic?– just say the right words, do the right flick of your wand, have the right talisman and kerpoof, you're healed. But there isn't anything magical about the PICU– they probably wouldn't allow magic here anyway.
Lord, have mercy. Sorry folks, looks like I'm crying "trach" again.