It's Friday!! And I've decided to write about NOTHING serious today since I'm pretty sure my recent
dead baby duck post
helped me hit my tearjerker quota for the week. Enough with the dramatics! How about some nonsense?
Here's what's been making me happy online:
Fashion! (Eek! Girrrrl alert!) So, I know I've been blogging for over a year now, but I never really got into the "blog scene" until recently– which means I didn't know fashion blogs were a thing. Basically, regular gals take photos of themselves in cool outfits. When I first heard of this trend, I was like THAT'S. DUMB. And then I stumbled upon Hilary Inspired.
At first I was like "I don't know about this"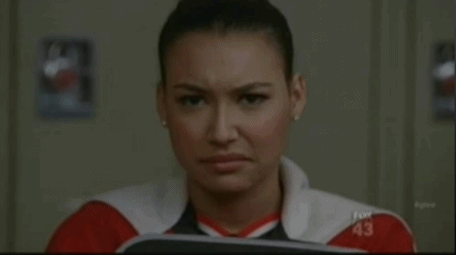 Then I was like "Why is she taking pictures of herself??"
Then I was like "OMG, I've been on this website for 45 minutes and I CAN'T LEAVE. I love it here!!"
My reaction to every single outfit post.
So I guess I'm kind of a girl and she's got style, so just
whatever.
I now spend hours on her blog and I don't even feel guilty. It's like window shopping at the mall– if the mall had a cute pixie cut and red lipstick and was cooler than me. Check. It. Out:
Hilary Inspired
.
(Want more sa-weet outfit posts? Look no further: Wild & Precious, Oh Sweet Joy!, and my BFF's instagram which isn't all fashion but she's cute so I don't care.)
So I know what you're thinking– "Why all the gifs?" Well, because I'm a grandma and because I don't know "computer words," I only recently discovered gifs. I'd seen them before and thought "Woa! Moving pictures!" (which kinda made me sound like a teenager from the 1880s). Then I saw them used really well. Like really really well on a blog called Wifeytini. It's my new blog obsession.
This blogger uses gifs like she's being paid to do it. (Are you being paid, Sarah? Because seriously, you should be.) This chick is FUNNY and HONEST and CURSES LIKE A SAILOR and she has a baby with Spina Bifida. Say What?? I'm in love. Girl crush.
A blog about special needs parenting that doesn't make me want to shout "Hospitals kill people!" while throwing myself off a cliff? Hallelujah! The first time I read her blog I stayed up until 2 am. I laughed so hard that I'm pretty sure I peed the bed a little– totally worth it, by the way. Check out her post about learning your kid has SB. It's awesome: What to Expect When You Totally Weren't Expecting Spina Bifida.
(Want more blogs that make me laugh? Look no further: Brittany, Herself, Mostly True Stuff, and Rage Against the Minivan)

Finally this video from Simeon's birthday bash. The little dude is not a fan of loud noises and apparently our poorly executed rendition of "happy birthday" qualified as "loud." He hated it. This misery was continued the following day when Sim turned into an over-partied and exhausted scream-gremlin, terrorizing our home until he got a decent nap in. Here's to being all partied out!

Enjoy:
Here's to a happy weekend. Now get off your computer and go outside (unless you live in Ohio because it is gah-ross here right now).