Recently we went to the
COSBA
(
Central Ohio Spina Bifida Alliance
) Summer Picnic. And it was..
Off the Hook, Y'all!
We had a great time. There was a juggler (hang on to your hats!), good food (the greasy kind), an abundance of cute kids, and it was a great way for Greg and I to practice our leaving-the-house-with-gobs-of-equipment skills!
Throughout my pregnancy Greg and I managed to connect with quite a few families who have children with SB so it was nice to see all those familiar faces in one place. Among the cutie patooties, was a little gem named Eamon. Greg and I met Eamon and his parents during my pregnancy and it turned out to be a little miracle. Why? Because Eamon, just like Sim, needed a trach for the first few years of his life. When we found out about Simeon's trach, I called Eamon's Dad at work in a complete panic. First thing he said was– it's okay to cry. I found someone who really knew where I was.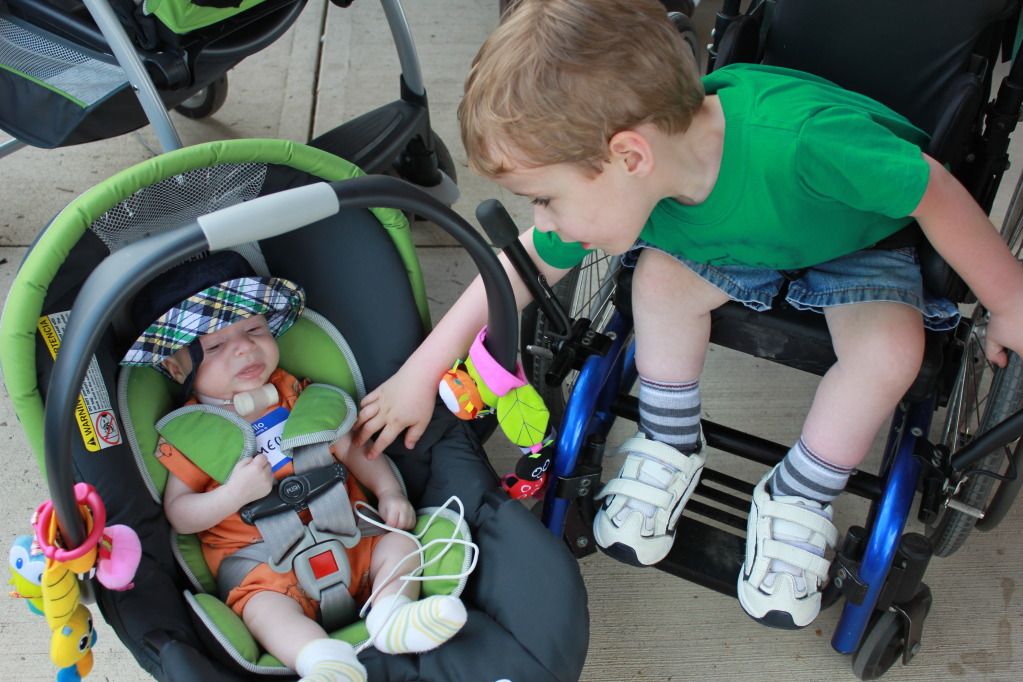 Me: "Eamon, are you coming to say 'hey' to me?" Response: "No. I'm coming to say 'hey' to Simeon."
Here's the best part– if you think that having Spina Bifida AND having a trach make you less fun, or less confident, or less all-around-stand-up-and-shout cute… you haven't met Eamon yet. At 5 years old, this kid could make friends with a baloney sandwich and he knows which interstate will get you to your destination and he makes a mean paper airplane.
When I was pregnant and fretting and scared to death– I thought about this kid. Can you blame me?
Here are a few highlights from the day…
Greg enjoying the juggler. Sim was less than impressed.
We are tying to get Sim used to the sunshine. So far, he prefers the shade. This picture makes me think he may take after his Grandpa and Uncle Joel. Do we have a future fisherman on our hands?
This outfit is a bit too jazzy for me. What's with the brim-up Blossom hat? Are you trying to make me look a fool, Ma? -Simeon
We'll be there, will you?