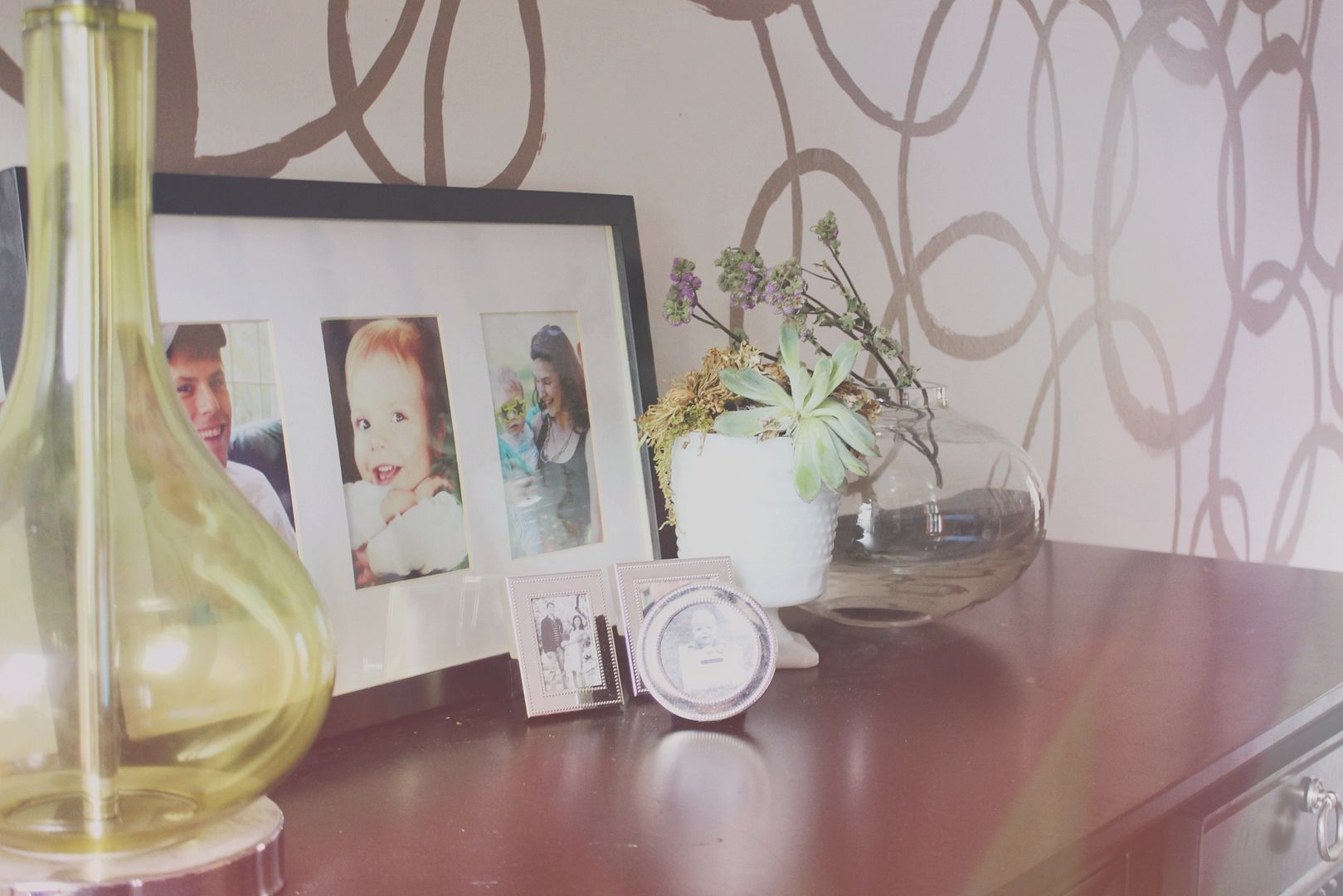 I've had quite a few folks ask me recently about our entryway wall design. Is it wallpaper? Is it paint? Have you lost your dadgum mind? etc. Here's the story.
It all started with an ill-fated orange blob.
I was testing paint colors and wanted to try a sherbety shade of orange for our entryway but it only took a few brush strokes to realize the error of my ways– and by "error" I mean creamsicle nightmare. Since I didn't know what color to use instead (and I was too lazy to just paint over it) the orange blob stayed– for weeks.
And weeks.
Then I got a brilliant idea: wallpaper! I wanted to give the space a little pizzazz (FYI: I did some brief jazz-hands after I typed that) and a nice geometric pattern sounded perfect. So I went to check out pricing and that's when I learned that wallpaper costs exactly one-arm-and-one-leg dollars. Also, it's messy. Also, the guy at the store said I would have to make a "plumb line" and I didn't know what that was and it really stressed me out, so just– no. Ixnay on the allpaperway <— Pig Latin.
The blob stuck around another week.
And then, while reading my friend Hilary's bee-utiful blog (you should too), I stumbled upon this post featuring Sarah Greenman's lovely home and felt totally inspired by her painted entryway wall. So, I decided to create my own version. It was perfect. I could incorporating the orange blob, I could feel artsy, and (if it was terrible) I could paint over it.
I started painting immediately– at 10 o'clock at night— because I'm a decorating machine.
Here's what I did:
I rounded out the edges of the the blob to make it a nice sunny sphere.
I used a deep taupe color for the other rings. A paint sample from Lowes was enough for the entire project.
I did not trace the rings and I didn't draw them with pencil first– I totally freehanded this sucker, which could have been really bad but thankfully wasn't. I felt pretty confident that trying to make perfectly round circles was a losing game (I would for sure mess that up) and the imperfect rings are far more forgiving of mistakes anyway.
I varied the thickness and size of each ring because that seemed like a good idea– I'm not an artist, so who knows.
Afterwards, I made my husband stare at it while I asked him repeatedly if he hated it (he didn't), or if he felt I had defaced our home like a 6-year-old girl with a collection of Lisa Frank stickers (he didn't), or if it now looks like we live "in a clown house" (the jury's still out).
Voilà!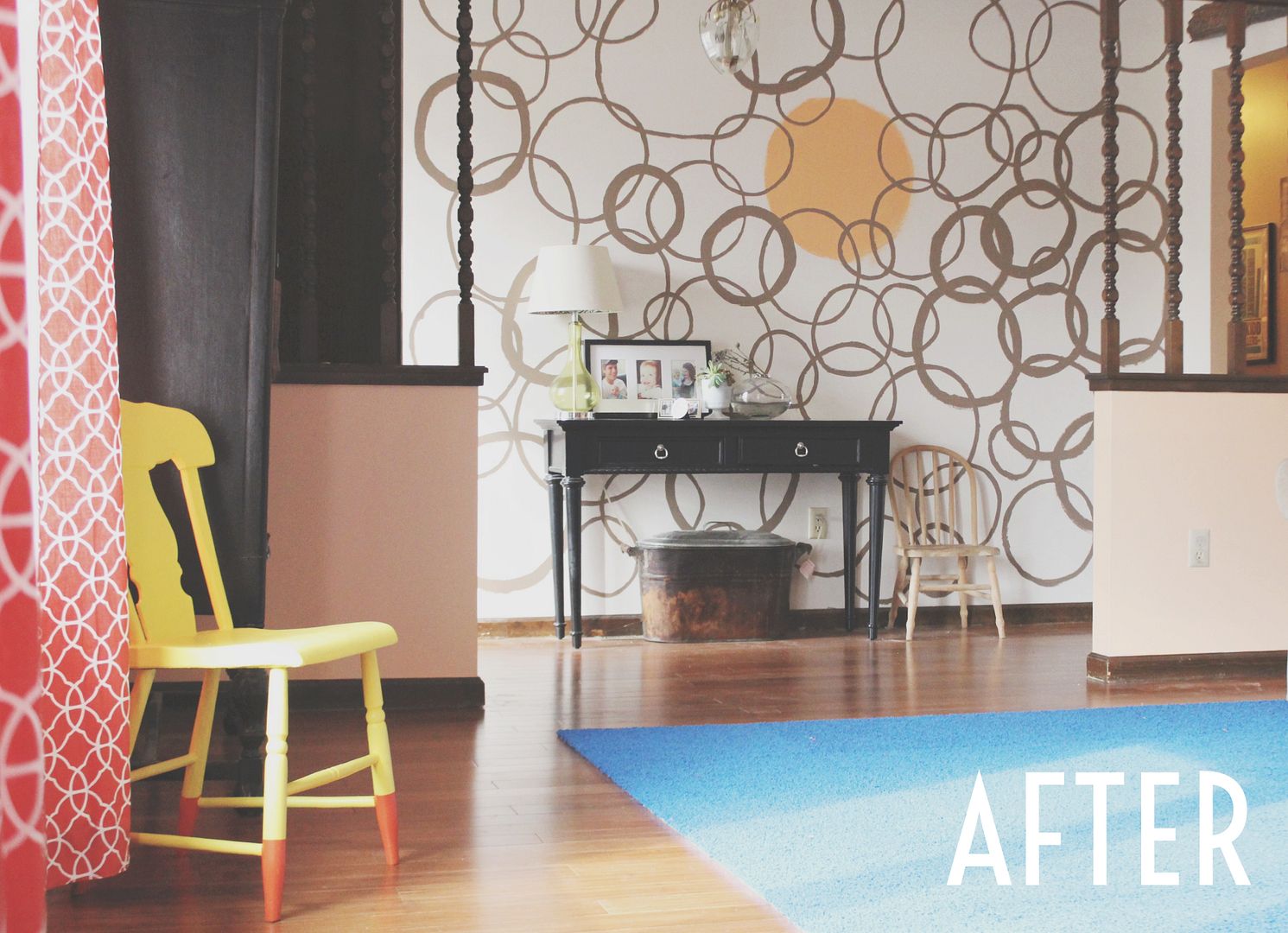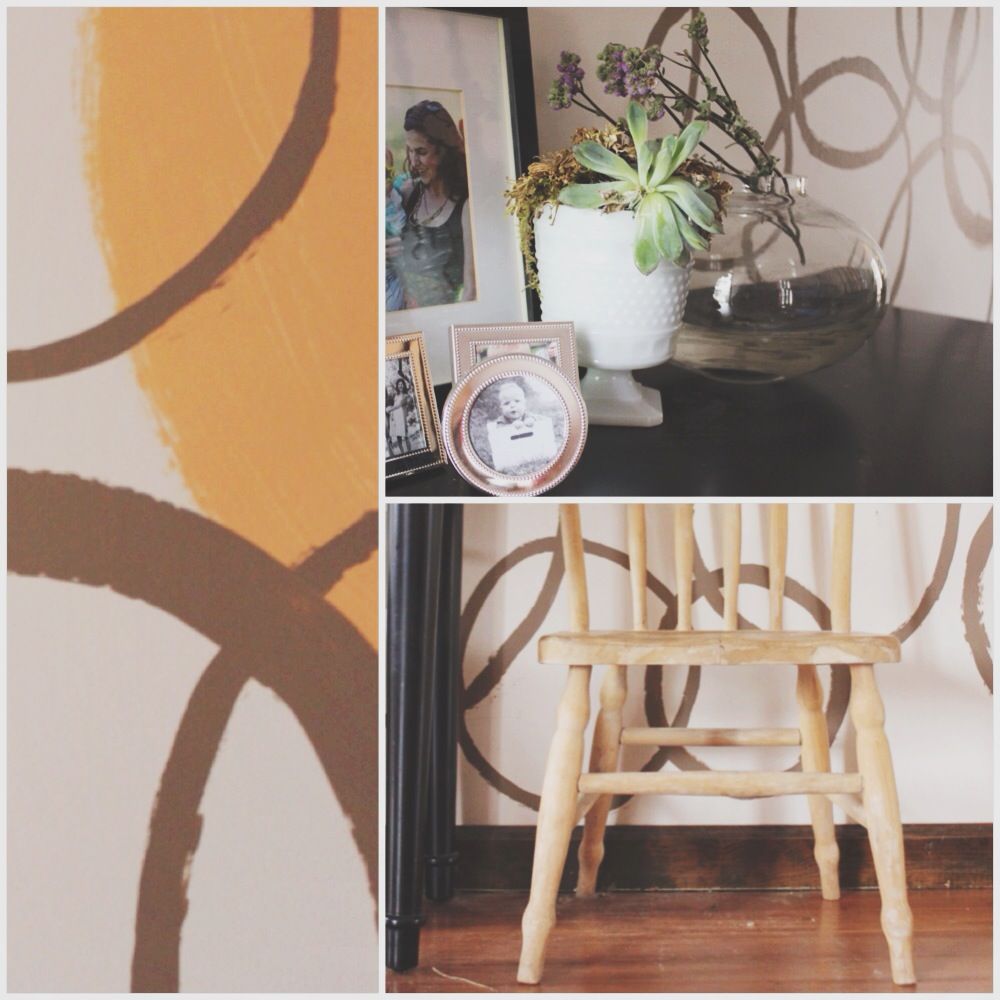 All the photos on the table were printed via
Shutterfly
. I use them for all of our family photos and
highly
recommend their site if you're wanting to add more personalization to your home. Shutterfly has loads of
inspirational home décor
ideas and their prints always look top notch.
Now I'm just trying to figure out what kind of lamp to put on that little black table since I'm not totally sold on the one I have now (ideas? styles? colors?). And, I'm thinking I might paint that little baby chair against the wall.
(( Check out my post on our super sweet blue rug
here
. ))
So, what do you think? How are you spicing up your walls?