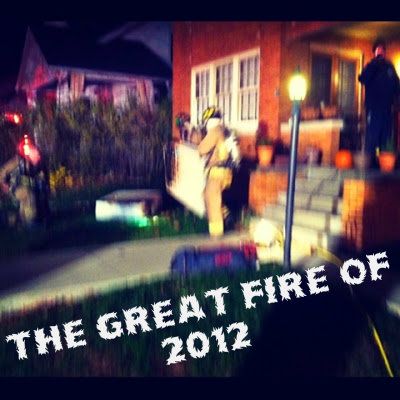 On Monday night our house caught on fire.
I know what you're thinking– I'll bet what she meant to type was "our mouse fought a liar" or "our louse sought a tire." I can see your wheels a-turning. But no, my sweet friends. No.
No.
Open you minds, embrace the crazy, and hear me when I say that on Monday night we had a relatively contained but still very frightening house fire.
Shortly before bed, Greg turned on the light in Simeon's closet. Our closets are old and teeny with bare bulbs that hang low enough to graze the clothing on any upper shelves. The bulb was resting against a sweater that soon began to smoke.
Standing in Simeon's room, I thought (as any good mother would), "Yum. Why do I want a s'more right now?" I continued dreamily folding laundry inside my marshmallow fantasy until I realized that the smell was a bit too strong to be imaginary. But never fear. I saw the smoke, called my burly husband, and requested that he put the fire out. He stamped on the sweater, smashed it with a towel, and checked it for any signs of stray flame. Nothing. There may have been smoke but no embers that we could see.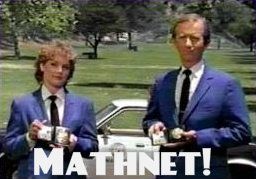 We high-fived like those detectives in
Square One TV's
classic
Mathnet
segment (tell me I'm not the only one who remembers this show) and congratulated ourselves on a job well done. We left the sweater and towel on the floor of Sim's room, closed the door, and went to bed. I should mention that Sim still sleeps in
our
room.
I remember waking up and thinking in my hazy sleep state that the sweater sure had stunk up the house. I probably woke up once every hour. I tossed and turned. I felt like that darn sweater was right under my nose. I couldn't get into my usual deep sleep and the smell was starting to make me feel sick. That's when I thought "Hold on a tick– this isn't right."
When I opened our door I saw that the hallway was filling with a yellowy brown smoke. I turned back towards our bedroom and saw Sim laying there– in our smoky bedroom with an open trach.
I hollered at Greg, put on the first clothes I saw, grabbed Simeon, the suction machine, and my phone and ran out onto the porch to call 911.

  Greg went to find the source of the fire and when he opened the door to Sim's room the smoke was so thick he couldn't see more than two or three feet into the room. Smoke poured out into the hallway revealing what looked like a four foot high campfire in the center of the room. The guest bed was on fire. The rug was on fire. Who knows what else was burning but Greg grabbed our fire extinguisher and stood in the doorway spraying what he could before joining me on the porch. The room was too hot for him to even step inside. 
 

Three exhausted Smiths, two fire trucks, and one EMT van later, the fire was out and we were huddled inside the van keeping warm. It wasn't until the excitement was over that I had a moment to appreciate the outfit I had chosen in my panicked state. Apparently, emergencies call for a too small hot pink sweatshirt, baggy partially-unzipped corduroy pants, and knee high black cowboy boots. Take a nice long look firemen– frumpy damsel in distress.

"This is hilarious Mom!
I can't believe you want to play in the middle of the night!
This is the best night of my life!"
~Sim

I'm trying to be light hearted but honestly there wasn't much funny about Monday night. I get a sick feeling wondering what would have happened if Simeon had been asleep in his room instead of ours. Or if I had slept for an hour longer and the fire had moved to the curtains. Or if we had stored Sim's oxygen tanks in his room.
 
Fire is scary. It's creepy and crawly and oh so quiet. I'm thankful we got out. I'm thankful Simeon found the situation entertaining. I'm thankful we've had so many offers of help and shelter. And I'm thankful for renters insurance. 
 
I would be lying if I said my nerves aren't frazzled and I'm worried that I'm developing a perpetual tummy ache (anxiety is my weight loss secret). We're living with friends until the house is livable again and its stressful to be so displaced. But it could have been so much worse and I think we're lucky. Now that ought to make you laugh.
Thanks Liberty kids!