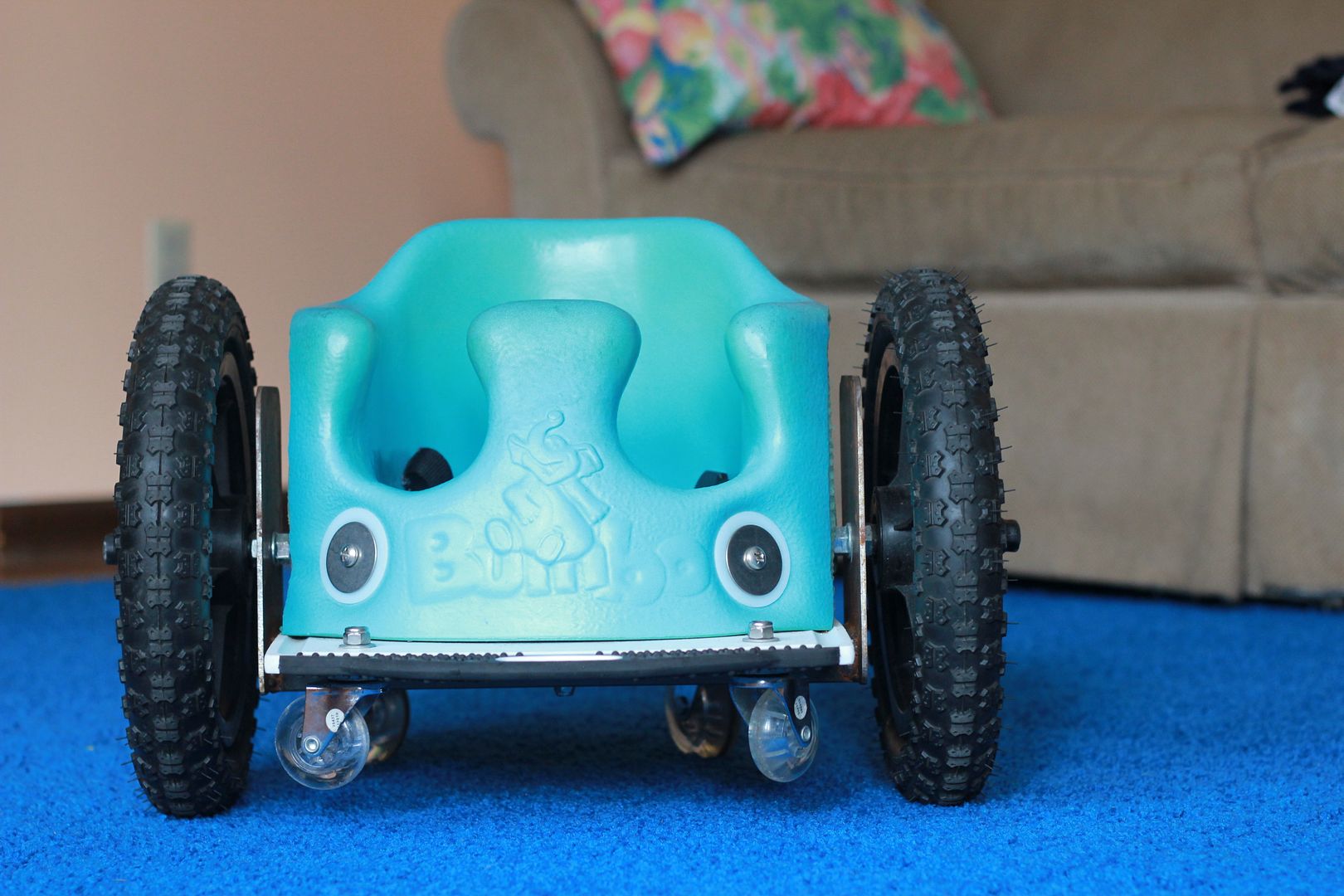 Many of you have seen photos and videos of Simeon tooling around our house in his swanky blue BUMBO-on-wheels. Call it what you want–a BUMBO wheelchair, a baby wheelchair, a souped-up-Sim-speedster–when he puts the pedal to the metal (or the rubber to the road), that thing can really fly.
I've received a lot of questions regarding the BUMBO wheelchair, so I thought I would take a moment to answer a few of the big ones and (if you think your child might benefit) provide some info on how you can get started building your own.
BUMBO Wheelchair FAQs:
Where did you get that thing!?: We were very lucky to find Simeon's BW through the Spina Bifida Kids page on BabyCenter.com (this group is fantastic for newly diagnosed SB parents, by the way– highly recommended). Our BW is a hand-me-down and was built by a family in Wisconsin whose daughter outgrew it. The mom only charged us for shipping and I'll love her forever. Score!
How old was Simeon when he started using it?: 10 months old– not even kidding. He played around with the wheels for the first three weeks or so, by the second month he figured out how to move in a straight line. Learning to turn corners and avoid obstacles took a bit longer but I would say that by 14 months he was getting around just fine. Practice helped!
Where do you use it?: Mainly inside our home or in our driveway. We also take it to friends' houses or when we visit the out-of-town grandparents. Most folks don't have terribly accessible homes (e.g.: lots of carpets, area rugs, tight corners,etc.) and the BW actually does MUCH better in these situations than the wheelchair. It's more compact so it can do small spaces and, unlike the wheelchair, the wider wheels work just fine on carpet!
My child crawls a little and/or might walk with assistance someday– so why do we need one of these?: I could talk for hours about this (literally– HOURS) but I'll try to keep it short. Most children begin crawling at 7 to 10 months old, yes? This means they are exploring, they are getting a new perspective, they are being independent, they are moving– and moving is a big stinkin' deal. Early mobility contributes to a child's cognitive and social development. The gap in learning between typically mobile children and kids like Simeon, who take much longer to get moving, is not small. But kids with disabilities can get wheelchairs right? Wrong– at least for a while. Most children who qualify for a wheelchair will not get one until they are two-years-old or older. That means that while other kids are crawling, cruising, and eventually walking, children with mobility issues fall further and further behind. Simeon could crawl just fine but without wheels he would have spent a year and half army crawling on his belly and missing out on important cognitive and social developments. Not cool. Even if your child will eventually walk with assistance (bracing, crutches, etc), I would consider getting your hands on a BUMBO wheelchair to help close the gap. Especially if your child has mobility issues that limit exploration of their surroundings. This is the reason that Cole Galloway started the Go Baby Go project. Our kids need to move with purpose, curiosity, and independence. Carrying them everywhere or putting them in a stroller for two years just isn't the same.
How do I get one for my kid?: That's the tricky part. You have a few options. OPTION A) You could buy one. The family who first started making these things is now manufacturing them. They're called a ZipZac and they're great. Only problem is, they're pricey– around $900 for the baby/toddler size. Still, it's a great product and you could look for funding. Check out the website and read about their pricing HERE. // OPTION B) Like I did, you can ask around in spina bifida groups on Facebook or BabyCenter.com since many SB families use a BUMBO wheelchair when their kids are small. You might get lucky and find someone who is looking to sell or gift theirs. // OPTION C) You can build one. Since I am not handy myself, this option is the most intimidating to me– BUT I know a ton of folks who have done it.
Here's where I can try to help. If you want to attempt OPTION C, it can totally be done. I've taken a truck load of photos featuring Simeon's BUMBO wheelchair from various angles and added my comments on what you're seeing. Even better, the fantastic Alva Barney graciously shared his detailed plans for building one of these contraptions. You can find the PDF files below! Good luck and get moving!
VIDEO: Sim using the tipping feature to get an item from the ground (something he can't do in his wheelchair since he's still so little).
PDF with detailed instructions for building your homemade version: Calvin's Bumbo WheelChair

PDF with images and description of Simeon's chair: Build a BUMBO Wheelchair
Anyone considering getting one of these? How have you helped your child with mobility issues during the baby/toddler years? If you build your own BUMBO wheelchair, I would LOVE for you to share pics with me on the WDYDD Facebook page!