If a Simeon flavored lollipop existed, I would be all over that. If there was a Simeon infused cookie I would invest in a case or two. Heck, if there was a chunky Simeon soup I would hit that up on a cold winter night. I guess what I'm trying to say is that there is a fine line between wanting to snuggle your baby and wanting to eat your baby– he just looks so darn delicious. I heard someone say that moms want to make out with their kids. To that I say, "Eww." But also, "Yes. We kinda do."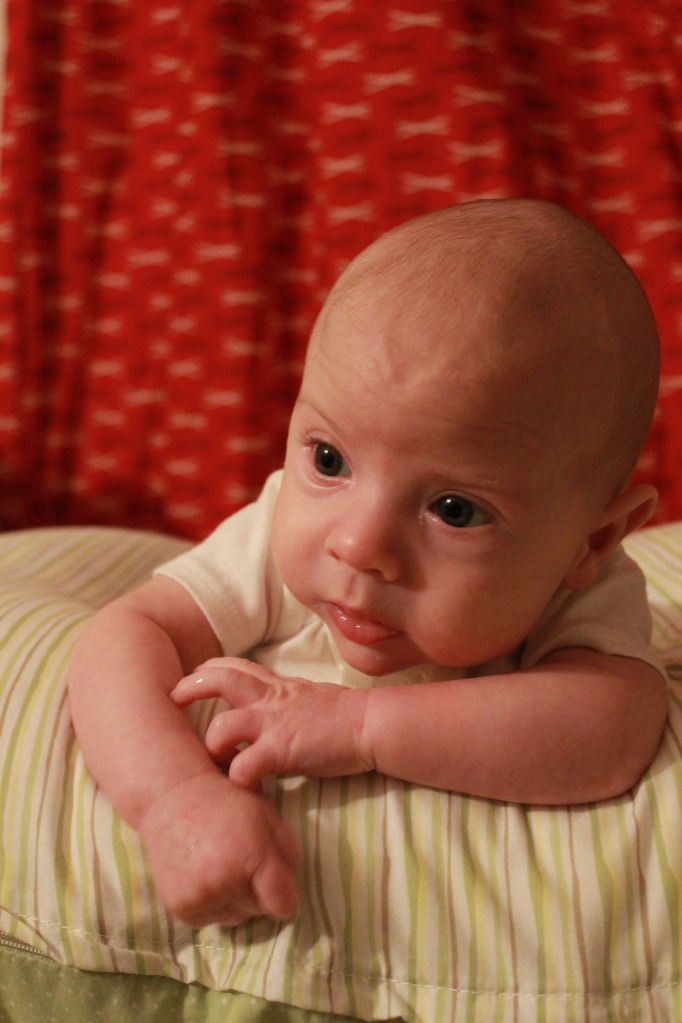 Anyone else wanna take a bite of this? Will the cuteness ever end!?
So it's a good thing I'm coo-coo for this kid because last week we reached new, wonderful, and stressful territory– Simeon now has a Passy-Muir valve for his trach. Hallelujah! The Passy-Muir valve is this fabulous device for trach folk. It was invented by David Muir, a patient with muscular dystrophy who hated that he couldn't speak after he got his trach. He, like Simeon, had trouble with Ursula the Sea Witch so he invented this nifty device that allows tracheotomy patients to vocalize. David Muir is kind of a rock star. Seriously. The valve is genius– it lets patients breath in through the trach but out through their nose and mouth. This helps with swallowing, smell, and lets patients speak. Simeon can make sounds again! Yippee!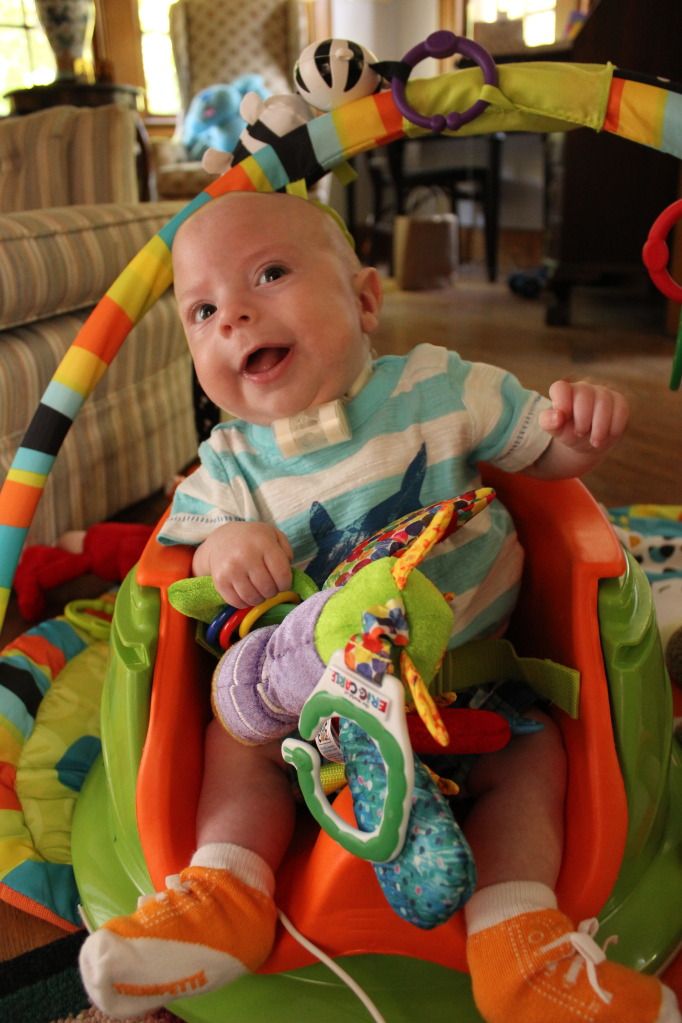 At least that was my initial reaction, and still is with some hesitation. It's just that this particular mommy got a bit overzealous about the whole valve thing.
Mary Evelyn's Crazy Town:
"Simeon is a GENIUS!" I say, my eyes wild from lack of sleep. "There has never been a smarter/cuter/smell-goodier baby than this one. He'll be a champ on that valve. Let him at it!"
Reality:
Breathing out through the valve can be very uncomfortable until a child learns to tolerate it. When he inhales things feel great, but when he exhales he still has the trach in his airway blocking things off so he has to push really hard to get the air out. No fun for Sim.
Mary Evelyn's Crazy Town:
Clawing desperately at the valve, I wrench it from Reality's grasp. "Yeah, yeah. I've heard all about that, but see this baby is different. He's like super smart and tough so, no problem. We'll just pop that valve on for a few hours and he'll be good."
Reality:
Slow down, Looney Toon. It can take months for a kid to learn to tolerate the valve. You'll need to start small. Put it on three times a day for one minute each time.
Mary Evelyn's Crazy Town:
On the verge of a real live freak out I holler "Put a sock in it! We've got this, right Sim?" (Simeon's eyes bug out as he thinks "Oh no! My mother isn't listening… she's trying to kill me!")
So, Dr. G said we were ready and we went to see the trach nurse. She put the valve on, and guess what? I got to hear my son again. He cried, he coughed, he looked completely confused– he hated the valve. But we kept it on for 45 seconds and it was the most wonderful 45 seconds I've had in a while. At the same time, everything I read about the valve was right– reality was right. It isn't easy. Simeon is learning to tolerate the valve but it's been slow going. He gets all red faced, he chokes, he coughs, he gags and cries. Seeing him work so hard to do what most babies do without any equipment is disappointing. But we're working on it– and being patient.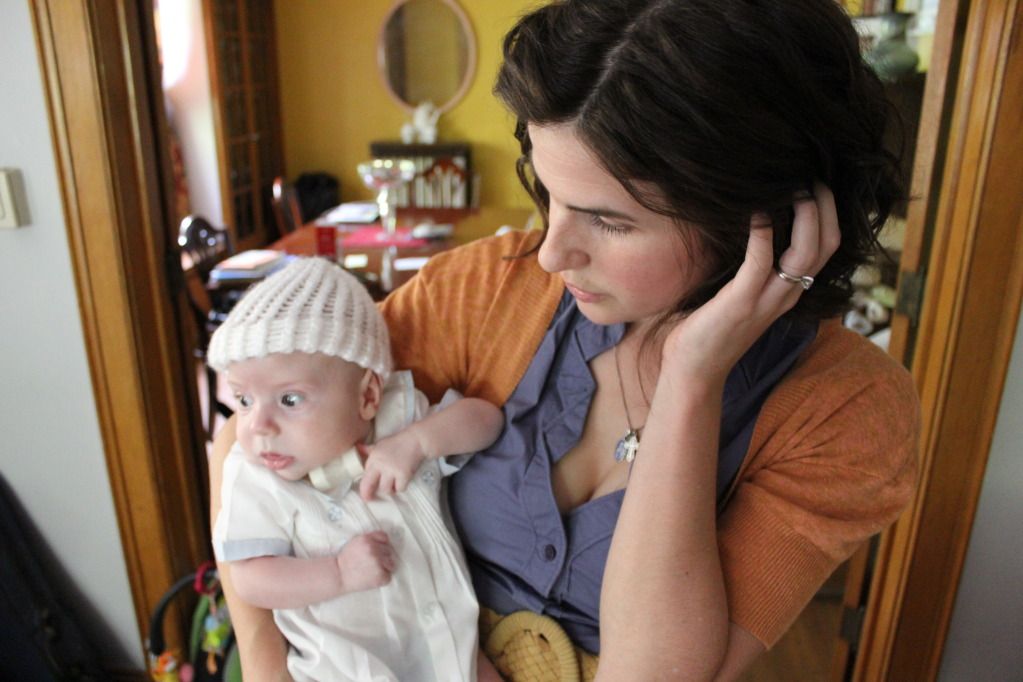 Actually, sometimes I forget that other babies are out there cooing and babbling and filling the world with ear-piercing cries. Simeon is so good at communicating his needs that I forget most kids do this with their voice. I can tell if Sim is hungry, laughing, playing, or sleeping based solely on the speed and volume of the noise coming from his trach.
The other day we stopped into a shop down the street and the woman behind the counter looked at Simeon with concern and said "Oh no. What's that noise?" I explained the trach and how it makes his breathing sound very snotty, like he has a nasty cold all the time. She looked relieved but I felt strange. For now, that snotty sound is Simeon's voice. It let's me know what he needs and when he needs it but, my goodness– it isn't exactly ideal, is it? So we'll keep working on this valve thing. The little genius will figure it out eventually.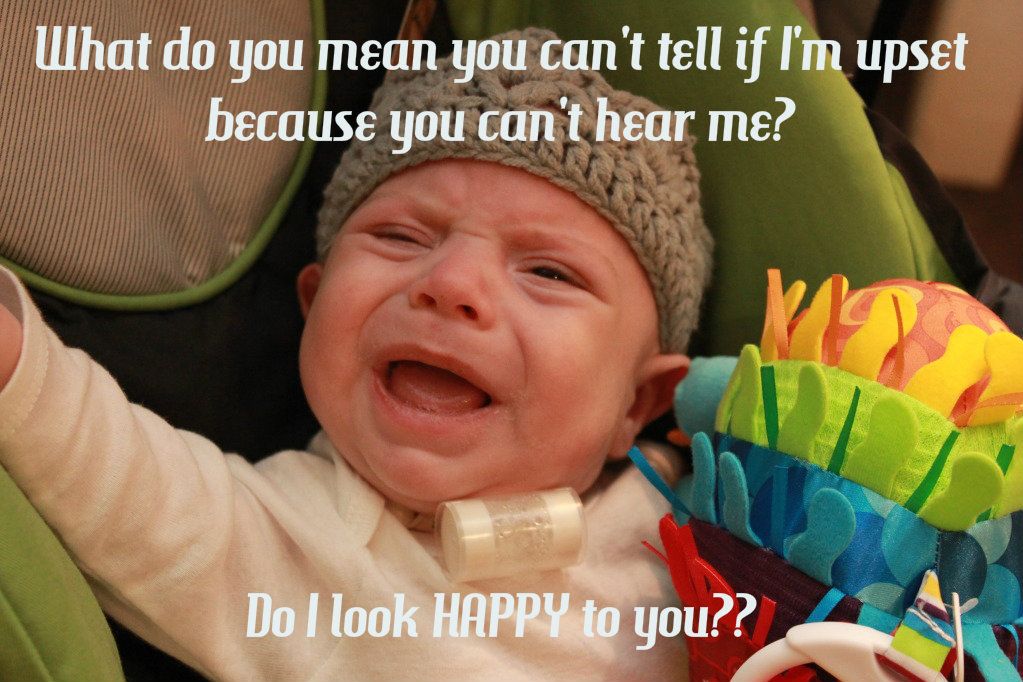 In other news, I got the video mode working on my camera so I thought I would share some movies of our 4-month-old little man. He's getting so big! I give you a valve sneak peak at the end– not terribly pleasant, but at least he has a cute cry. Right?
Music is All I Want is You by Barry Louis Polisar