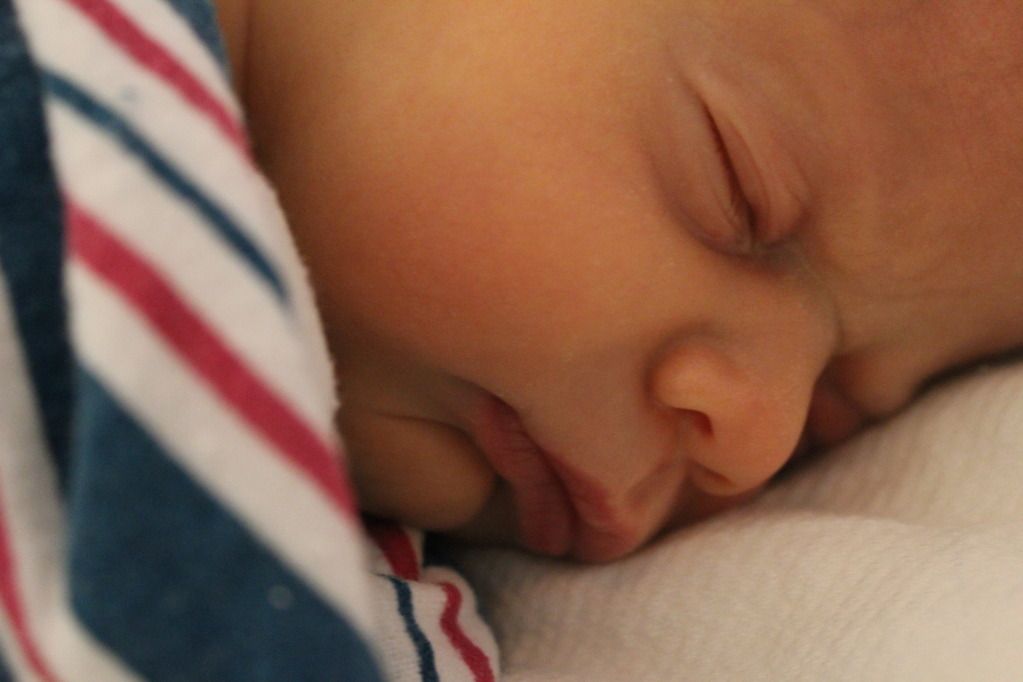 While Simeon is busy healing, I've had lots of time to stare at him, smell him, and otherwise "ooh" and "ah" over his every move.  Greg got a whiff of him yesterday and proclaimed, "He smells just like an ice-cream shop– like fresh waffle cones!"  This statement is completely true.  Ben and Jerry's could make good money on a Simeon flavored variety of ice-cream– vanilla with bits of of waffle cone mixed in.  Yum!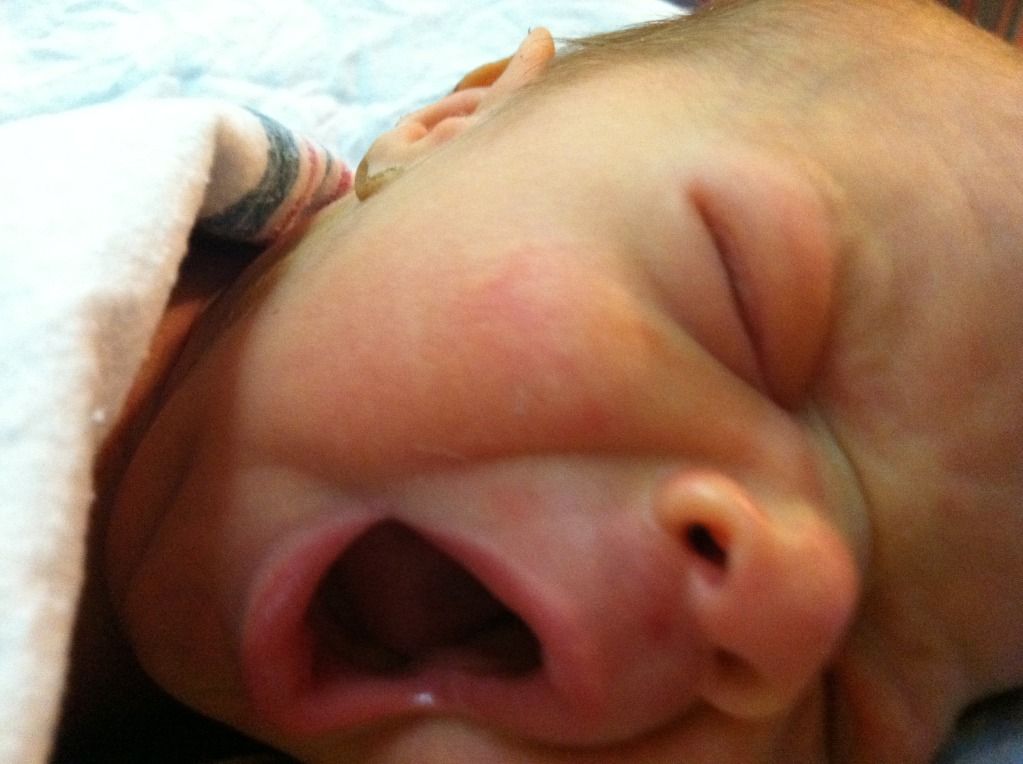 Simeon is progressing well.  Here's the laundry list of health updates:
So far, his shunt is working and we have already seen a decrease in his head circumference and ventricle size.  He gets regular head ultrasounds, which he's been a very good sport about, and all signs point to success!
The doctors have looked at his kidneys to ensure that no urine from his bladder is refluxing to them.  This problem is relatively common in kids with spina bifida.  Because of nerve damage, the bladder can spasm, causing urine to reflux into the kidneys.  He passed with flying colors and for now we do not see any reflux.
Most kids with spina bifida need to be catheterized in order to completely eliminate  their urine.  Any residual that is left in the bladder can cause serious UTIs that are difficult to get rid of.  Greg and I both learned to cath Simeon this week and thankfully it was far less scary than it sounds!  They are thinking we will only need to cath once ever 24 hours.  This again is something that could change down the road, but for now we are pleased that the little guy is filling up so many wet diapers all by himself!  Hurray for pee!
Simeon was a bit jaundiced so he was put under fancy lights for a day.  He seemed to enjoy the relaxation and looked super cute in his protective eye-wear.  Kind of like a day at the baby spa!
Simeon can breastfeed!  I was really unsure about his ability to do this since I knew we would be apart for a long time and that he would likely get the bottle long before he was able to test drive the real deal.  But never fear!  He latched on like it was nothing.  Way to go, little man!
A few people have asked about Simeon's leg movement. I thought about this often when I was pregnant but honestly it hasn't been at the top of my list of concerns since he was born.  His ability to move his legs has so little to do with his current health that it slipped my mind to even mention it.  But the answer is: we'll see.  For now, Simeon does not appear to have any movement from his thighs down.  He does not bend his knees, ankles, or toes.  He does wiggle his bottom back and forth at the hips so he probably has some ability in his hip flexors.  Gaining better mobility will be a process that we'll be working on for a long time.  For now, all you need to know is that his legs are chubby, soft, and absolutely darling.
Our main concern at this point is Simeon's back healing up.  The wound on his back is the only thing keeping us in the hospital at this point since everything else has checked out okay and he's gaining weight like champ.  They are concerned that if the wound breaks down, closing it a second time will be extremely difficult and a big set back.  Because the doctors do not want to put any pressure on his back as it heals, Simeon sleeps, eats, and otherwise enjoys life while laying flat on his face.  Unfortunately, they will not send us home with Simeon unless he can safely sleep on his back (SIDS!) so we need to confirm that his back can handle some pressure.  Today, they will put Simeon on his back for a few hours and monitor the wound periodically for breakdown.  Please pray that it holds and heals well so that we can take the little bug home soon.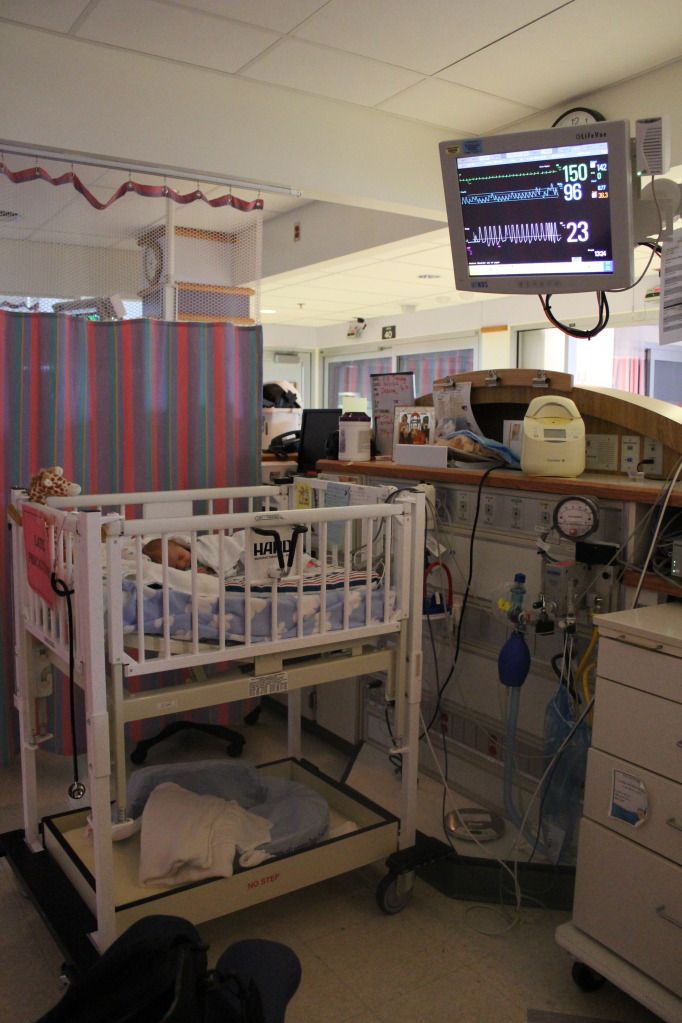 So, all in all, things are moving along as well as we expected.  Unfortunately, all this time in the NICU has given me the opportunity to indulge in some real baby blues. I do try to remain positive, and generally I do a pretty good job of it, but I would be lying if I said our time here isn't getting to me.  Here's my list of complaints:
Picking up Simeon is frustrating.  You know when we all had desktop computers?  Imagine picking up your desktop monitor, holding it close, and walking a few feet away to sit in a chair with it while dragging a trail of wires and tubes across the floor.  Holding Simeon is kind of like that.  He's attached to so many monitors that when I hold him I have to fight with a colorful array of wires that watch his every move.  This makes holding him feel a lot like a frustrating science experiment.
When Simeon cries, his heart rate goes up, so on top of hearing his wail, I have to listen to his heart monitor beep incessantly in my ear until his calms down.  This is obnoxious.
Because we are apart, I'm having to use a breast pump at night.  Waking up to a whimpering baby at 3:00am is one thing, waking up to a breast pump is creepy and annoying.  I hit the alarm and snuggle up with my bright yellow, hospital-grade pump.  Instead of cooing, I feel like I should be mooing.  I kind of hate that thing.The truth is, I think I have a touch of the baby blues.  I want to bring my baby home.  I don't want to see him get any more tests or ultrasounds or pinpricks.  I want him to move his legs.  My pregnancy was difficult, but this is hard in a completely different way.  Sometimes when I look at my son I just feel angry that this happened to him.  And this isn't a grown-up kind of anger, either.  This is an I-want-to-scream-in-spina-bifida's-face-and-kick-the-wall kind of angry.Every time he cries I panic a little.  What if his shunt is failing?  What if his back is breaking down?  What if he has a UTI?

I'm overwhelmed and anxious.  I don't know what's stronger– my desire to go home or my fear of it.

I think during my pregnancy I was harboring a little secret hope that we would be different.  That the doctors might be wrong and that Simeon would come out kicking like an Olympic soccer player.  I knew Simeon would be a miracle but I thought we might have that kind of super-biblical-walk-on-water miracle.  The truth is I'm sad.  Really sad and really scared.

I think that when something like this happens to your child there will always be periods of continued grieving.  That grief and disappointment never completely vanish.  I have a feeling that in this particular adventure our highs will be very high, but our lows will be equally deep.  Thankfully, I don't know of any two people I would rather be on this journey with– Greg and Simeon really are the best.

Sandol Stoddard Warburg wrote a children's book that I particularly enjoy called I Like You.  Towards the end of the book, the narrator says, "I would go on choosing you, and you would go on choosing me.  Over and over again.  That's how it would happen every time."  This reminds me of how I feel about Simeon.  No matter what his disability, he is the only baby I would ever choose to be mine.

So that's how we're doing today.  No telling how I'll be feeling tomorrow (is another day!).  And, by the way, when I bring this baby home my breast pump is going to be green with envy!