A few weeks ago I scheduled Simeon's 9 month well-check. Standing at the counter in his pediatrician's office I chatted with the receptionist as she clicked through her computer. And then, with total nonchalance, she pulled a pack of papers from her drawer and set them on the counter.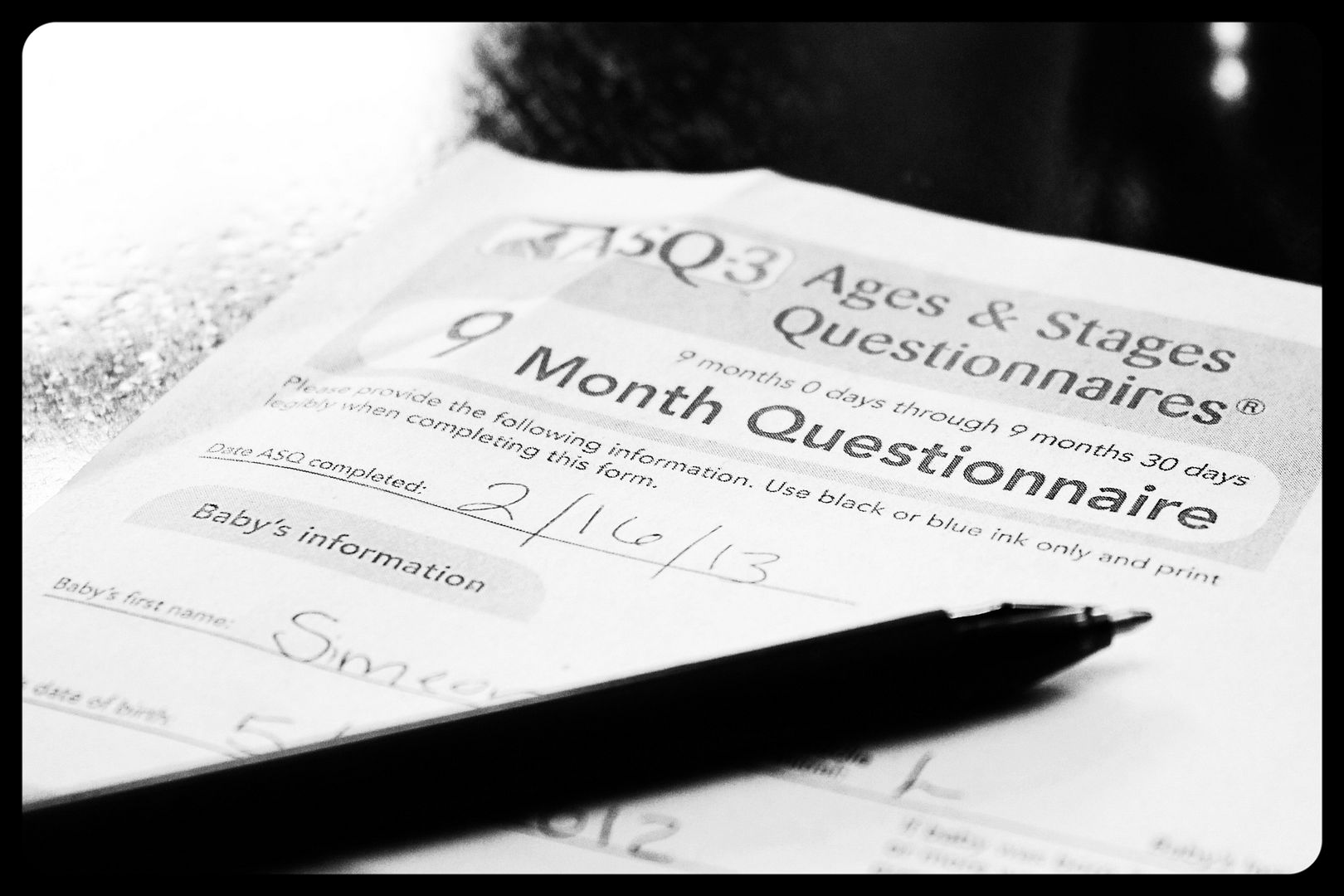 "You'll just need to fill this out and bring it with you to Simeon's visit."
I could see the document. I knew what it was. My heart dropped.
Skin crawling I asked, "But we've already done one of those. Do I need to fill out another one? "
She looked up, "You'll fill a new one out at each well-check."
Bam. No escape.
So what is this pack of papers exactly? It is all my fears set in ink. It is my anxieties, comparisons, and denials marching before my eyes. It's a pie in the face– but not the funny kind. More like the kind made of shaving cream that doesn't even taste like lemon meringue.
It's the developmental milestones questionnaire.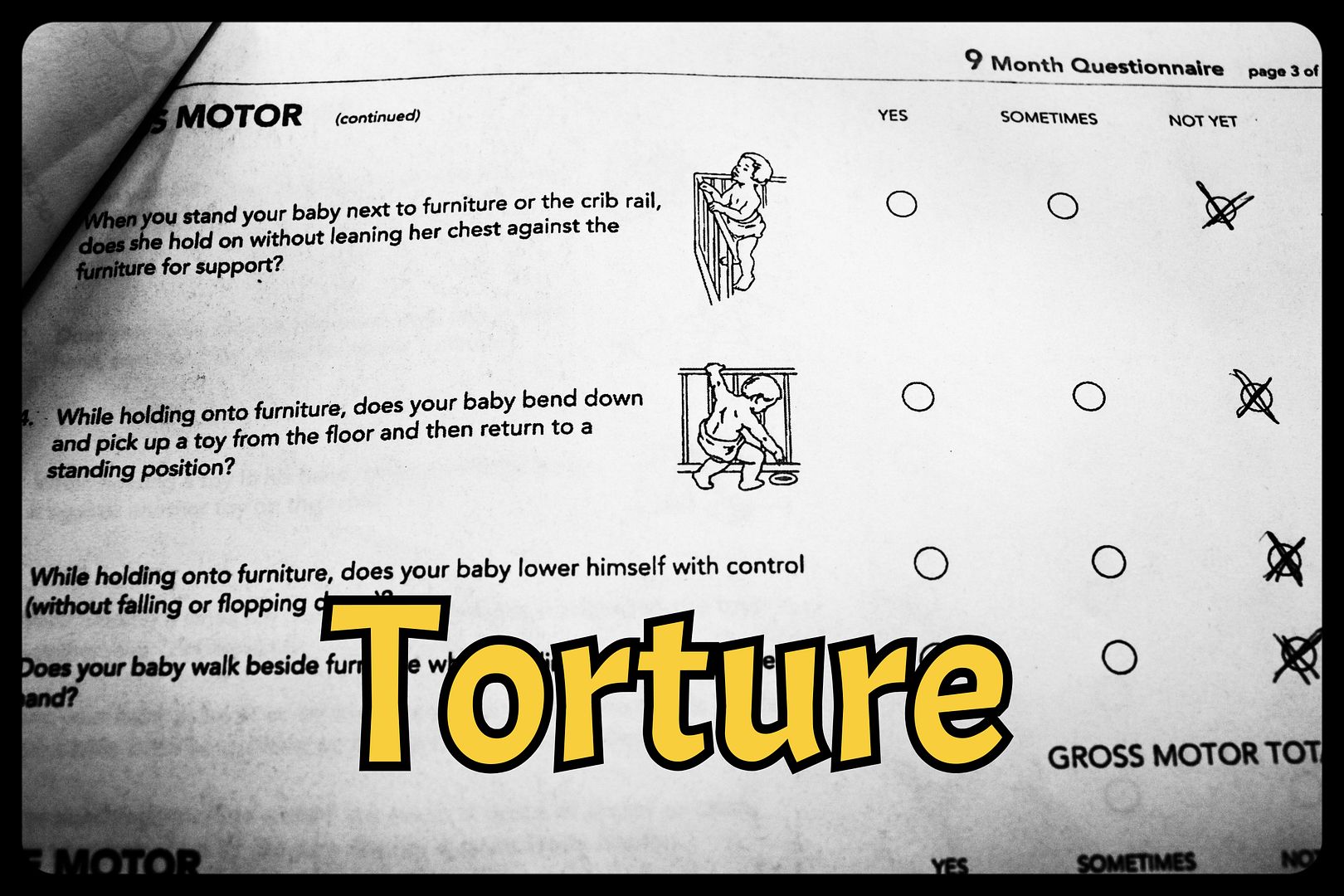 When it comes to torturing me (or any mother of a child with special needs), nothing compares to the dreaded developmental questionnaire. I'm asked to complete the form and every three months I feel my stomach twist into knots. Still, I follow orders. I take a deep breath. And then I get to work as bubble by cruel bubble reminds me of all the things my handsome little man can not do. "Can your baby…." circle no. "Does your baby…." circle no. Chinese water torture– mommy style.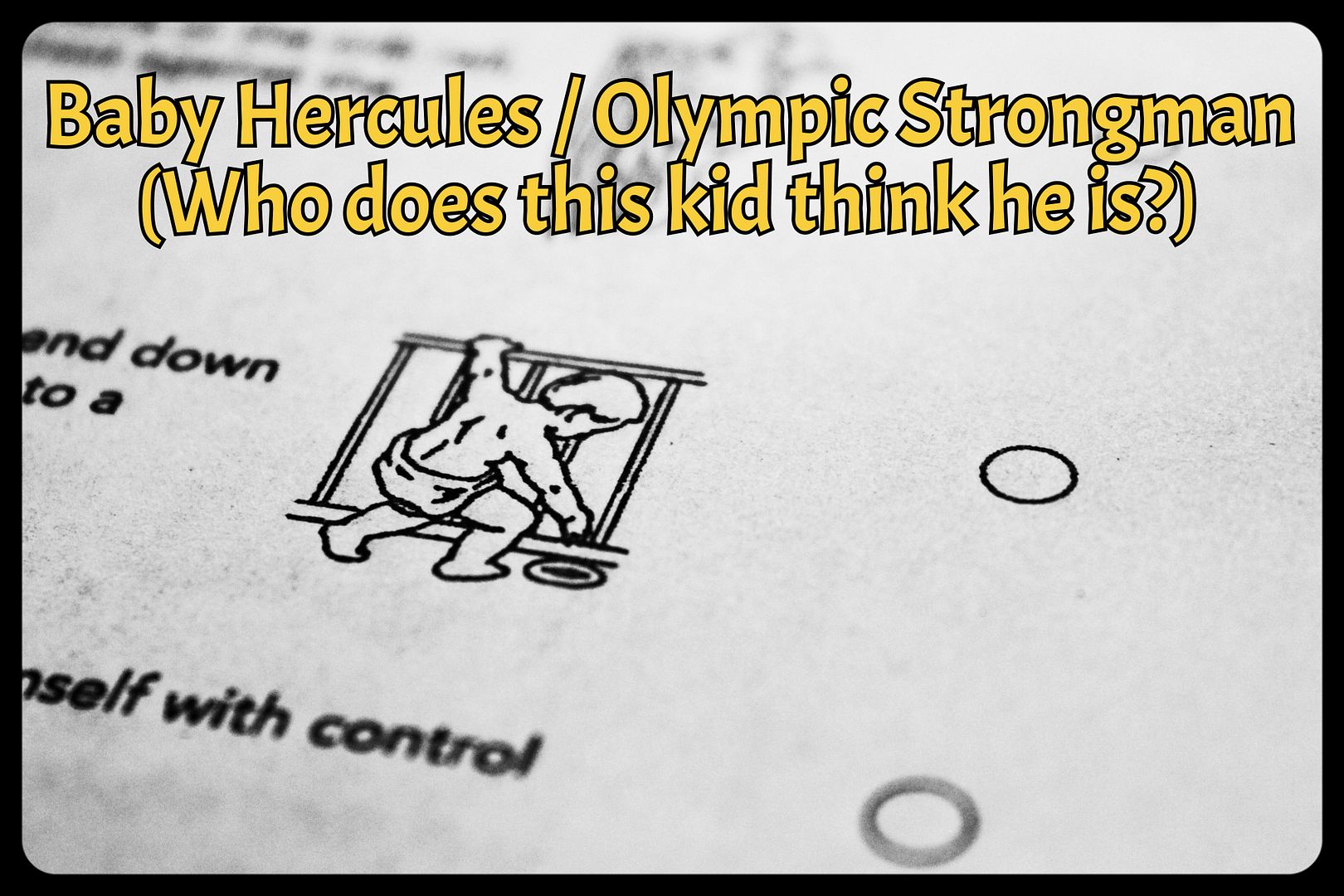 The asinine form assumes so much. Consider this offending question: "When you stand your baby next to furniture, does he hold on without leaning his chest against the furniture for support?" Now, I get it. I understand that for most babies, this may be a great question. For my baby? It just seems terribly daft. Standing next to furniture? What kind of superhuman hulk child do you think I gave birth to?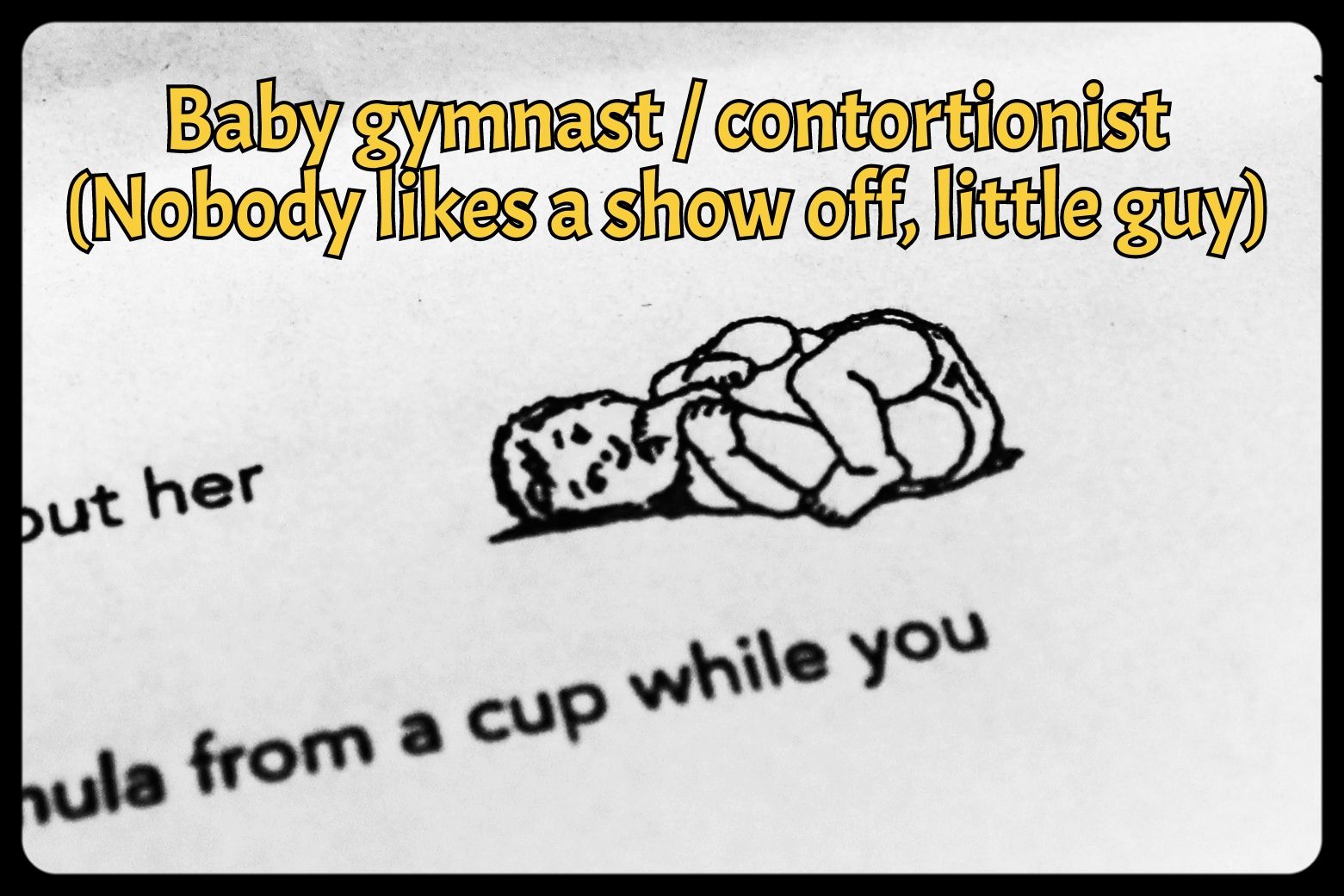 So I bubbled. I read each question aloud to Greg and laughed– until it just wasn't funny and I cried.
Then, I glanced over at Sim. Sim-sala-bim. Simony Cricket. Sim City. The only boy baby for me.
And I gathered myself together, turned the questionnaire over, and composed the following addendum: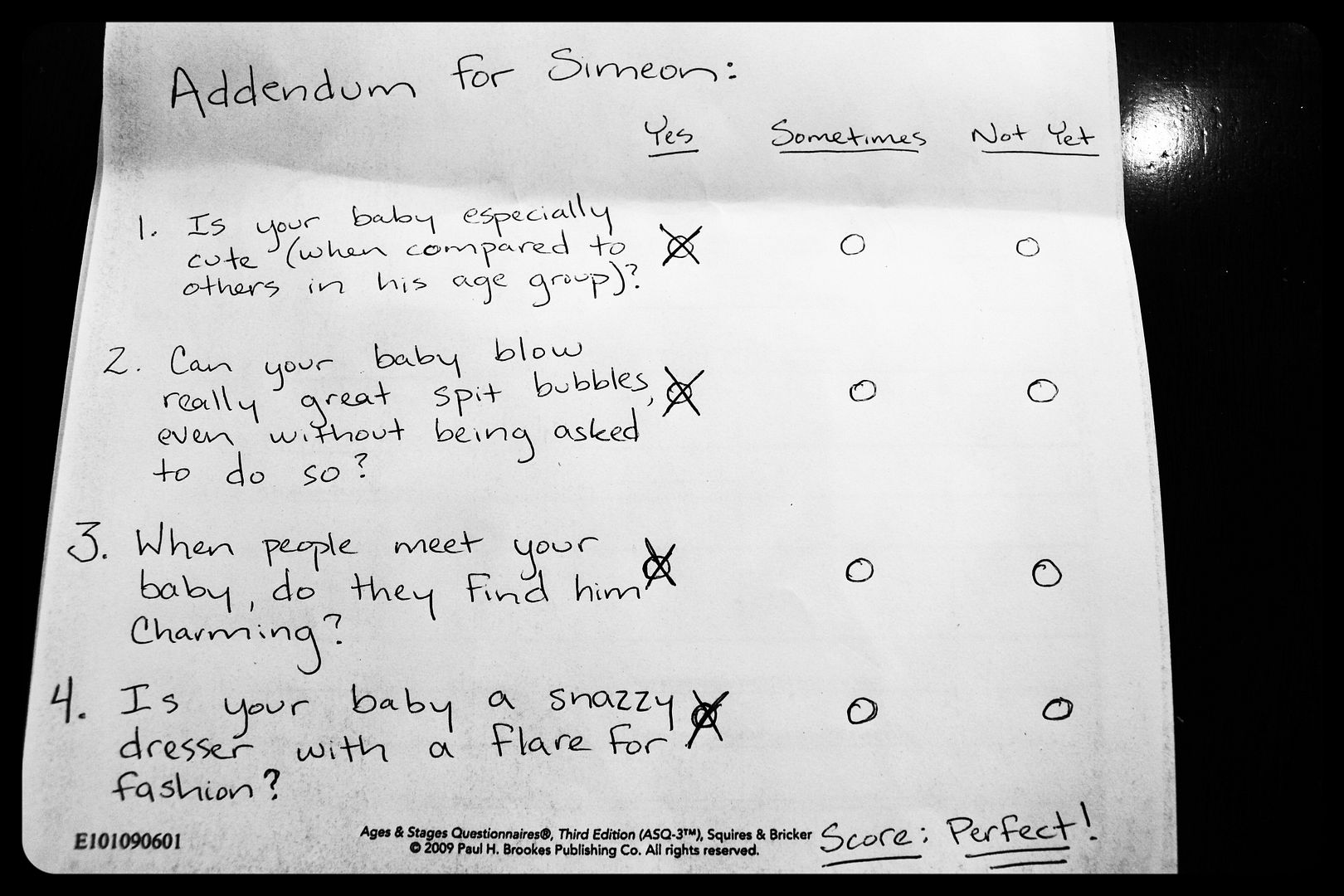 Take that,

questionnaire

.
PS: Some of you may know that we recently went in for a 4th sleep study to figure out why Simeon's oxygen has been so low at night. I'll update you as soon as I know something!