I've always enjoyed making my space just so. I like my home to swim with color and my walls to hang with mementos and memories. I like my house to feel, well, homey. Finding a wheelchair accessible (or nearly accessible) home wasn't easy but we've landed in a mighty fine place and I've enjoyed making it ours.
But there are some things I had to rethink when I shacked up with a wheelchair. Everyday items that once made the decorator in me swoon took on the menacing appearance of a made-for-TV obstacle course. And, since I prefer that my son's daily life not look like a never-ending episode of Wipeout, we had to do away with a few things.
Coffee tables, for example. They just cut off too much space in the center of the room. They make it tough for Sim to get near the couch (and, by extension, me since I sorta hangout there a lot <— like a potato). We also put in hard wood floors because Sim wheeling on plush carpet is like me walking through a swamp– by which I mean it's tiring and causes whining.
Also, (and this one was painful) we removed our area rugs.
I know it might sound like a little thing, but taking out our rugs really upset me. Rugs are supposed to tie the room together, y'all! They make the floor cozy. They center everything. But they're also kind of obnoxious for a toddler in a wheelchair. Our rugs caught on his wheels or were too thick to get on top of. It made moving around the house difficult for the little guy.
I eventually put our old rug back in the family room, since we needed a soft place for Sim to crawl around and play, but our front living room was looking pretty bare. I emailed my friend Hilary for ideas since she has a killer style and decor blog (READ it, because it's beautiful) and she mentioned a company called FLOR. I'd heard of FLOR but her recommendation encouraged me to check them out again. A few weeks later my sister-in-law suggested the same thing so I told Greg it was a clear sign from God. We needed to get ourselves a FLOR area rug.
So we did. And I love it. So does the wheelchair.
How it works:
FLOR is not your typical rug. It's actually a system of carpet tiles that you assemble at home to create a rug that fits your space and style. Tiles come in lots of colors, textures, and patterns ranging from very industrial and modern to simple, cozy, and soft. I wanted something solid for our front room so I ordered a few samples (2 dollars each and no shipping cost!) to be sure I got a color and texture that would suit our space. The rest was easy.
Since you buy each tile individually, you can make your carpet any size or shape you like and you can mix and match colors or patterns for a unique design.
Why the wheelchair loves it:
Most textures are low pile so Sim doesn't feel like he's wading through molasses.
Tiles are backed in rubber making them stiff so they won't slip across the floor, catch on his wheels, or roll up underneath him.
The product is super durable and since you assemble by attaching the tiles to each other with sticker connectors, you can easily clean spills or tracks by unsticking the offending tile, cleaning it, and reattaching.
A win for Simeon and a win for me. I love the way the rug looks and I will definitely use them the next time we're on the market for an area rug. Even if you don't live with a wheelchair in your home, the designs are snazzy and, if you have little ones, the easy cleaning can't be beat.
I got a video of Sim wheeling on different types of rugs to show you what a difference FLOR made. And yes, I bribed him with food to get these shots. Check it out!
BEFORE: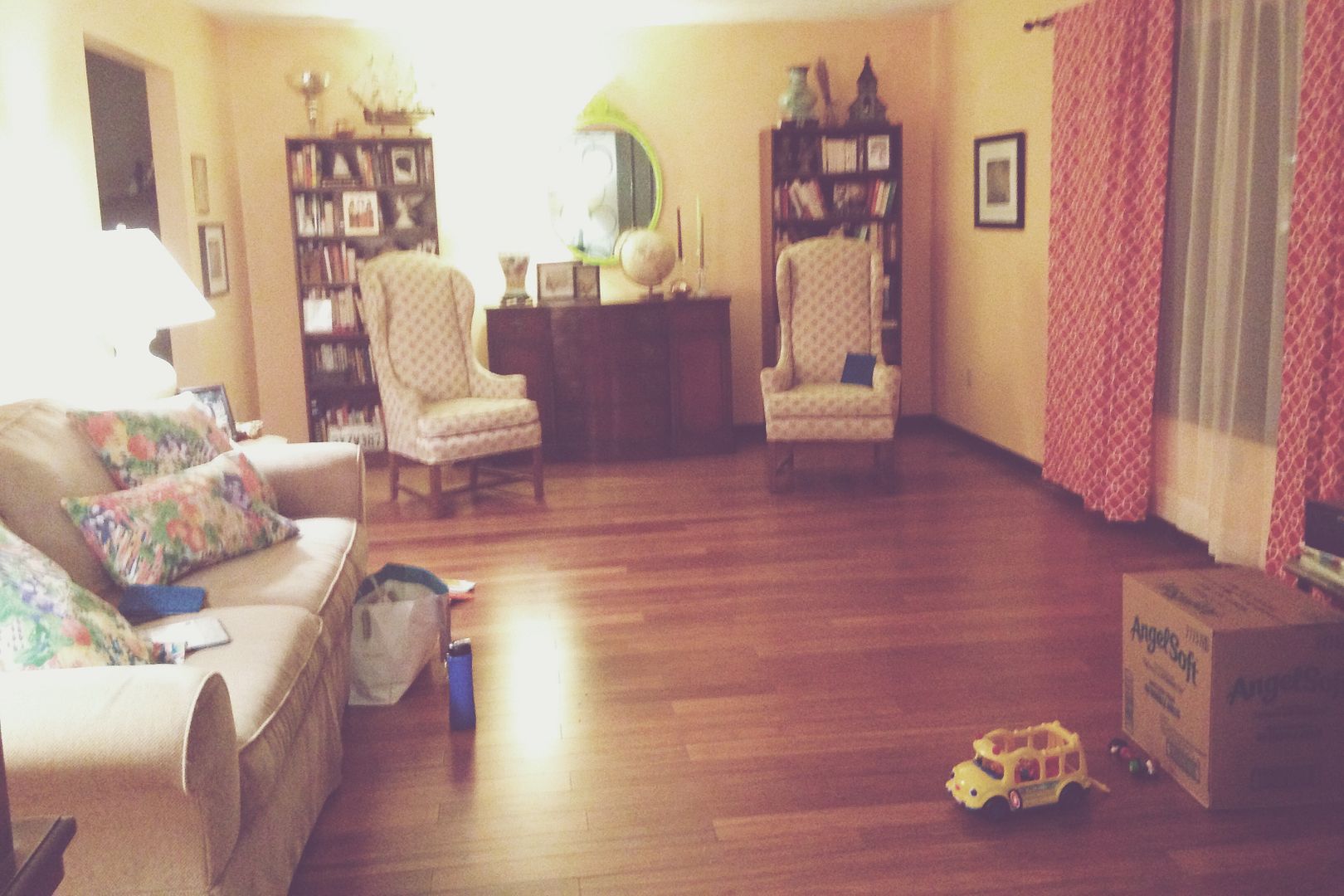 After:
(I also decided to remove the giant box of toilet paper and take the photo from a better angle but you get the idea)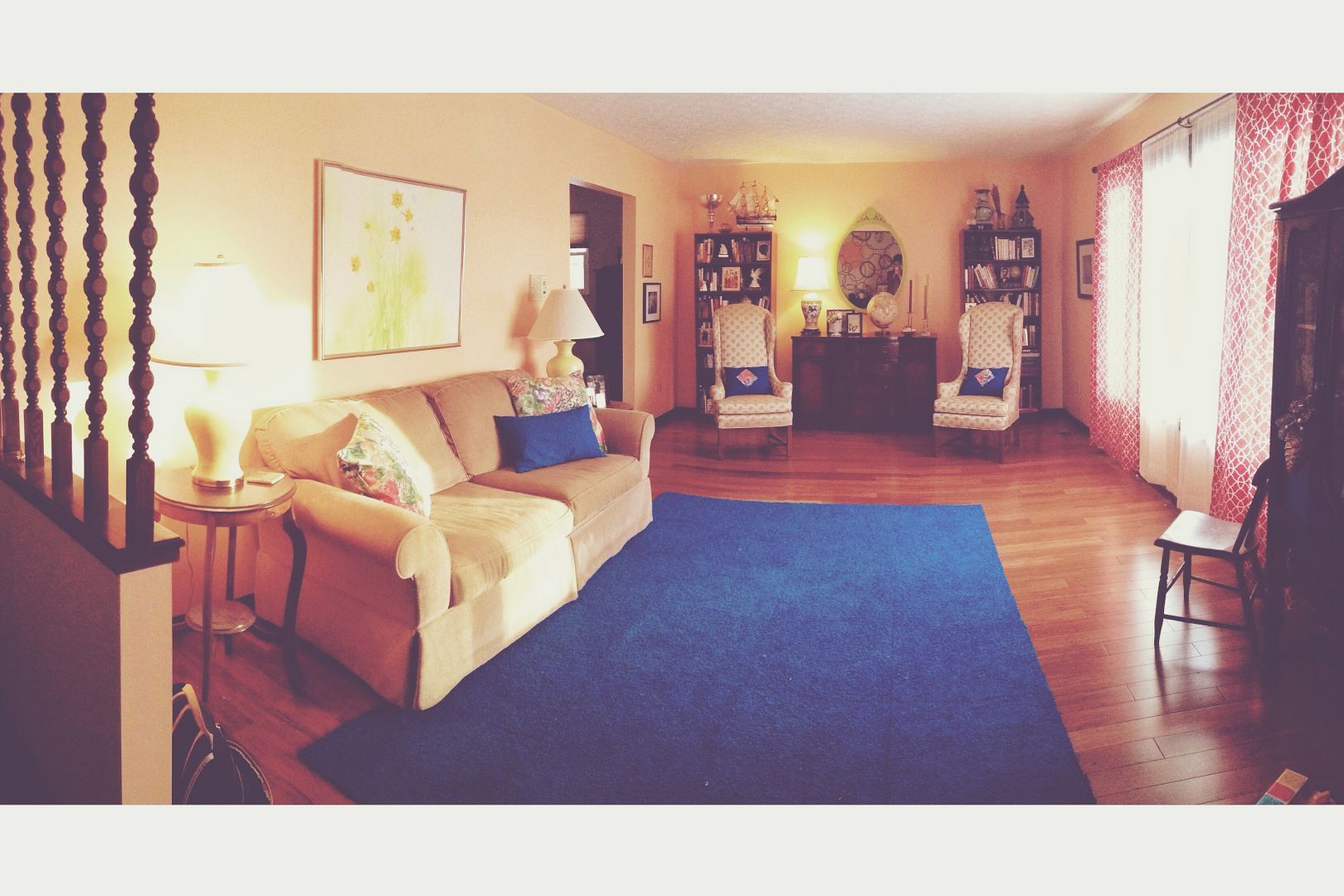 ((PS: I swear FLOR didn't pay me to write this. Although, if they wanted to send me a million dollars and a lifetime supply of carpet tiles I would be gracious not refuse them…))

So what do you think? Can you see yourself using FLOR in your home?