You guys– I was so busy with spina bifida Q&A, flying across the country, and overcoming a wicked case of jet lag that I never posted our Halloween photos!

For shame.
I know that not everyone partakes in the tomfoolery that is Halloween but I really can not pass up a chance to wear a costume. It's kind of my favorite and being in California with the old high school crew was pretty Boo-tacular.
So, I present to you our Halloween lineup:
Tiffany – Clyde (A dashing bank robber daredevil. The ladies love him.)
M.E. – Bonnie (Wild woman/partner in crime)
Dylan – King Kong (Primate with a heart of gold)
Meredith – Ann Darrow (The big K's sweetheart)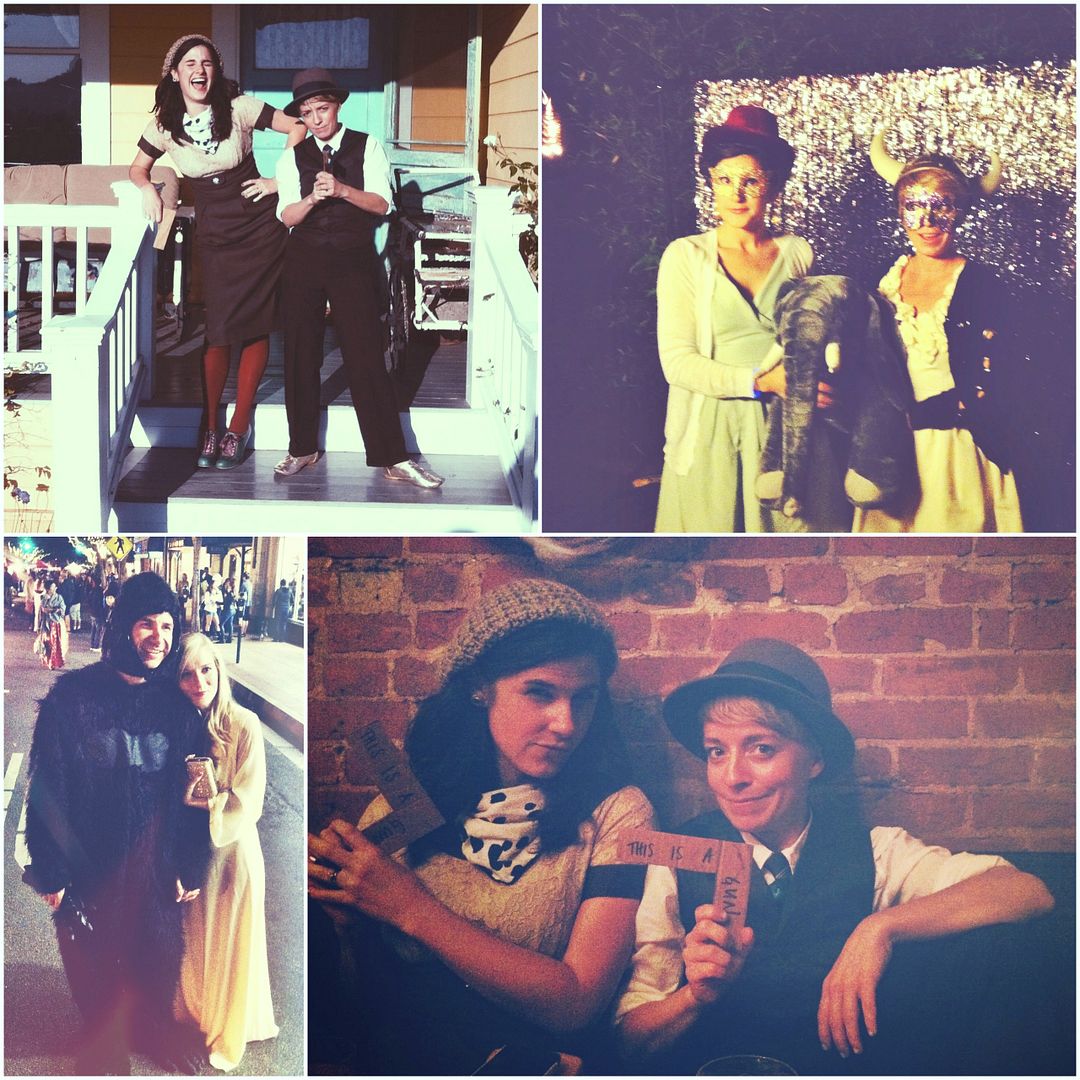 Clyde's suite – Walmart boys section (I'm serious)
//
Bonnie dress – my grandma's closet (thanks Frances!)
//
Ann Darrow Dress – Etsy // Gorilla Suit – God only knows
//
masks/elephant/viking-helmet – wedding photobooth
Don't worry, Simeon was not left out of the party. You may recall his epic costume from last year (see photos of Babe-raham Lincoln here) but we decided to go less political this year. Even though I was miles away, Greg got Sim suited up in a football jersey and black under-eye-rectangles (what are those actually called, anyway?) to create one super tough Bengals football player.
And while I have no photo evidence– Daddy's are notoriously bad at remembering the all-important photo op– I can share the following video from Simeon's day at baby school. Thank you to our nurse for catching this moment. I think I just about died laughing. Oh the horror!
Are you ready? It's really scary…
Now that we've kissed Halloween goodbye, who's ready for Turkey? Or Cranberry Sauce? Or the unwelcome yet inevitable Christmas Carols?