So, we are officially one week away from Simeon's delivery. One. Week. From. Now. Yikes!
I know I've been guilty of this myself, but really, do you have any idea how often a pregnant lady gets asked the following question by excited friends and family?: Are you ready?! Hmm… I wonder what the correct answer to this question would be?


Am I ready? Here are some possible responses:
I could try a confident "Absolutely!" but I'm sure I would sound extraordinarily naive. "Poor thing," they would say, "She has no idea what she's headed for…"
I could respond with an unconcerned, "Nope. This baby better learn to take care of himself." (I imagine saying this one while popping open a beer can, but I think it would work best if I also had a neck tattoo and a drawl. I don't have either.)
I could turn pale and with a look of horror ask, "Ready for what?" This would work best if I could convince the questioner that I don't know I'm pregnant.
Here's the thing about babies: They don't care if you're ready! If they did, no one would ever have one. Maybe my response to the question "Are you ready?" Should be simply, "Does it matter?"
So we are at 36 Weeks and 3 days. One week out from our delivery date. Pardon the exposed belly, but really, get a load of this! That lady must have swallowed a watermelon seed…
News from our morning ultrasound:
Simeon is movin' and groovin' in there! He is estimated to be about 6lbs 5oz and will probably gain another half pound by next week. This is right in the average range for his gestational age. Actually, he has been in the average range for almost everything from the very start. It's amazing how much the word "average" makes me swell up with pride. Our son may have spina bifida, but he is typical in many other respects.
The size of the ventricles in his brain (cavities that are filled with cerebral spinal fluid) are stable. This does not mean they are average, but that the fluid build up is not getting any worse. They are at about 2 cm, which our doctors consider to be "moderate hydrocephalus." A typical baby would have ventricles smaller than 1 cm in size, so 2 cm is nothing to cheer about, but is pretty normal for children with spina bifida. This does mean that a shunt is probably unavoidable. About 85% of people with spina bifida need a shunt to drain the excess fluid so that pressure does not build in the brain. We knew this was the most likely outcome, but I still get disappointed thinking about it, which prompted a little cry as we walked out to our car.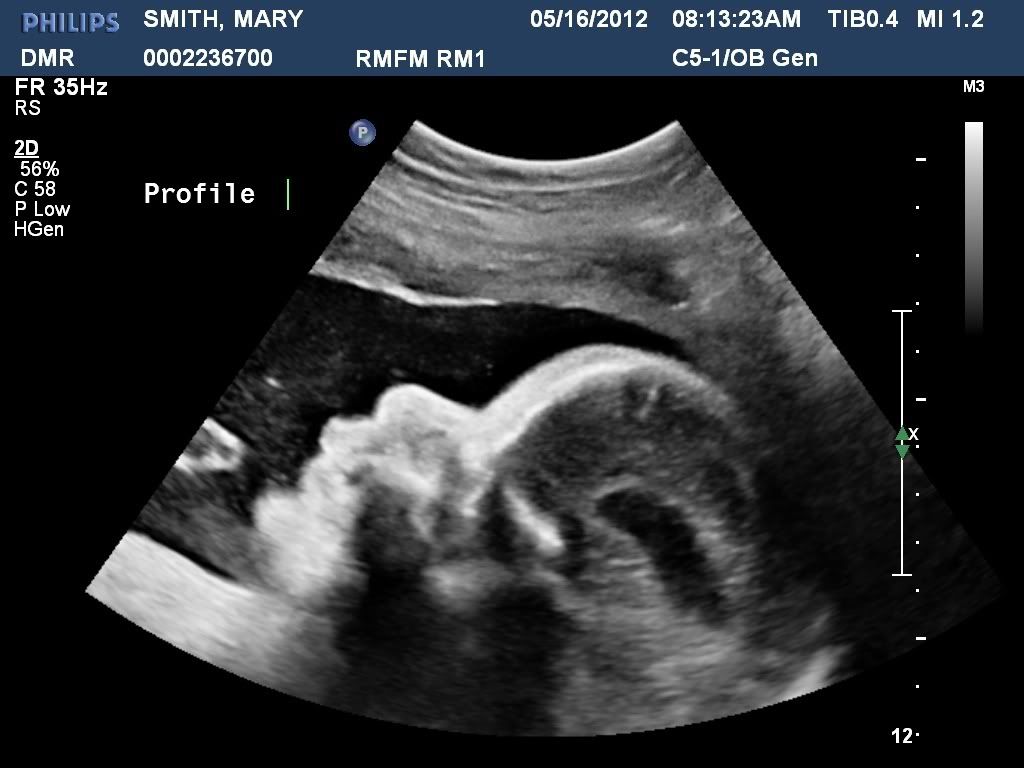 His feet do not appear to be clubbed. This could mean one less procedure for the little guy, but there is no way to know for sure until he's born. He's still moving his legs in there. Not big strong kicks, but definite movement. This does not mean he'll be able to walk. The ability to move the legs is not the same as the ability to bear weight but it is encouraging to see. This leg movement is common in babies with spina bifida. Many of them move their legs in utero but may not move them as much after they are born. Again, we'll wait and see.
The opening in his spine is the same. I don't think this is something I've mentioned before, but his spinal defect begins around L1 or L2 and extends down his back. This is at the top of the lumbar spine. If you touch your spine and find the bottom of your rib cage, move down one vertebrae and there you'll be. This is considered a relatively high defect for spina bifida. Most defects for SB are on the lumbar or sacral spine. Simeon's is about as high as you can get in this area. Even higher on the spine (thoracic) would be much worse, lower (sacral) would be better.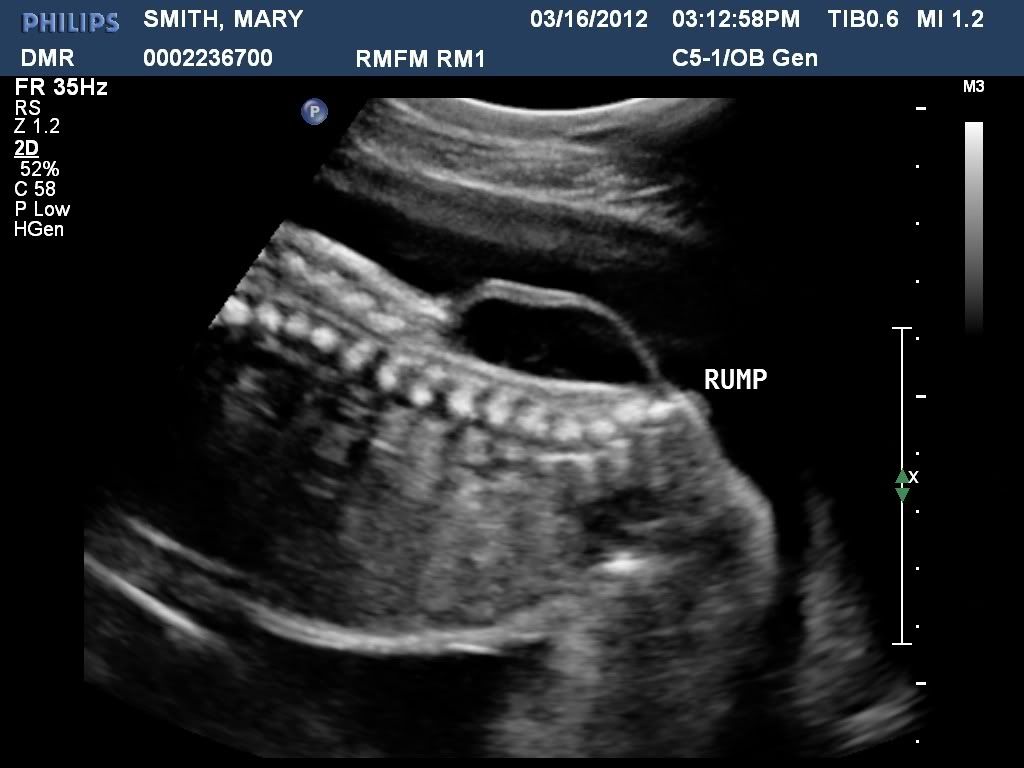 This is from 2 months ago, but is a good view of the spinal defect. You can see the thin membrane covering the open part of his spine.
Because they are planning to deliver Simeon 2 1/2 weeks early, our doctor recommended having an amniocentesis done the day before to ensure that his lungs are mature. We originally were told this wouldn't be necessary, but I suppose the better-safe-than-sorry approach can't hurt. I am praying that everything will be good to go. I can't imagine all this anticipation being put on hold for an extra week. During the ultrasound we could see Simeon's lungs practicing breathing so hopefully those lungs can get nice and mature before next week.
Simeon, if you can hear me (or can babies read their mother's minds in utero? Spooky…), get your lungs ready quick because your mother is getting impatient.
And now for the grand finale! Baby pictures! Again, ignore the creepy factor in these 3D ultrasound images. Focus on that cute face! Can you tell he's put on some weight?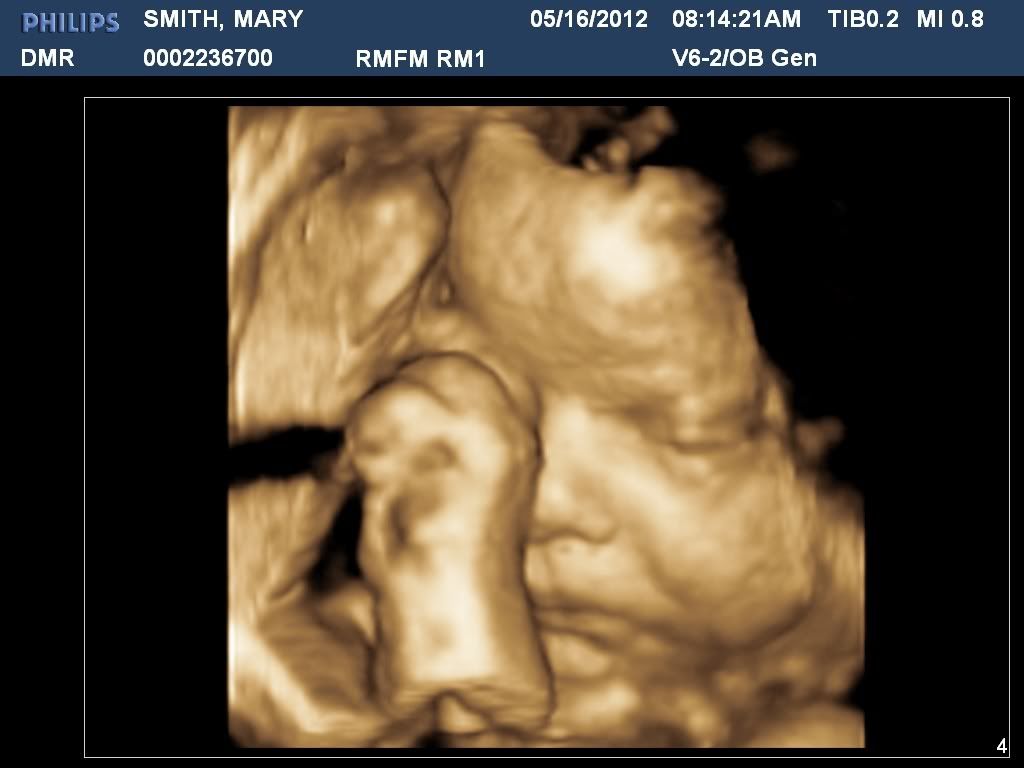 Rubbing his eye (must be sleepy in there!)
Sticking out his tongue. Greg is concerned he may be part cat, since we also saw him licking his hand.
So there you have it. Not much longer now folks! Are YOU ready??